Day 19 (August 14, 2017 – Idaho Falls, Idaho): "Just A Little Bit Of History Repeating"
It was 4:30am when I awoke to the alarm. I took some time to get all packed and ready to go. Julie did the same after she finally got up for good at around 5am. We had a lot of stuff to pack and to prepare since we had to overcome the inertia of staying at Flagg Ranch for four nights.
The first thing I noticed when I went outside was that it was already lightly raining. Clearly there would be no sunrise, but prehaps even worse was that we might have to deal with wet weather on our excursions for the first time on this trip. Indeed, the clouds were thick and because of that, it also wasn't that cold (it was around 50F instead of in the high 30s).
So it wouldn't be until about 6:50am when we drove to the reception office to check out after having loaded the car. And then we finally left Flagg Ranch for good at 7am once all that was squared away.
The drive north was for the most part fairly light from a traffic standpoint. I did have to pass some slower drivers refusing to use the pullouts, but the traffic was light enough that they didn't slow me down too much. However, the big story was that it was raining (sometimes pretty moderately) for much of the drive, especially as we got closer to the Old Faithful area.
This was not good.
By 8am, we finally made it to the Biscuit Basin whos car park was fairly sparsely populated to there were already about a half-dozen cars. But with the rain coming down pretty good, I had to make sure that I brought the waterproof pants and the rain poncho. Julie and Tahia decided not to go out and join me on the Mystic Falls hike, which began at the Biscuit Basin geothermal area.
The last time Julie and I did this hike some 13 years ago, it was also raining. However, the weather cleared up somewhat later in the afternoon, and it even yielded a nice rainbow to boot. It all had a little bit of that deja vu feeling to it. Funny how history can repeat itself even this many years removed from each other.
So with rain poncho on (but not waterproof pants on yet), I ambled about on the Biscuit Basin boardwalks. The same springs and geysers seen 13 years ago were still there. The Sapphire Pool was perhaps the most interesting one as it was a bright blue and we could peer right into its depths. Some of its runoff had a greenish color to it though, and that was pretty surprising and beautiful. I also accidentally found that the "Vivid" setting on my camera worked to great effect in the otherwise dreary lighting of the day, which muted the colors.
Perhaps the greater challenge was to try to keep the camera dry while hiking in the rain.
When I got off the boardwalk, the rain seemed to intensify and somewhere along the way, I found some temporary shelter in one of the trees to remove the backpack, take the waterproof pants out, and awkwardly put it on over my existing hiking pants. I knew my legs would get hot at this point because the waterproofs don't breathe very well. And in the worst case, the insides of my legs could get wetter than the outside from my own sweat as opposed to the rain!
The trees flanking me seemed to have grown an appreciable size. I recalled this area was also affected by the 1988 wildfires but now I didn't see much evidence of blackened trees or fallen trees for that matter.
Regardless, I resumed hiking albeit a bit anxiously because I was in bear country and with the hood of the rain poncho on, I didn't have any more peripheral vision. I still had the bear spray holstered on the side of my pack, but it seemed awkward to retrieve it with the rain poncho there should the situation arise.
After a few minutes of some uphill walking, I got to a part where there was a signed fork. It said Mystic Falls was 0.7 miles to the left, but it also said it was 1.7 miles to the right. There was also an Overlook in 0.7 miles, and I thought they meant it must have been the overlook for Mystic Falls. So I went right thinking that the one that went left would have somehow gone to the other side of the falls.
Well, after hiking up what seemed to be a pretty endless series of switchbacks, I started to get the feeling that I might have made a mistake. None of this seemed familiar, and instead of hiking directly towards Mystic Falls, it looked like the "Overlook" I was seeking happened to be the Biscuit Basin Overlook!
Indeed, even though the weather had improved at this point, I was now able to start to see not only the Biscuit Basin but also the Upper Geyser Basin way in the distance. Some of the steam out there looked like they had intensified meaning that a geyser must have gone off!
Eventually at about 7:45am, I made it up to a fence keeping me back from the dropoffs. This must have been the Overlook here. After taking the obligatory photos, I knew that this added hiking set us back an additional hour or so.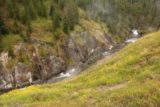 Thus, I made haste to try to at least get back to Mystic Falls. But I was dismayed to see that even though I was high up on the trail, it was still going uphill in stretches as it wasn't totally flat or downhill as I had hoped.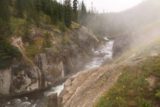 It wasn't until I got to a trail junction with the Fairy Falls Trail (the falls was in another 9.2 miles!) that the trail descended switchbacks in earnest. I'd eventually get down to an unsanctioned spur that appeared like it was going right down to the brink of the Mystic Falls.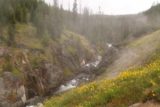 I hesitated to do that spur, but I figured that I mind as well satisfy the curiousity of seeing what it was like down there. Was there a thermal pool or spring feeding the falls? Clearly, there was steam rising near the top of the falls.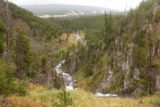 So I did that, and after a few minutes of the steep scramble (clearly this was eroding the soil as some parts were pretty worn from other people doing this scramble), I got to a part where I could see additional cascades further upstream amongst the steam rising. There was also a nice wildflower display.
Looking right down at the brink of the Mystic Falls, I could see some orangish color as runoff beneath the cliff below me seemed to inject some geothermally-heated water into the creek itself.
Then, right below downstream, I could see and hear the loud sounds of Mystic Falls.
After having my fill of this spot, I then headed back up to the main trail, then proceeded to go down more switchbacks while being treated to unusual views of the Mystic Falls that I didn't recall seeing before.
Eventually, I got down to the overlook at 10:15am, where there was a sign saying that the Biscuit Basin Overlook was another 0.8 miles behind me (among other things). But here was where I got the familiar views of the falls with some sporadic windows of morning light shining on the falls. Otherwise, it was bright overcast.
I was fighting condensation on the lens due to all the moisture, but I still managed to wipe the lens periodically while taking pictures and videos.
After having my fill of this falls, I then quickly made my way back. It was only then that I started to see lots of hikers as I was the lone person up to this point. I also removed my waterproof pants and poncho seeing that it wasn't threatening rain at the time.
When I finally got back on the boardwalk, Julie and Tahia were waiting for me. They were worried about me since it took longer than expected. But when I told them that I had extended the hike by taking the loop trail accidentally, then that explained it though it didn't help our cause in terms of trying to get to Idaho Falls at a reasonable hour while still having several more waterfalls to bag for the day.
The Biscuit Basin Boardwalk was now pretty crowded. There was one park employee who was using a long stick to extract stuff out of the thermal pools and runoff. He managed to find a nail as well as a couple of coins, which was real stupid of some visitors to do that.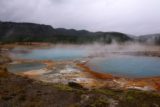 By 10:30am, we were back in the car, just in time before the rain started to resume again. Anyways, we were probably set back by an hour, but I still had it in my mind to visit the Firehole Falls along the one-way Firehole Canyon Drive. This was another waterfall that I didn't have a good writeup for so it was time to rectify that.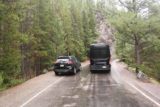 After taking the wrong road (Fountain Flats Drive) at 11am, I'd finally take the correct road. At first, the road descended down to the river's level while towered over by some cliffs. I wanted to take photos from the car to show this, but I didn't have the camera ready. There was a pullout way down by the river, but at that point, it had lost its visual effect. The last time we were here 13 years ago, I remembered elk were grazing opposite the river. No dice on the wildlife sighting this time around.
There was also another spot where people were pulling out, but it looked like nothing more than a view of some smaller cascades. There was a large bus of Amish people also stopping over and looking around, and I thought I overheard someone saying something to the effect of there being an eagle. But I couldn't quite understand what they were saying. I only caught bits and pieces of English words, but it seemed like they had their own language.
Finally, I arrived at the Firehole Falls at 11:10am. There were already about a half-dozen cars here when we showed up. I didn't recall the pullout here to be as spacious to accommodate all these cars, but we pulled over further up the road to prevent ourselves from being sandwiched in.
So I took some time to photo and video the falls from various angles though the best spot remained next to the sign. There seemed to be quite a stream of vehicles pulling up or passing along. So this drive was more popular than I had recalled.
After Firehole Falls, I next saw an area with a long fence as well as some change rooms or toilets or something opposite the road. There were also signs saying something about the Firehole Swimming Area. So we pulled the car over at about 11:30am to stop for this spot and see what was going on.
Unlike the last time we were here when it was cold and rainy, the weather was letting up right now and there was even some sun breaking through the rain clouds!
So I got out of the car after pulling over to the side of the road, and then I went down the wooden steps leading down to a bluff where I could clearly see there were people enjoying the geothermally-heated waters of the Firehole River. A couple of folks were swimming. Most of the others were just on the banks of the river bathing.
The river was actually quite calm here, though further upstream, there was a little canyon area and a current. But in the wider sections of the river, I could totally see why this was a swim area.
After having my fill of this spot, we continued driving along the one-way road until we saw another series of attractive cascades just where the one-way drive was ending. We pulled over near the stop sign and I got out to take a look at 11:50am.
It seemed that further upstream, there were small but lengthy series of cascades, but there was also a paved walkway where it appeared that down the Madison-Old Faithful Road, there was a pullout that people were chilling out at. I didn't walk all the way to where they were at as I was content to see the cascades from here. I wasn't sure if this was the Firehole Cascades or not, or if it was something that I saw earlier downstream from Firehole Falls.
Whatever the case, we pretty much completed the experience then resumed our drive towards West Yellowstone, MT. We passed by the familiar meadow or open area near the Madison Campground where I recalled we had seen a massive bison and elk herd sharing real-estate, but there was no such sighting this time around.
Along the way at 12:05pm, we saw that there was what appeared to be people pulling off the side of the road and people staring at something across a river. When we saw that it was a bald eagle sitting on a log, we found a spot to pull over (though we were partially on the road line), got out the car, and partook in the wildlife sighting.
This was definitely the first eagle jam that I had ever experienced. As we got our shots and continued driving, we saw that there was a massive traffic jam going the other way into the park! Good thing we weren't a part of that!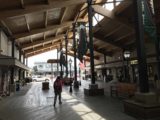 By 12:20pm we found parking at some mini-mall in West Yellowstone. Julie wanted to have lunch at this place called the Serenity Grill, but when we walked by, we saw that they weren't open. So instead, we went to this place called Buckaroo Bill's, which had an interesting cowboy western ambience to it.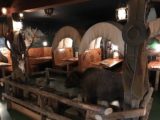 We asked for some burgers to go, but we also eyed the huckleberry ice cream. The lady working there gave us a massive scoop that was the one scoop we bought. And we all shared that ice cream while waiting for our food to show up.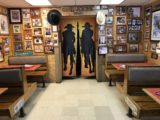 It wouldn't be until about 1:05pm when we finally returned to the car food in hand. The drive further away from Yellowstone was pretty uneventful as the weather continued to improve and we were all eating on the go. We were about one hour behind what I had planned for.
By about 1:55pm, we made it to the familiar Upper Mesa Falls parking lot. There was supposed to be a $5 vehicle fee, but I knew that my interagency pass was good in national forest lands, so I had that displayed on my dash, and the ranger walking around with a clipboard didn't issue us a citation as she was making the rounds to see who paid and who didn't pay.
This parking lot was smaller than I had recalled. It just goes to show you how fallable memory can be. But we still walked by the familiar Big Falls Inn, which was really a visitor center. Good thing we got our lunch when we did in West Yellowstone, because if we waited until now, everyone would still be hungry.
Anyways, we then proceeded down the boardwalks and steps towards the handful of overlooks peering sideways at the familiar Upper Mesa Falls. The lighting was such that the falls were very bright while the surrounding scenery was dark in comparison even though the skies were mostly overcast.
The overlooks were also pretty crowded as there appeared to be a large church group or something where people of all different ages were crowding the choice viewing spots. So we patiently took our time and tried to capture what we could of the falls. One guy was controlling a drone that was hovering over the Henry's Fork. Good thing he had a good command of his craft because if it crashes, it's going in the river way down below.
At one point, Julie was conversing with a younger couple that appeared to be from the area (they were actually from Utah). When I joined them, Julie told me that they spoke Mandarin (they were Caucasian though the girl looked mixed). I guess they broke the ice and saw that we were the only Asians at the overlook so they asked Julie and Tahia if they spoke Chinese.
When we were on our way, I concluded that this group must have been a Mormon group or something because I couldn't figure out the Chinese connection until we realized that perhaps these folks went on their two year mission in Taiwan.
We were back at the car at 2:55pm. On the way back to the car, Julie and Tahia found huckleberries again. So they went ahead and picked a few here and there to consume on the spot. This seemed to be a favorite pastime of theirs on this trip.
At 3pm, we were back at the familiar parking area for the Lower Mesa Falls. We spent a few minutes of briefly walking to the lookout, where we could see the waterfall way down in the canyon. We could also see that there was some trail near the brink of the falls though it didn't seem obvious how to get down there from the sanctioned trails around us (not that we would have done it anyways).
There were lots of loose volcanic boulders piled alongside both sides of the cliffs flanking the Henry's Fork. There were so many of these boulders that there was no way they were manually placed there by people. So it got me wondering how they all got there.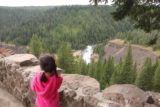 Julie suggested that maybe there was an explosion in the past that resulted in a bunch of these boulders, and that the Henry's Fork swept away most of the ones touching the water thereby carving out the canyon. The rest were what we'd be seeing. Sounded plausible.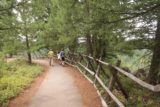 At 3:15pm, we were back in the car.
Next, we headed over to Cave Falls, and depending on the time, we might even squeeze in an excursion to see the Bechler Falls. However, once we went east of Ashton Idaho on the 1400 Rd (there was a sign pointing the way to Cave Falls), I could see that there were some dark skies ahead. It appeared that we were headed right to that weather system!
The road eventually became the Cave Falls Rd, and it was around 19 miles from town to the falls. It didn't take long before the road became unpaved. At first, the unpaved road was pretty smooth, but after about 10 miles or so, the road became rougher.
It was still smooth relative to the Grassy Lake Rd, but there were some larger rocks and potholes though nothing as severe as the Grassy Lake Rd.
The last 3 miles of the drive crossed back into Yellowstone National Park. It was strange that the road became paved again. Go figure. I guess this was a classic example of how different jurisdictions managed their sections of road differently, and that it was the National Park that actually had the resources to pave the road?!? Seemed strange to me.
That said, I did notice that Targhee National Forest tended to have the unpaved roads. Grassy Lake Road (the road I took to get from Flagg Ranch to both Union Falls and Terraced Falls) was also mostly served by the same forest service.
Anyways, it was about 4pm when I saw signage at a split in the road saying that Cave Falls was on the right while there was an overlook on the left. When I first went right, I saw that there was a wide but small waterfall with some people in angling gear chilling out over a beer.
When I asked them if this was the falls, they said it was a quarter-mile upstream and way bigger than this. I then asked if this was the Bechler Falls, and they said it was an unnamed falls. So I documented this falls just in case before continuing up the road.
As we were pulling up to the Cave Falls pullout and trailhead for the brief walk, we could clearly see that Cave Falls was indeed bigger by about four times compared to the falls seen earlier downstream. Julie and I were awake to see the spectacle while Tahia missed out as she was napping.
With the dark skies threatening to dump their load on us, I quickly got out of the car and promptly took pictures and continued walking along the short trail. At a fork, I then went down towards the banks of the river to get right up to the Cave Falls itself.
There were some closure signs though I wasn't sure what for. But there was a jumble of large boulders and the trail was quite a bit rough right next to the falls. That was when I realized that perhaps the cave that the falls was named after had collapsed here.
There was quite a bit of mist spraying me so I guess the cave that was here no longer acted as a shelter (as I had seen in previous photos). That was too bad. I also saw that the road kept going beyond the Cave Falls towards what appeared to be an Upper Cave Falls though I didn't bother going that far. Perhaps that was the place to park the car and go on long hikes to other waterfalls in the Bechler backcountry (or was that back at the Bechler Ranger Station?) such as Dunanda, Colonnade, etc.
Next, I then took the upper trail up to the brink of Cave Falls where there were fences to keep people back from the dropoffs. I saw from this vantage point that there were indeed more cascades further upstream. But I also saw that the very dark clouds were looming directly overhead and it was just a matter of time before we'd be caught in the inevitable downpour.
So I hastily took photos and videos of what I could to experience the falls every which way I could think of at the time. The cloudy skies made it difficult to capture things with sufficient color though. Plus the width of the falls made it hard to get it all properly composed in a frame.
By about 4:35pm, we were back in the car. Julie was actually out and about picking more huckleberries, but all that came to an end when the rain started to come. As we were about to leave in the car, the rain started to get harder.
And as we drove the road back out of the Bechler District, the rain had turned to hail!
Eventually, the hail storm had passed, and the weather improved once again as we got further away from Yellowstone. Clearly, there was something about the mountains that was attracting the weather. For the heavily cultivated plains of Eastern Idaho seemed to be largely free of the severe weather.
Eventually by 6:10pm, we finally made it to the Residence Inn at Idaho Falls. It looked like we were right next to some city park. So while Julie was busy checking in, Tahia and I were strolling about to check out the park. We saw that right across Broadway, there were more walkways leading to more views of what appeared to be man-modified waterfalls that were the Idaho Falls themselves.
These were wide waterfalls with dams and diversions above rocks. It was hard to tell if these were real waterfalls or not.
When Julie was done, we met up at the so-called Friendship Garden, which was a Japanese Garden beneath the Broadway Street bridge. It was a serene spot that kept us around taking more pictures and overall being relaxed and chill.
By 6:40pm, we finally brought our stuff up to our room at the adjacent Residence Inn. And then after getting settled, we then drove to the Cyclo Restaurant, which was a Vietnamese place at 7:30pm.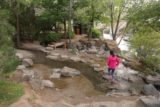 We were getting tired of steak and trout and chicken after all these days of eating the same things over and over again. So this change of pace was welcome. Plus, it was pretty chilly outside so the pho and bun bo hue was very welcome. Tahia had some spring rolls (goi cuon), which she gladly finished saying it reminded her that it was something closer to what grandma would make from time to time.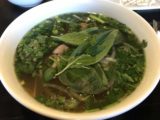 Julie commented how the service at this restaurant was far better than the Vietnamese joints that we were used to back at home. It was also cheap compared to the dinners we've been having as well.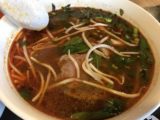 There was one elderly lady who came over to us and assumed that the waitress was Vietnamese as well as us. When we told her that we were actually Chinese (and the waitress was white), the elderly lady said that she once told a Japanese guy that all Asians look alike, to which the Japanese guy told her back that all white people look alike.
I could see a concerned look on the waitress' face as the elderly lady was saying this. But we chuckled knowing that she didn't mean any harm in the statement.
So with that, we were done the dinner at 8:30pm and made a brief stop at the Natural Grocers on the way back to the accommodation. Once we were back in our room at 9:05pm, we all had trouble staying awake even though there were still things to be done in terms of dental hygiene as well as blogging and photo organizing on my part.
But I kept dozing off over and over again, that it wasn't until about 1am when I finally slept. I'm sure I'd have to go back and double check my shoddy work done this night since I was pretty much half conscious when I was working this stuff at the time…