Day 20 (August 15, 2017 – Boise, Idaho): "Catching Up"
It was 5:30am when we awoke. We had trouble waking up, especially since we had even more trouble trying to stay awake last night. So I ended up being behind on my blogging, and I wound up with the worst of both worlds as I probably should have just listened to my body and sleep then do the blogging when I'd be fresher right now. But I forced it, and I'm sure the quality of whatever I was doing last night had suffered. Plus, it wasn't until 1am when I finally slept, and thus the 4+ hours probably wasn't enough.
It took us some time for us to get ready. At 6:25am, I was still in the room as I had nixed the original plan of soloing the drive and scramble out to Falls Creek Falls in Swan Valley, then coming back to the Residence Inn in Idaho Falls to pick up Julie and Tahia. Instead, we decided that we should just go together as a family and wind up leaving Idaho Falls for Boise a little later than planned.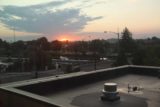 At 6:50am, we started to see the sun rise over the Idaho Falls amidst some clouds still hanging on before the weather would start to clear up after the gray and rainy day we had yesterday.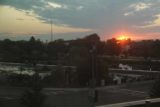 Ultimately, it wouldn't be until 8:20am when we finally left the Residence Inn. This was with taking some of the brekkie items to go.
I wasn't sure how this would impact us, but according to the GPS
, it predicted that we should still arrive in Boise some time around 2:30pm if we didn't make any stops. That should still be plenty of time to hang out with Dana and her family for some catching up.
Dana and Justin moved to Boise some years ago from Los Angeles for work reasons so hardly anyone from LA had visited them except for Julie and I back in 2013. This would be the second time we'd hang out with them, but this time we had Tahia along so I'm sure little girl would be very excited to be playing with their daughters. Tahia was certainly looking forward to it when she knew what was the plan for today.
As Julie checked out of the Residence Inn, she asked the receptionist about the Idaho Falls especially since there was a large painting behind her of the falls before all the modernization. So was the falls real?
The receptionist explained that the falls was indeed real up until 1980 when a dam was built right above the falls. So that pretty much justified that we had to make a writeup for this waterfall even though it had been man-modified and remained that way for about 37 years and counting. Good thing we checked out the neighboring park and the views of the falls yesterday when we checked in.
The drive out to Swan Valley was very straightforward. We followed the Hwy 26 all the way from Idaho Falls to Swan Valley. As instructed by the pre-trip research, we drove all the way out to a big bridge over the Snake River, but instead of crossing it, we took a local road (NF-058) paralleling the river towards the Falls Creek Campground.
We'd eventually reach an unsigned pullout right after crossing a bridge going over what I knew was Falls Creek. There was already a car parked here and a guy that had just finished his excursion after emerging from what looked like an overgrown path waved at me when he saw that I was looking to see where the falls was.
I wound up overshooting this pullout because one of my pre-trip notes said there was a sign for the falls, but there wasn't. Instead, this pullout was barely when the road became unpaved after the Falls Creek Road junction. There was probably room for about three cars.
After overshooting this pullout, I saw over my shoulder and in my rear side mirror the falls in almost perfect daytime lighting. So that was when I knew that that was where I was supposed to stop the car. It took some time to finally have the space to make a three point turn and go back up to the pullout, but I finally did at 9:10am.
By that time, the car and the guy that had waved earlier was gone. We were now left alone to check out the falls.
When Julie saw how overgrown the path looked like, she wasn't in the mood to do it. She was concerned about ticks, which tended to do their thing whenever you off-trail scramble in moist environments.
So I promptly got my camera and iPhone ready, then went through the path. After the initial overgrowth, it actually wasn't that bad. Actually, this was obviously a trail of use started by people before who went to search for good views of the falls as well as accessing some of the lower parts of the falls to get wet perhaps.
There were a bunch of zig-zagging trails, but they were pretty obvious to follow and it was pretty clear which ones led to overlooks and which one attempted to go down. When I saw the path that went down to the falls, it looked awfully slippery and steep. So I was content to just check out the falls in profile from the brink as well as further along the cliffs away from the falls for something more contextual.
The Falls Creek Falls was an attractive lacy cascade that spilled right into the banks of the Snake River. This combination itself was attractive, but with the perfect light and the scenic Swan Valley downstream, I took plenty of time documenting the experience through photos and videos. Too bad Julie and Tahia chose to stay in the car.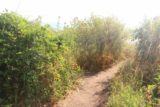 During this time, there was a non-English couple that also showed up. The guy tried to scramble down the steep and slippery path down to the falls, but he didn't get very far before he deemed it was beyond his comfort zone to continue. That right there told me that I should just be content with the views before taking off.
I guess the only sane way to get a frontal look at the entirety of Falls Creek Falls would be by boat onto the Snake River. I don't know how viable that option would be unless you owned a boat and put in from one of the boat landing spots, but it didn't seem like there were outfitters that I was aware of that would run Snake River Tours that also encompassed frontal views of Falls Creek Falls (though admittedly, I was't looking real hard to get such a view).
It wouldn't be until about 9:35am when I got back to the car. Clearly behind schedule, we hastily drove back to the Residence Inn where we'd make one more restroom stop as well as one last look at the Idaho Falls before taking off for Boise.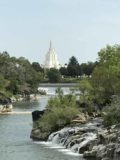 At 10:25am, we were back at Idaho Falls and did our deeds. Then, we took a few more minutes to check out Idaho Falls with the morning sun, but we did it on the iPhone. I didn't want to bother lugging around the big camera since we had already captured pictures and videos with it yesterday.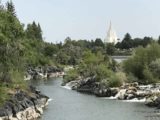 So it wouldn't be until about 10:50am when we finally left for good. During the drive out towards Boise, Julie took advantage of the fact that she was finally getting phone reception for the first time in nearly 5 days. It was a good thing to be disconnected from the network and focus on Nature in Yellowstone and the Grand Tetons. But she was looking for gluten free places to eat.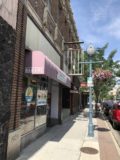 It turned out that she found one in Boise that did gluten free waffles but they were only open until 4pm today. We weren't sure if we could make that. However, she did find one bakery in Pocatello that had gluten free. So we promptly made a brief detour into the historic downtown part of Pocatello, where we parked right in front of the bakery (called the Healthier Place To Eat) at 11:45am.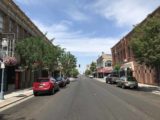 The lunch turned out to be quite delicious and foodie heaven for Julie because we had GF sausage and bell pepper pizza as well as beef bacon sandwich on GF bread. But it was the GF dessert options that really got Julie excited and willing to cheat with the sugar.
Indeed, they had GF flourless chocolate brownies as well as chocolate chip cookies with brownies stuffed inside them.
Julie was in foodie heaven.
That said, this restaurant was pretty quiet. In fact, downtown Pocatello seemed pretty quiet itself. But given that this place offered lots of gluten free things and that we had seen tons of wheat fields throughout the drive towards Idaho Falls as well as Pocatello, it was really saying something that there was this restaurant that rejected the use of all those industrial agricultural products all around us.
We hope that this place does well. There definitely needs to be more places like it.
By 12:45pm, we finally were back in the car. Now, we could make the drive all the way out to Boise in earnest.
The drive was pretty smooth for the most part as we went west on the I-84. There were several long stretches of lane closures and single-file traffic at roughly 70mph and in some cases 55mph, but for the most part, we were humming along at 80mph consistently. The traffic was also light enough that most people stuck with the road etiquette of keeping right except to pass and not clogging the left lane (though there were still some people that insisted on clogging the left lane in which case we had to pass on the right).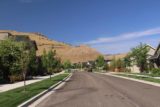 By 4:05pm, we finally arrived at Dana's place, which was on the way to downtown Boise. It was pretty hot out here in the Snake River Valley area as the thermometer on our car said the outside temps were in the high 80s. It was a far cry from the 60s and 70s highs we were getting in our Yellowstone part of the trip.
So we took some time to let Tahia play with Aubrey and Blaze while catching up with Dana. They had a beautiful place, and it was clear that this type of residence could not be attained in the Greater Los Angeles area. For a family of four, it made sense to move out and let them have space. But they were also touting the community feel of the neighborhood they were in. It was almost like something you might see out of a scene in Desperate Housewives
.
At 5:15pm, we headed to downtown Boise for dinner. Dana had already booked a place called Fork Restaurant in the heart of the cultural center area of downtown Boise. And when we drove there, it was pretty happening.
We wound up parking in a structure even though we knew we'd have to pay a bit more for the convenience.
Once we were in the restaurant at 5:40pm, Dana's family were already seated at the table. Justin was there too as he had gotten home from work. And now we were catching up over dinner while also trying to keep the kids in check as they were pretty much besides themselves running amok at the dinner table.
We had some pretty clean food of Moroccan-style chicken, Idaho trout, and some kind of salmon sandwich for Tahia. However, the dessert was this gluten free brownie that was really smooth and had the right crusty texture to contrast the softness. It also came with whipped cream and vanilla ice cream.
Once again, Julie was in foodie heaven though she was worried about overdoing it on the sweets (even if they were gluten free).
Eventually at 7:55pm, we were back in the car. Justin and Dana and family went back to their home, while we went to go check in. When we showed up to the Hyatt Place at 8am, it turned out that it was only a couple of blocks from the restaurant. We totally could have saved $5 and parked at the accommodation then walk to the restaurant.
By 8:20pm, we were in the room, and we quickly got settled before heading back to Dana's place again. We were probably pushing it in terms of staying out late, but how often do you get to catch up with old friends in a place like Boise, no less?
So with Tahia looking forward to playing with Aubrey and pushing things well past her bedtime, we were back at their place at 9pm, and we'd pretty much chat it up some more with Dana and Justin while Aubrey and Tahia were having too much fun. Blaze was asleep.
It wouldn't be until about 10:45pm when we finally made it back to the Hyatt House. We were definitely tired, but I learned from last night that I should just sleep and do the catching up on the blogging first thing in the morning tomorrow. So with that, this pretty light day of sightseeing was over though the catching up with friends was always a welcome thing to do, and it kind of changed things up from our pretty hectic trip schedule.
Tomorrow, we'd make the long drive to Portland for our final leg of our epic Summer road trip. We should get back the hour on the way back to the Pacific time zone, but we knew we had still a lot of things to do, and we had to get some things squared away with the accommodation in terms of getting a room with a full kitchen. We'll have to see how all this plays out when we get there.
I was thinking we should go into Portland first to check in then go back out to visit roadside waterfalls in the Columbia River Gorge for this reason. Although the more efficient method would be to visit waterfalls on the way before facing the rush hour traffic in Portland. We'll just have to play it by ear I guess…