Day 10 (August 5, 2017 – Whitefish, Montana): "Smooth Day"
It was 6am when we awoke. I allowed myself to sleep in to get caught up on sleep a little bit, especially since I had anticipated that the day might be impacted by smoke and bad air quality thanks to the wildfires burning out of control near the southwest part of British Columbia, Canada. We had already been impacted by the smoke over the last three days at least (since Tuesday when we drove up to Whistler from Vancouver), but I was still left wondering what we could and couldn't do going forward.
It took us some time to get packed up before we took off. But finally by 8:30am, we left the La Quinta Inn and took the scenic route towards Whitefish, MT instead of the I-90 as we were trying to bag a couple of waterfalls along the way.
The drive started off with a little tension between Julie and I because she found this crepe place on Yelp that was worth going to in Whitefish, but they closed at 4pm. I had expressed doubt that we would make it in time before they'd close given the route we were taking and the late start we were having. And that was where Julie felt that my bringing up being late and impacting the foodie desires (despite her gut condition) was stressing her out. Still, I reinforced to her that you can't have everything by being lazy and expecting things to work out as something's gotta give. So you're essentially prioritizing getting late starts over the flexibility of doing what she spontaneously wanted to do in addition to the waterfalls.
Anyways, we ultimately drove along the US95 and then the US2. Along the way, we passed by some interesting towns that seemed busy and scenic. This was especially the case as we passed by some amusement park called Silverwood as well as traversing a long bridge over Lake Penn into the town of Sandpoint, Idaho high up in the panhandle area of the state.
The town itself looked like a worthwhile place to stay and have recreational opportunities on the lake while also checking out its historic downtown. But I also knew that the B-52s were going to perform here tonight, which probably made this place more rocking than usual. In fact, it was kind of strange how their tour kind of coincided with the trajectory of our Summer road trip.
In any case, both Tahia and I wondered if they'll be performing Private Idaho – a song more about being in your own paranoid world mentally (which probably describes Donald Trump's mentality right now) than the actual US state itself though it was a nice play on words.
Another thing all of us realized was that the smoke and haze appeared to be less of an issue today. It could very well be that we were moving east of the smoke zone or that the winds have changed to a more southwest direction or something. Whatever the case was, it appeared that the concert shouldn't be impacted by the smoke if the conditions would persist in this manner. Too bad we wouldn't be around to check out that concert.
Eventually at 10:25am, we would arrive at the rather obscure public parking area for the Moyie Falls, which was right by some hydroelectric facility perhaps for the town of Bonner's Ferry which had a huge lumberyard on the local road to get here. I'm guessing the hydro being generated here was to power industry like pulp mills or something like that.
The local road we took left the US2 just before a long bridge as we turned right onto Roosevelt Rd, then turned left onto Canyon View Rd, which was the one that crossed the railroad and had a 15mph speed limit with some hidden speed bumps along the way.
When we got out of the car, we promptly walked back up the road and towards the viewing area, where we were disappointed to see that the main drop of the falls wasn't flowing at all! Upon further inspection, I continued walking up the road towards a different viewing area, which didn't have any signage indicating the falls and yet revealed the lower tier of Moyie Falls, which actually was flowing!
Still, we only copped a distant look at the falls, then promptly documented the experience before quickly returning to the car at 10:50am. We saw one other family checking out the falls as we were about to leave so we weren't the only ones here to see this falls, apparently. This disappointing experience prompted a snide remark by Julie about not doing my research before leaving disappointed by this falls and subsequently losing some time in the process.
Next, we resumed our drive southeast along the US2 as we were about to enter the state of Montana. In doing so, we had lost an hour since we were now on Mountain Time. By about 12:25pm, we arrived at this very busy parking lot besides the US2 for the Kootenai Falls. It was a pretty warm and sunny day at this point.
After the disappointing Moyie Falls, Julie looked at my pre-trip research for Kootenai Falls and wasn't impressed with the pictures on the black-and-white printouts. So she decided to stay behind at the car park with Tahia while I was going to quickly hike to both the overlook of the falls as well as the suspension bridge. We were doing this in the interest of time as we'd still have a shot at making it to Whitefish and that crepe place that would close at 4pm.
So I promptly geared up and headed right down to the overlook first. The hike involved going through a pleasant forested area before crossing over a fenced bridge traversing a railroad. Then, the trail descended into conventional trail again before getting to a split. I headed right at the split, which then led to the overlook of the falls another short distance later.
There were lots of people on the trail, and I also noted a lot of spur trails leading to alternate views from the big outcrop area with the view of Kootenai Falls. The falls was hard to photograph because there was so much to capture that wouldn't fit within the frame of a camera. So I had to pick and choose my subjects.
The falls was a wide series of segmented drops with the leftmost drop looking more like rapids as the falls was more buried in the flow of the river. The right side had a pair of more obvious drops. I would say this falls was definitely on par with say a Huka Falls in New Zealand or better so I'd be more inclined to give it at least a 2.5 or 3.
Anyways, I kept thinking to myself that Julie and Tahia were missing out if they didn't get down to this falls.
After having my fill of the overlook, I then scrambled over to a few of the informal alternate overlooks while even stumbling upon a hidden waterfall where the Kootenai River apparently spilled over another fault section. Clearly, tectonic forces from the past were at play here.
Next, I then quickly hiked down to the suspension bridge which was well further downstream from the Kootenai Falls. I knew that this was a popular place for people to traverse the river high up above on the bouncy bridge. Since I've done such bridges many times before, I figured it was nothing special. So I was content to be on the bridge and take some photos and videos before heading back.
I wasn't going to take more precious time to go all the way across and join some folks who were alongside the rushing river to sunbathe and maybe even to play in the water in the more calmer parts of the river.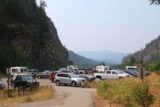 By 1:40pm, I made it back up to the car park, where Julie picked up some huckleberry ice cream (seemed more like blueberries to us) as well as a hot dog from the snack shack at the car park. We left 10 minutes later where we still had a fighting chance to make it all the way to Whitefish before the crepe place would close.
It turned out that the drive east along the US2 was probably the smoothest stretch of road we'd experienced on this trip so far. There were not many cars, and where there were slower cars, I was easily able to pass them. So I pretty much had the car on cruise control at 70mph pretty much throughout, and it was definitely some of the more enjoyable driving that I had for once (as opposed to the traffic and congestion experienced on the Cascades part of the trip).
Eventually at 3:40pm, we'd finally arrive in the surprisingly charming downtown Whitefish, which was where the crepe place was. We found street parking, and then promptly got into the restaurant before they closed. We wound up getting a salmon thai curry crepe on buckwheat as well as a gruyere pesto crepe with turkey also on buckwheat. Our sweet crepe was nutella on buckwheat.
It turned out that it was worth the trouble to get here in time as the crepe was quite good. Sure it wouldn't like what we had in Etretat, France, or that place we had in Madrid, Spain, but it was definitely better than most crepe places we'd been to in the States.
Finally at 4:20pm, we were done with the crepe lunner pretty satisfied. We then drove back out of the downtown area towards the Hampton Inn to check in and drop off our luggage in the room. We'd eventually get there at 4:30pm, and we'd then spend the next 10 minutes or so to get settled in.
By about 4:40pm, I was back in the car ready to solo the touring of Glacier National Park while Julie and Tahia would chill out in the room and possibly tour downtown Whitefish on their own after seeing that they could take a taxi to get down there.
The drive east towards Columbia Falls and then West Glacier went pretty smoothly as I ultimately found myself waiting in line to get in the park at 5:15pm. About 5-10 minutes later, I purchased a new interagency pass since last year's pass had expired at the end of July. And once that was done, I then proceeded to follow the caravan of cars and motorcycles slowly making their way up to Logan Pass.
It wouldn't be until about 6pm when I finally started to see the Bird Woman Falls from some of the many pullouts facing in that direction. Indeed, I was now in parts of the Going to the Sun Road that we hadn't done before due to early season closure back during our late Summer and early Autumn of 2010 visit before we had Tahia.
I'd next spend time stopping at several of the roadside pullouts revealing more of the Bird Woman Falls and Heaven Peak before finally arriving at a signpost of the Bird Woman Falls alongside a view of Haystack Creek Cascade tumbling beneath the Going to the Sun Road.
The shadows were long given how late in the afternoon it was, but the view was no less beautiful. And while I wanted to get back to Julie and Tahia in town before it got too late, I still felt compelled to continue driving up to Logan Pass to see what else I might find. So I did that.
I'd ultimately drive by the weeping wall which was basically a dripping wall alongside the road that was best experienced and not photographed before getting up to a car park area near a cascade by Logan Pass itself. I got out of the car to document that cascade while also checking out a view. It turned out that there also happened to be a white mountain goat grazing near this overlook and so me and a handful of other people were checking out the goat.
By 7pm, I had my fill of this lookout and got back in the car, and then finally headed back down the mountain in the direction of the West Glacier entrance. Along the way, I stopped for a wildflower bloom near the Weeping Wall.
At 7:50pm, I found the pullout for the Sacred Dancing Cascade, which involved a short hike down a ramp to a bridge with a nice view of the falls further upstream. Now that the weather was clear, I could see some of the mountains backing the nice wide cascade (unlike the rainy and overcast conditions from last time).
By 8:15pm, I made it to the pullout for the McDonald Falls, which had quite a bit of barricades erected as this pullout appeared to be under construction or something. Still, there was a ramp that went to the obstructed overlook of this waterfall, which I quickly documented before proceeding on.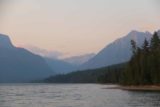 As I continued making my way out of Glacier, I noticed that the sun was setting over Lake McDonald. Luckily, I found a pullout at 8:30pm, where I then promptly got out of the car and down to the shores of Lake McDonald where a handful of other people were checking out the setting sun over the lake.
It was a very beautiful spot and it was the kind of place where Tahia could have played a bit. Again, they were missing out, I thought.
Finally at 9:25pm, I made it back to the Hampton Inn at Whitefish to end off this pretty productive day. While filling up gas in Columbia Falls, I saw that there was a scenic full moon rising up over town. It was the perfect way to end off this leg of sightseeing. After exchanging travel stories with each other about what happened this afternoon, we then got cleaned up and nodded off to recover and look forward to a day of hiking in Glacier NP tomorrow…