Day 11 (August 6, 2017 – Babb, Montana): "You Snooze, You Lose"
It was about 5:35am when both Julie and I awoke. Having lost an hour yesterday and not really sleeping until midnight, I needed the extra hour of sleep as opposed to the usual 4:30am alarm. However, now that we were up, we were in a rush to try to check out and get out the accommodation so we could get all the way to Logan Pass at a reasonable hour.
That said, we were dividing and conquering in the sense that I was getting the coolers filled with ice, loading up the car with all our belongings, and double checking for things left behind in the room. Meanwhile, Julie and Tahia were eating brekkie in the pantry room. Yet despite this apparent parallel processing, it still wouldn't be until 8:05am when we finally checked out and left the Hampton Inn to make the 90-minute drive to Logan Pass.
Given the amount of vehicles already headed in that direction, I was really worried about not getting to Logan Pass in time to find parking. The original plan was to be out the door by 7am so we were already over an hour late.
When we got into West Glacier, the long caravan of cars had already commenced. So I decided that we were going to make a beeline for Logan Pass in the interest of trying to save time and snag a parking spot up there so we could ride the shuttles.
During the drive up the Going-to-the-Sun Road, Julie was digging the views as she was seeing it for the first time. However, we didn't have the luxury of stopping for any of the pullouts along the way (many of them were full already) so she had to be content with taking iPhone photos while the car was moving. At least I was able to stop for these pullouts yesterday afternoon during my scouting mission.
But when we finally got up to Logan Pass at a little after 9:30am, the parking situation was hopelessly crowded as I had feared. After making about 4 or 5 rounds without any success snagging parking, we had to continue east towards St Mary.
We would eventually find some unsigned pullout where we parked the car roughly 1/4 to 1/2 mile from the actual shuttle stop. The St Mary Falls car park was already full. So that was what prompted me to make a three-point turn and head back up the mountain to that pullout. So what if we had to walk quite a ways to get to the shuttle.
Indeed, all this stress induced by finding parking was exacerbated by the fact that we had prioritized brekkie at the Hampton Inn over getting to a good parking spot near one of the shuttles. I guess it was fortunate that we did manage to park the car at that informal pullout that I had thought earlier had to be the one to stop the car. We'd eventually find parking at 10:05am at that informal pullout.
It took us some time to walk back down the Going to the Sun Road towards the shuttle stop for St Mary Falls. At least I knew that I could just return to the car when I'd be done with that hike later in the day.
Anyways, we would finally arrive at the St Mary Falls shuttle stop at 10:30am. At first, we thought that the shuttle that showed up at 10:35am would be our ticket to get up to Logan Pass, but it turned out that that shuttle was full. They couldn't accommodate us.
So we had to wait some more for the next shuttle, and it wouldn't be until about 11am when the next one finally showed up! It turned out that there was only room for 4 people even though lots of other people were queued up behind us. That sucked to be them, but I was ready to get really pissed as I was already in a pissy mood since we snoozed and lost so far.
Instead of hiking from Logan Pass by 8:30am, it wasn't until 2.5 hours later that we'd finally be on our way to Logan Pass for the Hidden Lake hike.
The park service definitely would need to staff and provide more frequent shuttles as the current 30-45 minutes of waiting was excruciatingly slow. And this would be made even worse by how easily the shuttles get crowded.
Anyways, we were chatting it up with a family from South Carolina during the ride up to Logan Pass. We were discussing various things like what Tahia was into (she always seemed to be the icebreaker with strangers), the beauty of Upcountry South Carolina during the Fall Colors, and some hikes in the Glacier area that were either being considered or have been done already.
We'd eventually make it to Logan Pass by about 11:20am. Now we could finally start the hike, even if it had been about 2 hours later than when we were supposed to have gotten started…
The hike up to Hidden Lake was basically a long boardwalk to protect the fragile surface here. It was mostly uphill practically the entire way, but we stopped plenty of times because the wildflower display was surreal. Basically we passed through mats and mats of very colorful flowers in bloom that exhibited all sorts of hues from purple to blue to yellow to magenta and even white. And to see all these flowers backed by the wrinkly peaks of the Garden Wall in one direction or the butte-like mountains looking forward really made this place a feast for the eyes.
The higher up we went the more the boardwalk started to give way to the conventional dirt trail. Practically the entire time, there were scores of people either passing us or we were passing them as this could hardly be a hike for finding solitude and peace. Instead, it probably had the volume reminiscent of that of going to say the Lower Yosemite Falls though even that one was next level in terms of crowds.
Continuing higher up the trail, we started to notice cascades tumbling down some intermediate walls fronting the butte that was either Mt Cleveland or some other butte (not sure which one was what but this one was always within sight to our right as we climbed). And as we continued, we started to see that there were actually three minor cascades though the third one was the most attractive one as it had the largest volume. They probably bordered on whether they could be considered for having their own dedicated writeup, but since we're hiking to Hidden Lake, and these waterfalls were probably at the half-way point or so on the 1.5-mile length in each direction, I was probably leaning towards making these falls have their own dedicated page despite the possibility that they're really more ephemeral than permanent.
Beyond the third waterfall, the trail continued climbing though the grade of the climb became less severe. In one of the remaining snow patches, we saw several goats blending in well with the snow though there was already a crowd of people gladly taking photos of them. One particular goat seemed to have a transponder collar while the rest didn't have them. I'm guessing researchers of the park service were monitoring its migration pattern or something.
Then, we got to a point where we started to notice an alpine tarn reflecting a different mountain to our left. Further to our right, we started to see a very interesting purple layer of rock adorning the main butte-like mountain we had been seeing with good midday light the whole time.
By this point, Tahia was already complaining that this was a long hike. We barely went a mile, but both Julie and Tahia were growing impatient as they really wanted to see the payoff sooner rather than later.
Well, that time came at around 12:30pm when the trail became another boardwalk section right when it finally started to reveal Hidden Lake down below. It was an elongated lake where half of it was getting good lighting while the far left side of the lake was still in shadow. The shadowy part totally reminded me of one of the lakes near Lake Louise in the Canadian Rockies (the name escapes me right now) as it had steeply dropping mountain walls going right into the lake.
The overlook area was not surprisingly busy, but we were still able to get our views and even notice a marmot as well as several chipmunks looking for human food as they were clearly acclimated to people being here (not unlike the Yosemite experience, especially at the top of Half Dome).
At 12:45pm, we had ourselves a picnic lunch with a view of the lake just before the boardwalk part. Tahia was tasked with shooing away chipmunks trying to stealthily steal our picnic food, and she was totally into it. This allowed Julie and I as well as Tahia to have some hard-boiled eggs as well as some cherries and grapes though they had gotten smashed in my pack (clearly we needed a hard container to the fruits could retain their shape and be less messy and sticky).
We also snacked on broccoli chips and plantain chips. It was one of those moments where we were basking in the moment (probably one of the first times we were able to do so on this trip) despite people consistently walking here and there as the Hidden Lake Trail was very busy even way out here.
We eventually ended our scenic picnic and started walking back. While the walk back was pretty much all downhill, we got to re-experience the beautiful scenery of the Logan Pass area so we kept pausing for photo breaks. However, since Tahia had to go pottie and there was no facilities nor privacy along the trail, she had to hold it in until we got all the way back to the visitor center.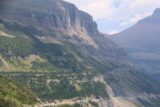 We ultimately got there at 2pm, where it was seemingly even busier than it was when we first showed up. Even though the hike we did was said to be 3 miles round trip, it took us 2.5 hours total. Along the way, we saw the same group of mountain goats though they were more spread out this time.
Anyways, it took us some time to wait for a shuttle to head east from Logan Pass to where we needed to go, but we decided that I was going to solo the Virginia Falls hike while both Julie and Tahia would be chilling out at Rising Sun. There was a lady talking to us while we were waiting for the bus as she was here with an interest in geology. Apparently, she was from Florida though she lived in Spokane for a while.
Inevitably, we talked about the smoke situation caused by the BC wildflowers though it seemed like the haze and the air quality was much improved from when we were in Spokane a couple of days ago.
Well, when the shuttle bus finally showed up at 2:20pm, we got into the 10-seat vehicle, and it didn't take long before the other people in the queue had to wait for the next bus. They really need to run more shuttles given the parking situation here. It's a bit much to ask people to wait 30-45 minutes for a shuttle only to be turned away due to being full and have to wait another 30-45 minutes!
Regardless, we were shuttled eastbound again, and I promptly got off at the St Mary Falls stop at 2:40pm. And I would plan to regain the car after the end of this hike and drive over to Rising Sun to get Julie and Tahia and continue on to Babb, where we were staying this night.
The hike down to St Mary Falls and Virginia Falls was quite different than when Julie and I did it some 6 years ago. For starters, I had to traverse a very extensive burn area. While there were far fewer tree foliage than before, that allowed me to see St Mary Lake as well as more of the attractive mountains beyond. I was even able to see the Virginia Falls in the distance a lot more easily than before.
There were lots of people going the other way so I knew that this was also a busy trail though it had nowhere near the volume of people as at Logan Pass.
At 3:05pm, I made it back to the familiar two-tiered St Mary Falls. With the improved weather compared to last time, the peaks in the distance downstream could be seen contrasting the blue-green water below where dozens of people were bathing or swimming, or doing daring bridge and cliff jumps.
There were equally as many people on the bridge and on the rocky ledge looking right at the St Mary Falls as well. So I spent some time documenting this falls, which was similar to how it was last time, but then I continued onwards towards Virginia Falls.
Now, I was getting to an area that we couldn't do before because there was grizzly bear activity here some six years ago. So this was new territory for me. It turned out that this part of the trail was a little narrower so I frequently had to squeeze by hikers going the other way.
Along this lush stretch of the trail, I started to see Virginia Creek, which revealed at least two or three major sections of intermediate cascades each getting me to pause and check out. Some people used these cascades as opportunities to get in the water without the crowds of St Mary Falls. Still, others thought these cascades were the Virginia Falls not realizing that there was a bigger surprise at the end of this trail.
It wouldn't be until about 3:45pm when there was fork in the trail and I kept left at first towards the so-called Horse Ford. There was a calm pool area where a family was busy taking photos. But I scrambled a little bit beyond them to get a nice contextual look at the Virginia Falls and some smaller cascades downstream. Once I had my fill of this spot, I then continued up the main trail another 0.2 miles or so where I then found myself right at the base of the main drop of Virginia Falls ten minutes later.
It was a very attractive falls that was every bit worth the effort. I kept thinking that Julie and Tahia once again were missing out. Regardless, I took a lot of time documenting this falls while sharing it with the dozens of people that have made it up here to enjoy the refreshing spray as well as the nice scene. And when I wasn't looking at the tall falls, I was looking behind me downstream where the view was also very beautiful as the mountains flanking the Going to the Sun Road could be seen.
I finally left the falls at around 4:10pm, and since the trail was mostly downhill, I made good time as it only took me about 15 minutes before I was back at the St Mary Falls. There were fewer people here than when I first showed up, but there were still a lot of people. I took some time eating the rest of the smushed cherries and grapes while taking a water break before finishing off the hike as it went uphill the rest of the way to the St Mary Falls Shuttle Stop.
At 5pm, I was finally back at the Going to the Sun Road, and at 5:05pm, I finally returned to the parked car. Now, without being handcuffed by the shuttle schedule (and its tendency to be full), I could finally re-enjoy the freedom of driving further east and picking Julie and Tahia up at Rising Sun. By 5:40pm, we resumed our journey together as we decided we should head to dinner first before checking in to our accommodation at Babb.
By 6pm, we showed up at this place called Two Sisters Cafe. There was a 30-minute wait to be seated but apparently we got in at a good time relatively speaking because people that came in after us were told it was a 45-minute wait and then they were told it was at least an hour wait! One person came in and wanted a takeaway dinner, and that wait was at least 10 minutes though the thought did cross our minds that we should've done the takeaway if we were pressed for time.
Our dinner consisted of a bison burger (the kid's menu was an afterthought as always), a rainbow trout with huckleberry aioli, and bison steak which was just like any ordinary steak though perhaps it was bison meat instead of cow (hard to tell the difference).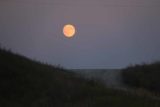 By 7:30pm, we were done with dinner. The food was OK, but since we were in the boonies where it appeared that the visitor services on this side of Glacier were fewer and more seasonal, I guess supply and demand really took hold here.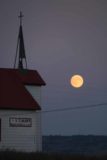 By 7:40pm, we finally made it to Thronson's Motor Lodge around Babb, and 15 minutes later, we finally got into our room, which was clean and spacey although quite basic. As the day continued to wind down, we were treated to a bright full moon rising out of the east against the purple twilight skies. Other than that, we slept at a reasonable hour as the temperatures were dropping rapidly.
We'd ultimately all be asleep by about 11pm, which was actually pretty decent considering that we had lost an hour when we crossed into the Mountain Time Zone. But with today's hectic experience with competing with crowds for parking, the plan tomorrow was to get up and out as early as possible to secure parking at the Many Glacier Hotel area and try to catch the boat to shorten the hike to Grinnell Glacier.
But now we wondered if we should have booked this boat in advance as it could very well be sold out when we show up. We'll have to see how this turns out as my hike could be extended another 5 miles round trip to an already long 9-mile or so round trip hike! Julie and Tahia will have to figure out how to kill time in the area while I'll be out soloing this hike, assuming it happens given this next bit of complication…