Day 12 (August 7, 2017 – Babb, Montana): "Bittersweet Beauty"
I woke up at 5am and Julie's alarm went off about 15 minutes later. During the hour that we were awake all before the sun rose, we were getting cleaned up while also preparing for a full day out at the Many Glacier section of Glacier National Park. Today was the day that I was supposed to hike up to the Grinnell Glacier, but we didn't realize that we were supposed to book boat tickets in advance (at least 3 days prior).
So I had to resign myself to the fact that the hike might have to be all walking and no boat to take some of the distance off. It was said to be around 12-13 miles round trip to reach the Grinnell Glacier. Apparently the boat would take at least 4-5 miles off the overall round distance.
By about 6:20am, we started to leave the Thronsons Motel. It was kind of nice that we didn't have to pack and leave to get such an early start since we were spending another night here.
Anyways, the skies towards the east were already orange from the impending rising sun, and I'm sure it would be beautiful enough for us to want to pause and take pictures, but we wanted to get to Many Glacier Hotel to at least find parking and to figure out the boat situation.
As we drove west on the Many Glacier Road, I could see in the rear view that the sun did indeed rise. I was following some other truck that appeared to have done this road before as it knew when to slow down and swerve around some pretty rough spots on the road. There were potholes and some hastily filled-in sections of water-damaged road. This road seemed to be in a lot worse shape than I had ever recalled as I didn't remember it being this bad 6 years ago when we were last here.
By 6:45am, we made it to the Many Glacier Hotel, whose car park lot was already almost full! We managed to score one of the parking spots in the large lot towards its perimeter, and I'm sure I could have found a better spot to park but I wasn't being particularly picky this morning. Tahia wasn't in the mood to be up this morning so we quickly went inside the hotel and promptly into the breakfast room where brekkie was said to have started since 6:30am.
While Julie and Tahia were having their breakfast, I was busy taking pictures at the Milford Sound-like reflections on the Swiftcurrent Lake as the mountains were bathed in the soft sunlight glow. Mt Wilbur kind of reminded us of Mitre Peak as it was the prominent mountain towering over the body of water. There were dozens of other people sitting on the deck enjoying the view while there were still others walking along the lakeshore getting their views or going for a morning walk.
As I was busy snapping photos of the incredibly gorgeous scene, I then started to make my way towards the Swiftcurrent Falls knowing that the soft sunlight glow would be great on the east-facing waterfall. I managed to find a trail just on the north side of a private residence that seemed to support stock usage as there were horseshoe prints on the finely packed dirt.
I eventually got to a spot where I could look down and see the Swiftcurrent Falls in better detail than when we last saw it from the roadside pullout up above. I had to be careful not to fall into the little canyon as there was definite drop off exposure.
There were actually a couple of spots of check out the falls from this vantage point, but I also noticed a faint path that led a little lower for a slightly different perspective. It looked like the sloping ledge led a little closer to the falls though it looked a bit dicey to proceed further so I contented myself with a view at a "switchback" in the informal path.
After having my fill of this falls, I then headed back to the Many Glacier Hotel. However, I was kicking myself for not bringing the handheld GPS
. I told myself that after the Grinnell Glacier hike that I would come back here with the GPS in hand to properly document it.
By 7:45am, I made it back to the hotel dining room. Julie had already ordered some cooked breakfast while she bought some smoked salmon takeaway brekkie for me. Well, I got a chance to eat it before Julie reminded me to go back downstairs and right to the boat dock to try to purchase boat tickets given how things get sold out so easily in peak season (which was now).
When I went down there, I saw that I was probably the 8th person or so in line. They opened the ticketing a little bit early, but I could already overhear that the 8:30am and 9am cruises were waitlisted. So I went ahead and got myself put on the waitlist while I bought a 1pm tour for both Julie and Tahia (the only times a waitlist weren't necessary were in the afternoon).
I doubted that I'd make it to the 8:30 waitlist so I went back upstairs to finish the brekkie, which consisted of smoked rainbow trout on bagel with some raw veggies on the side. I also ate what Tahia and Julie couldn't finish so it was a pretty satisfying breakfast as far as I was concerned.
When brekkie was done, I went down to the boat dock to see if I was one of the lucky ones to make it. But by 8:30am, the boat was full and I knew that I didn't make it. At first, I thought I mind as well do the hike (which the boat employee at the ticket booth told me that it was around 11 miles round trip without the boat), but since I was close enough to the 9am boat lunch time, I thought perhaps I should wait it out a bit.
So I loitered around for a few minutes when the boat dock area was busy with people once again. When that boat became full, the ticket person asked who was going on the boat to hike and didn't need an immediate ride back?
When several people, including myself, raised our hands, he decided that he'd set up an unscheduled 9:30am boat departure. At first, he was going to call off all the names of people on the waitlist to make the purchase, but when it went too slow, he decided people should just line up. Luckily, I was standing close enough to the booth to be about the 7th or 8th person in line once again.
And eventually when it came to be my turn, I managed to purchase my own boat ticket no problem at $27.50 per adult (having already spent $41 for both Tahia and Julie for their tour earlier). When we waited for the next boat to arrive, we loitered around some more and took a few people shots before I went back down to the boat dock ready to get started.
For such a late start, I figured the boat taking off at least 2 miles off the hike was a good thing. I had contemplated taking the boat back as well to shave off a total of around 4 miles off the 12-13 miles of hiking, but during the boat tour, the driver said that all returning boats are not guaranteed a seat except for the 11:45am boat and the 5:15am boat. So that meant that if only 3 people got off the 1:45, 2:45, or 3:45 boat, then only 3 people could get on out of 49!
That was when I decided that I would walk all the way back unless I was already late to begin with and lagged until 5-ish, which I didn't expect.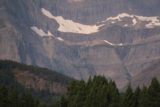 Anyways, the boat cruise was interesting as I had learned that the park owed its existence to George Bird Grinnell, who was a person who fell in love with this place and learned how to live here from spending time with the native Blackfeet Tribe who had inhabited this area prior to the first White people to arrive. He was instrumental in getting Glacier National Park protected, but he was also very upset with the Going to the Sun Road being built.
In fact, it was said that once that road was completed, he'd never set foot in the national park again, and pretty much made good on that promise. Now over 100 years since the establishment of this park in 1910, Julie and I noticed the lack of infrastructure in this park due to its short season, and it seemed like the Going to the Sun Road had a lot to do with it as it was busy with vehicles and not enough shuttle buses being run.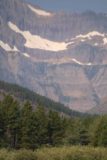 It was kind of a disaster that we experienced firsthand. Plus, the Many Glacier Road condition also seemed pretty bad as the lack of infrastructure on the east side of the park really showed there. So perhaps George Bird Grinnell knew something all along when he felt this place should have remained a wilderness park in much the same way Sequoia and Kings Canyon National Parks would be managed as those were mostly roadless wilderness.
That would mean less overhead and infrastructure to maintain. Apparently, Glacier National Park couldn't keep up with its operating costs so the result was a park that was badly in need of better infrastructure and crowd management. They're in a bit of a catch-22 at the moment. And it got me wondering how we have to make adjustments in the Yellowstone section of our Summer trip.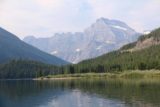 I also learned from the boat tour that the glaciers in this park have about 13 years left before there'd be none of them left in the park. Apparently to be defined as a glacier, there had to be enough mass in the ice to be moving, which meant it had to be at least over 270 acres or something like that. It couldn't just be as simple as year-round ice. So given that definition, I could totally see why it would be an inevitable result.
The after effects of having no glaciers would be that the powder-blue water will eventually dark as less glacial scouring would occur and the water temperatures will warm. It will definitely have an adverse effect on wildlife here, especially since the "water tank" effect of glaciers would be going away, thereby making water even more scarce in this park.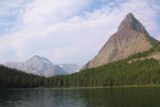 It all sounded pretty depressing, and I was already bracing myself for the Grinnell Glacier experience, which was the poster child for Global Warming as its dramatic repeat landscape photograph was a damning example of the accelerated warming that had been taking place since the Industrial Revolution.
The Lake Josephine part of the cruise was quite scenic as we could see Grinnell Falls and the Salamander Glacier above it, which was once joined with the Grinnell Glacier. The boat operator also told us about how this boat got here after a kid asked a question about how it got here in the first place. To make a long story short, the operator said that it was rebuilt after it was sheared in half from an avalanche. So the particular boat we were on once it was made functional again was to stay here for the rest of its days.
The boat docked at the far south side of Swiftcurrent Lake, where we then got off the boat and walked about a quarter-mile to another boat dock waiting at the northern shores of Lake Josephine. We then took that boat across this lake towards its southeastern shore, where we finally got off at 10:10am. At that point, there was a big crowd making their way up to the Grinnell Glacier which was around 4.1 miles or so from here.
The path initially started off shaded and within a well-forested area where the path traversed a boardwalk over the marshiest and most sensitive terrain. Along the way, I saw a big disjoint pile of black scat with berries in them, and it was clear to me and others that it was bear scat (given how grizzlies love huckleberries and bulk up 60% of their body weight in the stuff).
The flat train eventually gave way to a relentless incline as the path promptly rose up from the shade of the forest cover and into the sunlight. There were a few switchbacks as the pretty steep incline resulted in the crowd thinning out as people were visibly struggling with this part of the hike. I myself was ok though the backpack was heavy from bringing extra water, and my dog-eared hat was protecting me from the sun at the expense of my head feeling hot.
This climb would persist for what seemed like forever, but it was only about 10:35am when the climb was less intense (though still climbing) and it revealed views of Grinnell Lake as well as the side valley containing Cataract Creek, where I could see another waterfall in the haze against the sun in the distance at the head of that valley.
Looking to the right, I could see even better views of Grinnell Falls, which induced me to make frequent stops to take more pictures and videos along the way. Ten minutes later, the views continued to improve and I wondered how many more of these stops would I keep making before I could "move on with the hike" so to speak as large groups were passing me while I was busy "smelling the roses" so to speak.
At 11:05am, I reached a point in the trail where I rounded a bend and got even more dramatic views of Cataract Creek, Grinnell Lake, and Grinnell Falls from one spot. The trail was still climbing at this point!
Five minutes later, I encountered yet more switchbacks though this turned out to be just a pair of broad stretches before continuing on in the same direction as before.
At 11:25am, the trail then went through a surprising yet very beautiful wildflower display by one of a couple of minor side stream cascades spilling down from the right. The second cascade was taller and seemed to be a good break spot for quite a few of the hikers that have made it up here so far. However, the entire trail was still exposed to the sun so I'd imagine it wouldn't be too much of a break other than the opportunity to cool off from the running water.
Well, just a few moments later, the trail then went across a narrow stretch where there was a bit of a weeping wall as water spilled across the narrow ledge. I used this opportunity to dip my head beneath the cold shower (even if it wet some of my clothes) and man it felt good.
This gave me a bit of a second wind as the trail continued to climb but now the trail was narrower and pretty much persisted with exposure to drop offs. By about 11:55am, I started to get more angled and profile views of Grinnell Falls as it was below to my left. Finally, I could start to take a little focus off of photographing the falls and look for forward while trying to capture the experience in real-time.
At 12:15pm, I encountered yet another couple switchbacks. But when I got up to the top of this stretch, there was a huge crowd of people gathered around the benches. There was a ranger amongst this group, and I wondered if this was the 8:30am ranger-led hike. Either I had just caught up with them or they were on their way down. But it wasn't apparent to me why there was such a large gathering here until I realized that there were a couple of pit toilets nearby!
It made me realize that throughout this trail, there was hardly any privacy to heed nature's call. Only up here was there an opportunity to relieve oneself in the relative privacy of a couple of little single-person outhouses.
Now, there was still 0.4 miles to go, and it would turn out to be a little more loose rocks and minor switchbacks as the trail made its final ascending push to the overlook of the Grinnell Glacier. By 12:30pm, I finally got to the overlook where I could now look below at what appeared to be a lake full of icebergs or floating ice sheets while the rest of the Grinnell Glacier itself was in the shadier parts of the bowl to the left.
The tall and thin plunging waterfall that I had been seeing the whole time above the main wishbone drop of Grinnell Falls was actually draining the Salamander Glacier right above it and it spilled right into the newly-formed Upper Grinnell Lake. It was bittersweet beauty in that it looked like there was more lake than glacier at this point. And so it was depressing to see how much damage Global Warming had caused already.
I scrambled down to the shores of the lake where I found a rock to sit on and finally have a picnic lunch. Julie packed me a chicken salad with huckleberry dressing as well as some grapes. This food gave me the energy and second wind to make the long downhill hike once I would finally pry myself away from this spot.
I used the ice cold lake water to rinse my sticky hands, and the water felt soapy as it was full of the glacial flour from all the scouring of the glacier action when it was still a healthy glacier several decades ago.
Looking up to the topright, I could see that there were people looking down at us. Clearly, that must have been the Skyline Trail leading to the famous Grinnell Glacier Overlook where one of the before and after photos was taken of the evolution of the Grinnell Glacier.
I was eventually joined by several people, including a large family or troop, and my moment of peace and reflection ended. So at 1:15pm, I reluctantly gathered my stuff together once again and started heading back down the trail.
After using one of the pit toilets at 1:35pm, I then resumed the hike down. It was going along pretty quickly as I was using the downhill momentum to my favor at the expense of pounding my knees and achilles. So I found myself catching up and passing most of the people in front of me.
Along the way, I was enjoying the views over Grinnell Lake and Lake Josephine towards the Swiftcurrent Lake way in the distance. I could also see that there was a budding thunderstorm in the distance.
Somewhere along the descent, I saw an Indian family taking rest, but then I heard sounds of someone throwing up as I was passing by, and I knew that that person might start to suffer the effects of heat exhaustion. Therefore, she might require medical assistance and not continue the hike. She didn't look like she was drinking enough water.
I continued on with the descent where I somehow must have missed the junction I had taken earlier to get from the boat dock at Lake Josephine to hook up with the Grinnell Glacier Trail. That was because I eventually found myself at another junction along the Lake Josephine North Shore Trail, which remained mostly exposed to the sun despite being in the forest again.
So I guess I had committed to hiking all the way back even though I had already had it in my mind to do this and not take chances with limited space on the boat and have to wait even longer to get back. Eventually at 3:05pm, I found myself back in the stretch of trail between the far end of the Swiftcurrent Lake dock and the mouth of Lake Josephine's dock. The trail seemed a bit more paved here, which I guess I hadn't really noticed earlier on this morning.
The Lake Josephine North Shore Trail was actually not as flat as I was led to believe from the boat operator's verbiage earlier this morning, but perhaps she was referring to the trail along the other side of the lake. Still, compared to the inclines and descents that persisted on most of this hike, I could it was still relatively flat in that context.
Eventually by 3:35pm, I made it back to the trailhead of the Swiftcurrent Lake Loop. Along the way, I was enjoying views of some private cabins fronting Swiftcurrent Lake towards some mountains in the distance. Clouds were definitely more persistent as it was now starting to block out the sun. Still, with the minimal shade thorughout this hike, I was looking forward to being indoors and cooling off.
The sign by the trailhead said that Grinnell Glacier was 5.9 miles from this point so I guess the total round-trip distance (if you believe the signs) was 11.8 miles if I was to go up and down without the boat along the Lake Josephine North Shore to Grinnell Glacier route. But if I had taken the boat forward and back, then that would take off around 1.5-2 miles each way (I guess it depended on the trail route taken) to eventually wind up at about 7.8 miles round trip or so. I figured that I had probably hiked about 10 miles.
When I went into the Many Glacier Hotel lobby, I didn't see Julie and Tahia. So I decided that I should use this time to go back to the Swiftcurrent Falls with my etrex
on my and properly document this falls.
Under the warnings of thunder from the incoming thunderstorm, I'd eventually get to the familiar views of Swiftcurrent Falls at 3:50pm. With the T-storm clouds blocking out the sun, I was able to look at the falls with more or less even lighting. If the clouds weren't there, then I'd be looking against the sun at this time.
After having my fill of the Swiftcurrent Falls, I then made it back to the lobby of the Many Glacier Hotel at 4:05pm. That was when I saw both Julie and Tahia chilling on one of the couches there. We regaled each other on our experiences, and they told me that the actually saw a grizzly bear on their boat tour!
Apparently, they saw bears approach some unsuspecting hikers before the hikers eventually figured out what was going on. I wasn't there to witness it, and Julie wished she had the zoom on my camera to at least capture the bears in photographs that she couldn't really do with her iPhone.
We'd eventually lounge around until the first-come first-serve dinner at 5pm. While there, we got partial views towards the north shore of Swiftcurrent Lake where some people said there was a bear up the mountains there. But I guess I missed it again.
The T-storm definitely let down its load during dinner as we watched the heavy rain pummel the rooftop below us at the Many Glacier Hotel all the while we were eating duck breast and prime rib. Our dessert consisted of huckleberry cobbler.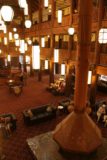 After the dinner, upon learning from the boat tours about the before-and-after pictures in the Many Glacier Hotel, we paid more attention to the pictures on the hallway separating the lobby from the dining room area. Indeed, these pictures actually showed in a very matter-of-fact manner just how much the glaciers had receded in a period of barely 30 years or less!
We then ended off our Many Glacier Hotel stint by checking out the upper floors and taking pictures of the grand yet rustic lobby area.
By 6:25pm, we finally returned to our parked car as the thunderstorm momentarily died down around the hotel. But when we drove out the rough road towards our motel, the thunderstorm activity picked up again. The skies were definitely grayed out and there was even some local flooding on the road conspiring to conceal some of the potholes.
Again, Julie and I were reminded of the lack of funding and infrastructure that seemed to be plaguing Glacier National Park as we tried to avoid damage to the car while driving such roads.
As we looked further east, we saw a strange eerie orangish glow amongst the storm clouds. We weren't sure what that was all about, but when we eventually got back to our motel at 6:50pm, we could smell smoke. I guess we were now under a situation where we were getting both rain as well as smoke. We weren't sure if this was from a change in the wind direction from the BC fires plaguing us on this trip, or if this was a new fire resulting from lightning strikes in this thunderstorm. This was definitely not good if we were to continue experiencing bad air quality when we get to both Yellowstone and the Grand Tetons in a few days.
Whatever the case, the rain would persist on-and-off throughout the night. There were fairly frequent flashes of lightning along with the accompanying thunder (basically sonic booms from the lightning breaking the sound barrier), which captivated Tahia. Anyways, from what we were told, this part of the country wasn't seeing any rain since the last of the snows in early June. So it sounded like it was a very welcome sight.
Eventually some time after 9pm, Tahia and I slept soundly as I was pretty exhausted from the long day of hiking. Julie sounded like she was in the midst of preparing something with her pressure cooker. Regardless, I guess the early dinner had its benefits as I didn't recall I had ever slept this early at any point during this trip…