Day 13 (August 8, 2017 – Bozeman, Montana): "Huckleberry Pickings"
It was about 4:20am when I managed to wake up without an alarm. It was the first time all trip long that I was able to do this. Perhaps, my ability to sleep very soundly from the long day of hiking helped with this.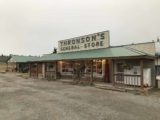 It was still raining outside as the thunderstorm that popped up yesterday afternoon appeared to still be persistent. I was not used to such persistent thunderstorms in the Summer as they tended not to do this in the Sierras. But then again, we're in the Rocky Mountains, and every region has its quirks and idiosyncrasies.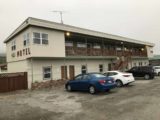 It took some time for us to get ready as I had to make multiple trips up and down the steps to load up the car after getting all packed and ready to go. By the time the car was fully loaded, it was still about 6:55am, and it was close enough to the Glacier Edge Cafe across the street to be open so we took advantage of getting a breakfast ordered to go.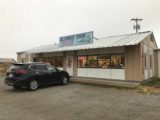 So it wouldn't be until about 7:15am when we were finally out the door. By this time, the rains from the thunderstorm appeared to have subsided though the cloud cover remained and it looked like it threatened more. The drive south along the US89 involved going through quite a few sections of fog, which attested to how low the clouds were.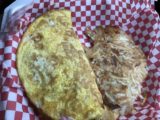 There was definitely no chance for a scenic sunrise like there was yesterday morning.
Plus, given our late start, we decided to skip Running Eagle Falls, which Julie and I had done 6 years ago. Instead, we aimed for visiting Appistoki Falls, which was also in Two Medicine Valley, but we didn't visit that one yet.
Eventually at 8:15am, we arrived at the Scenic Point lot, which was in a small turnoff and parking area just a mile or so before the end of the road at the lakefront of Two Medicine Lake. With the persistent cloud cover, there'd be no way we could re-create the Milford Sound effect that we had at Swiftcurrent Lake yesterday. So we didn't waste any time trying to take photos of Two Medicine Lake backed by peaks this morning.
It looked like they had boat cruises at the Two Medicine Lake (kind of like the boat tours leaving from the Many Glacier Hotel yesterday), but we didn't have time to do it on this trip. Maybe next time we're around the area, we could do the tour and make the hiking to the attractions at the far end of the lake more manageable.
We finally started hiking at 8:30am. Just as we were getting ready, there was another car that pulled up so we wouldn't be the only ones doing this hike at this time. As we were about to be overtaken by the couple on the trail, they pointed out that there were wild huckleberries glowing alongside the trail. They must have been locals because they said they've done this trail several times.
Ever since they pointed out to us what the huckleberries looked like, that got Julie and Tahia to be on the lookout for them so they could pick them. I had recalled on the boat tours yesterday that legally, we were allowed up to a pint of huckleberries (which was actually a lot). This was said to be the grizzly bears' favorite foodsource as they could eat up to 60% of their body weight in huckleberries. So I guess we technically could be competing with them for this resource.
That said, there were plenty of huckleberries alongside the trail, and there had to have been countless more in the backcountry, where the grizzlies would be more likely to be roaming than along the trail, especially when people are around.
The huckleberry-picking really slowed down our progress, but we still managed to go along a signed detour leading to a somewhat obstructed and partial view of the impressive Appistoki Falls. It was tall, but it was facing away from us and trees were in the way to prevent the falls from being completely revealed to us. The trail appeared to continue further uphill informally, and when I pursued it, it rejoined with the main trail that we had detoured off from.
A short distance beyond this merge was an opening where I was able to look at the surrounding mountains as well as the attractive mountains across the Two Medicine Valley. I was also able to carefully look down over the dropoffs towards the smaller cascades culminating in the big drop of Appistoki Falls though the rest of the main drop wouldn't be visible as I could only glimpse the brink and its very top and that was it.
When I rejoined Julie and Tahia, we then headed back. The hike back went even slower than on the way up as they were determined to keep picking huckleberries as I knew that they had gotten hooked on the activity. We could be here all day doing this, but we still had a long drive ahead of us towards Bozeman, where I still had an afternoon hike to Ousel Falls.
Even though we had places to go, I knew that this unexpected fun from the trail would result in a very memorable moment that I'm sure Julie and Tahia surely won't forget. It made me conflicted in that this was one of those moments I didn't want to end, but finite time was against us in this case.
Regardless, we were able to consume the huckleberries on the spot since there was no insecticide on them. It was pretty much fruits as Mother Nature had intended. I'm sure it also had the soil diversity that you simply don't get in farmed fruits. And Julie had pointed out that these berries were rich in antioxidants.
Anyways, by the time we got back to the trailhead at 10:05am, we had taken over 90 minutes to do a 1.2-mile round trip hike. That just illustrated how much time we had spent picking huckleberries. We didn't have to worry about bear encounters on this trail on the return as we had encountered at least 3 or 4 parties headed the other way so it was unlikely that bears would be surprised should an encounter happen.
So we drove out of Two Medicine Valley and followed along the US2 through some extensive prairies of the Blackfeet Indian Reservation lands. When we passed through East Glacier Village, it didn't look familiar, and that was when I realized that the GPS
had us not go back towards the US89 en route to Browning. It turned out that Browning was the main town of the Blackfeet Nation.
We then continued southeast along the US89 towards Choteau. The drive was very light and any passing that I had to do to get around slower drivers was easily done. When we got to Choteau, we then took the 287 south towards Helena. By the time we got to Helena, Julie had ordered out from this place called Steves Cafe since they had gluten free options for her.
We got there at around 1:20pm, and it wouldn't be until about 1:45pm when we resumed our drive.
At first, the GPS
suggested that we continue heading south along the US12, which a guy at the restaurant said that it was two-lane road with limited passing lanes. We had this idea that perhaps we were better off continuing south along the I-15, but when we realized later that the I-15 actually went more southwest to Butte than southeast to Bozeman, we eventually took the 69 south to join up with the I-90 towards Bozeman.
It was probably a costly 25-minute detour had we committed to staying on the interstates, but we'd eventually get to the Bozeman Community Food Co-op near the center of Bozeman at 3:30pm. Thus, Julie was able to get some much-needed grocery shopping done. But she took her time, and it wouldn't be until 4:15pm when she finally got back to the car. I was now worried that I would be getting a late start and end for the Ousel Falls excursion that I was going to solo in grizzly country.
We got to the Residence Inn at Bozeman at 4:25pm. After unloading all our main stuff from the car and into the room, I was back out the door at 4:40pm. Now, I was driving south along the US191 eventually heading towards the town of Big Sky.
The drive was surprisingly fast and smooth as there were a few sections with 70mph speed limits though it was mostly 60mph once the road curved its way amongst the Gallatin Mountains. Eventually once I got to Big Sky, I then got off the highway and onto the Ousel Falls Road after passing through what appeared to be a new suburban community with shopping and business area before passing by what seemed to be new communities and homes.
At 5:35pm, I finally arrived at the Yellow Mule Trailhead for the Ousel Falls Park. Since it was only about 2 miles from here to town, I could see why local residents would frequently walk from home to the falls and back after work. Indeed, it was close enough to not require a car.
Anyways, after getting geared up, I followed the well-made and well-signed path along what appeared to be a wide ledge before the trail dropped down a couple of switchbacks towards a bridge over the South Fork of the West Fork of the Gallatin River. The trail then went uphill beyond the bridge past some junction with Ralph's Pass as well as some more primitive but unfinished Yellow Mule Trail section before the trail then dropped down again to another bridge over the South Fork of the West Fork of the Gallatin River.
There was a small cascade near this bridge as well as some intersting geology from the canyon walls. But then the trail climbed briefly once again as it made its way up to the Ousel Falls viewpoint. From here, there appeared to be other paths leading down to the base of the falls and picnic area as well as towards the top of the falls. They were all within a few paces from here.
Ousel Falls was an attractive waterfall with character, especially in the diminishing Summer flow that I had seen it. I saw in the pre-trip research that earlier in the season, the width of the falls could cover the entire width of the rock bench over which it made its drop. But it definitely didn't look like it was 100ft tall so I wasn't sure how I came across that assertion during my trip research, but it definitely wasn't that tall as it had the potential to be wider than it was tall.
Even this late in the afternoon (I had gotten here at 6:15pm), there were still a few people either arriving or just starting to leave. Indeed, this was a pretty popular place, which surprised me since Yellowstone National Park was not that much further away from us (it was more southeast of us across the border with both Idaho and Wyoming; the interstate aspect of the park was why they had to make it a National Park as opposed to a state park).
After checking out this falls every which way (again, I thought Julie and Tahia missed out on this one because this was quite family friendly), I eventually started heading back at 6:40pm and made it back to the parking lot at 7:05pm. Along the way, I saw some orangish haze in the distance and I wasn't sure if they were thunderclouds getting the benefit of a setting sun or if it was residual haze from the smoke of the BC fires. Whatever the case, the sun had somewhat of a reddish appearance so I'm sure there was still some of that bad air quality that made its way over here.
The drive back to Bozeman was pretty uneventful as we were going at a pretty high rate. By 8:05am, I was back at the Residence Inn, where I got to eat Julie's cooked dinner. So that saved us some logistics as well as some health concerns as she could at least control what went into the food rather than relying on restaurants that may or may not respect the gluten allergies or other gut disorders that Julie was having that was induced by the ingredients that went into the foods.
It also saved us having to pay tip and wait on service as well. Indeed, sometimes, it's the simple things in life that are better.
The rest of the evening was spent with Julie running errands while I was entertaining Tahia playing in the pool and spa area. She wouldn't be denied her opportunity playing in the pool.
Eventually, Julie and I slept late after midnight (not good considering we had a long day of driving ahead of us to do a day trip to Woodbine Falls and Natural Bridge), but at least we got some much-needed laundry done. But it did concern me how much of the day would be consumed on the road tomorrow. We'll have to see how it all plays out, especially as Julie and Tahia would complain big time about getting up early in the morning…