Day 14 (August 9, 2017 – Bozeman, Montana): "Off The Beaten Paths"
It was about 5am when I awoke to my alarm pretty groggy. This was not surprising considering that I had gotten less than 5 hours (probably closer to 4 hours) sleep. Julie woke up to her alarm some 30 minutes later. Once again, I was concerned about getting out the door late, and since we had a long day of driving ahead of us, I was doubly concerned that we wouldn't be returning to Bozeman at a reasonable hour (being before 6pm) as we had at least a solid 6-8 hours of driving ahead of us (not including the hiking).
After having the included breakfast at the Residence Inn, we finally got into the car at 7:30am. It was hazy outside and was definitely smoke. It made me wonder if the smoke from the BC fires that we had encountered earlier on in this trip had made its way out to Montana (perhaps the wind had shifted?). But as we drove out east on the I-90, we caught a radio station saying something about a fire that had started in northwestern Montana from a lightning strike. And that totally made sense considering that there were thunderstorms that we encountered while we were staying in Babb.
The drive out east went about as smooth as can be. We were making good time, and when we finally made it out to Columbus, we then got off the I-90 (and its 80mph speed limit) then headed through the town before going south on the Hwy 78 then onto the Hwy 419 (Nye Rd). Again, we were making quite good progress on the drive, and by the time we finally made it to the Woodbine Campground in Custer National Forest (going past Nye and the huge mining operation going on there), we finally arrived at the trailhead at 9:55am.
The GPS
expected this to be a three-hour drive, but we ended up making this drive in about 2 hours and 20 minutes!
After getting geared up at the scenic trailhead parking (this also seemed like a nice spot to camp), we then got onto the trail, which pretty much followed Woodbine Creek while crossing over a bridge then going up some switchbacks as we gained some 300ft in elevation.
The grade of the uphill wasn't too severe though, and we eventually got the official lookout where we were at first disappointed at the obstructed view due to trees getting in the line of sight. However, I saw that there were informal but obvious scrambling paths going up a steep and rooty incline that ultimately led up to a much better rock outcrop with a more direct and less obstructed view of the main drop of Woodbine Falls. The only caveat to this view was getting over the butterflies in the stomach from the exposure to a long dropoff.
A lady and her dog also made it up here. She seemed to be a local as she told me that during the spring, there would be so much spray coming out of the falls that it would blast the very outcrop we were standing on (thereby making the conditions much more slippery and dangerous). But she indicated that I could continue scrambling up to the next rock outcrop for an even higher vantage point of Woodbine Falls and its surroundings.
And so that was what I did. When I got up there, I did manage to get a slightly more direct look at Woodbine Falls' main drop, but the lower cascades were hard to see as they were directly below me now. I wasn't going to lean out over the dropoffs to see them. However, when looking downstream, I saw the majestic mountains of the Beartooth Range on the opposite side of the canyon.
Julie and Tahia eventually made it up to the first of the informal lookouts and got their much more satisfying views compared to the official lookout. But once we all had our fill of the falls, we headed back downhill towards the parked car at the trailhead.
The skies were already turning gray as the thunderclouds were already becoming more organized. Since it was happening so early in the day, I knew that this area was surely going to experience a thunderstorm.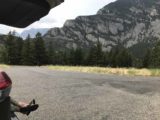 We made it back to the car at 11:35am. Before heading out, we had a picnic lunch of some chicken and broccoli leftovers with some cherries and grapes as well. Since the picnic tables seemed to be reserved for campsite patrons, we ate at the backside of the rental SUV we had been taking on this trip.
With the views and the serenity of being off the beaten path like this, it was a memorable and enjoyable lunch. I knew that moments like this was going to be rare (if at all possible) in Yellowstone at peak season for Glacier NP already indicated to us that just about all the national parks would be overcrowded with people also on their Summer vacations.
By 12:10pm, we were done with our picnic lunch and left for Natural Bridge Falls, which was the next attraction of the day. That too would involve a long drive as the GPS
predicted it would take about 2.5 hours drive to get there. Perhaps without too much traffic like on the way to Woodbine Campground that perhaps we'd make good time.
And just as I hoped, the drive south on the Hwy 298 was smooth and not too much traffic. Passing slower vehicles was relatively stress free as it seemed like not too many people go out this way when we left the I-90 at Big Timber and headed south past McLeod towards the Gallatin National Forest.
There was one moment where some flashing vehicles said something to the effect of "Testing in Progress", but we weren't sure what they meant. We just proceeded slowly and kept going until we finally got the well-signed yet seemingly busy parking lot for the Natural Bridge Falls at 1:55pm.
Once we got geared up, we promptly walked towards a footbridge over the Boulder River. When we looked downstream, we could see that sought after Natural Bridge was somewhere down there. At first, I thought the lookouts to the left of the fork (before the bridge) was where we should be going and so Julie and Tahia headed out that way. But when they took off and I studied the map sign one more time, I realized that I was supposed to cross the bridge then take the East Rim Trail to the actual direct overlook of the Natural Bridge Falls.
So that was what I did, but it was too late to get Julie and Tahia by this point. So I went there on my own hoping that they might see me from the lookout opposite the canyon.
I had to walk a less developed and more primitive trail for about a quarter-mile involving a descent. But when I finally got to the lookout, I could see right away that this was where we needed to be to truly experience the Natural Bridge Falls.
Even though there wasn't enough overflow on the Boulder River to have the waterfall fall upon itself (like it did for us at Running Eagle Falls six years ago), the Natural Bridge Falls was very impressive. It certainly was a lot more natural than say what the Longmen Waterfall might be in China since one can't really tell if it was real or human-altered.
After some time, Julie and Tahia did manage to spot me across the canyon and they eventually went across the bridge and joined me at the main overlook. We saw there were people enjoying the water down at the base of the canyon, but we weren't up for extending the hike and getting down there. We were quite content with the view.
Then, once we had our fill of the falls and natural bridge, we then headed back to the main viewing areas, where Tahia was now acting as the tour guide for me since both she and Julie had already done those lookouts while I was chilling out at the main lookout of the Natural Bridge Falls.
There were more interpretive signs and obvious lookout spots on this side of the Boulder River. And it was here that I learned that the interesting slanted cliffs seen from the car park as well as the lookout nearest the first sign there that they were once part of the shallow sea floor prior to geologic uplift.
Tahia then led me down to the dry riverbed above the tunnel giving rise to the Natural Bridge. Knowing how such a tunnel can collapse at any moment, I wasn't too comfortable staying down there. So I documented what I could while getting a frontal view of an upper waterfall before it disappeared and re-emerged as the main drop of the Natural Bridge Falls further downstream. And then we headed back up to more firmer ground.
From there, I checked out the remaining lookouts, including one that had a top down profile view of the Natural Bridge Falls' base as well as the most distant overlook highlighting the missing river as the outflow of the falls once again disappeared into the ground before re-emerging for good as the Boulder River further out of sight downstream.
By 3:30pm, we finally made it back to the car. Now, we could drive back to Bozeman for dinner as well as running some errands in terms of last-minute grocery shopping (before being in the boonies for four days straight at Flagg Ranch starting tomorrow) as well as some hygenic stuff that we were running short on or had completely forgotten to bring in our rush to beat the LA morning rush hour traffic at the start of the trip.
The drive west on the I-90 back towards Bozeman had a lot of haze, which made us worried about the smoke that seemed to be getting worse and affected air quality. By the time we were in Bozeman, it also seemed like thunderstorms were threatening once again.
By 4:50pm, we parked in some public parking area for downtown Bozeman. As we walked towards this place called Five on Black, we saw right away the youthful ambience and somewhat charming (by American standards anyways) throughfare.
Inside the Chipotle-like Brazilian cafe, we gorged on the Brazilian National Stew as well as some other gluten free options. The chimichurri sauce had a real spicy kick to it, but it was very good. We also enjoyed the cheesebread and wound up buying an additional bakers dozen!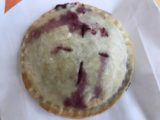 Eventually by 6:10pm, we were back in the car and headed to this bakery and market called Sola because they had gluten free desserts. Once we made it there at 6:20pm, we wound up buying another $30 of pastries (of tiramisu, dark chocolate gluten free cake, etc.) while the skies had definitely dumped its load as the front of the T-storm had come over the Bozeman area.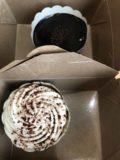 After waiting out the heaviest of the rainfall, we then returned to the car at 6:50pm and promptly headed back towards the Food Cooperative at 7pm for the last-minute grocery shopping. Tahia was busy talking with my Mom over FaceTime since we hadn't spoken since before our trip nearly two weeks ago.
At 7:20pm, we were back in the car once again before Julie had forgotten to buy something and we had to head back to the Coop and wait for her to finish her errands once again. So it wouldn't be until about 8pm when we finally returned to the Residence Inn.
It looked like the lobby area had some kind of Waffle Wednesdays as the afternoon sweet snack, but at this point, we couldn't think about food after having eaten too much for dinner. And with that, the day ended as Julie and Tahia spent a few minutes at the swimming pool while I started to get the process started for getting packed and ready to go first thing tomorrow morning…