Day 16 (August 11, 2017 – Moran, Wyoming): "Changes For The Better"
It was about 4:30am when I awoke. Given our late arrival to the Headwaters Flagg Ranch Lodge, I didn't have a whole lot of time nor energy to wrap up whatever blogging I could get to, especially considering how full of a day we had yesterday. So I used this morning to get that done while it was still dark outside and while Julie couldn't bring herself to wake up until about 5:45am.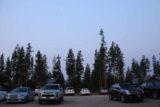 It wouldn't be until about 6:05am when we started to get daylight. And after getting some foodstuffs together for breakfast on the go as well as for picnics or on-the-go touring during today, we finally got into the car at 6:45am and left the lodge heading north back towards the South Entrance.
It was bitterly cold this morning as temperatures plummeted into the high 30s. Given how the temps swung from the high 80s into the high 30s, we had left our heavier jackets in the car so it was a hasty run to the car from our cabin. We also saw a reddish glow coming from the mountains to the east as well as an impressive moon against the purple skies over the lodge to the west.
At about 6:50am, we arrived at the Crawfish Creek and Moose Falls pullout, which was just minutes north of the South Entrance of Yellowstone. Julie and Tahia stayed in the car trying to stay warm while I put on my hiking boots and brought the camera, then proceeded to walk down the brief trail leading to both the brink of the falls and the base of the falls.
In addition to the red globe sunrise partially seen behind the neighboring trees, I noticed that Crawfish Creek seemed to have some geothermal properties to it as evidenced by the steam rising from the creek itself. Since the steam was well downstream of the falls, I knew that it couldn't just be spray from the waterfall.
Perhaps this was why I saw lots of people bathing or swimming at the foot of Moose Falls when I first saw it some 13 years ago. However, this time around, I noticed that there was a closure sign at the trailhead saying that Crawfish Creek was closed to all angling and swimming due to dangerous conditions. I suspect that water temperature had a lot to do with it.
At 7:05am, I got back in the car. I wished that the red globe sunrise could be seen from a more open vantage point than this wooded scene. But I merely got what I could amongst the tall trees and I knew that the photos of such sunrises probably won't be keepers.
Next, we made it up to the Lewis Falls pullout where we already saw anglers on the Lewis River further downstream braving the cold temperatures. Meanwhile, the sun wasn't a red globe, but it was still attractive against the early morning scene around the bridge.
After crossing the South Entrance Rd, the first thing I noticed was that there was now a well-developed lookout and walkway apparently. Before when we first saw this place, the part to the south side of the bridge was all wooded and made viewing the falls difficult. The best frontal view of the falls still remained at the north side of the bridge looking back with the morning sun backing me.
So I decided to climb up the newly formal trail trying to see where this trail would lead me. Eventually, I found myself at a fenced off dead-end where it was possible to get an angled look down towards Lewis Falls between some trees. So I went ahead and documented this experience while also reading more of the signs.
When all was said and done, it was about 7:35am when we got back in the car. Next, we continued driving beyond the West Thumb Junction where we partook in a bit of an elk herd sighting right off the South Entrance Road. There were narrow shoulders to pull off onto, where we then got out and took some shots. A couple of the elk were grazing really close to the road while many of us were outside gladly snapping pictures and watching the spectacle.
Once we had our fill of the elk (Tahia's first such sighting), we then kept on driving up and over the Continental Divide before descending eventually towards the large parking area for the Kepler Cascades. We were one of a couple of cars that showed up at 8:10am.
This was a pretty easy waterfall to visit, just as I had recalled. There was a viewing platform extending right from the parking lot perched high above a canyon carved out by the stream responsible for the Kepler Cascades. The rushing creek plunged for multipled drops right in front of Julie and I as we viewed the waterfall at the end of the deck while trying to position ourselves such that the trees weren't blocking too much of the falls.
At 8:20am, we were back in the car, making this another short but sweet waterfall stop this morning.
Next, we continued the drive eventually getting into the Old Faithful area where they actually built an off ramp leaving from the Grand Loop Road and going along a series of two-lane one-way roads before depositing us into a huge parking area.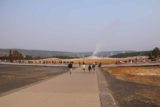 Not sure exactly where to park, we eventually followed the signs and parked the car at what turned out to be near a tree within a short walking distance from the Old Faithful Lodge. There were other buildings far to the left, but we weren't sure which one was the visitor center, which one was the Old Faithful Inn, and which one was the Old Faithful Snow Lodge.
In any case, we left the car at 8:30am, but little did we realize that we had actually parked a bit far from where we wanted to be so it took us some time to take a restroom break at the Old Faithful Lodge, then walk right towards the benches where people were already waiting for Old Faithful Geyser to erupt. We arrived at about 8:50am, and it turned out that this geyser was predicted to erupt at 8:56am give or take 10 minutes.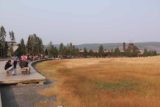 The informal board by the reception of the Old Faithful Lodge also wrote down that Castle Geyser was predicted to go off at 1:15pm give or take 45 minutes, Grand Geyser was to go off at 12:15pm give or take 90 minutes, Daisy Geyser should erupt at 9:05am give or take 30 minutes, Riverside Geyser at 12:30pm give or take 30 minutes, and Great Fountain at 7:15am give or take 2 hours. That last one was 8 miles north of the Firehole Lake Drive so there was no way we'd be visiting that one since we'd have to drive there.
Anyways, we patiently sat and waited for the geyser to go off. It made quite a few head fakes before the geyser finally went off at around 9am. Aside from the initial spouting of the water high in the air, there was a lot of steam surrounding the jet of water thereby making it hard to see let alone photograph the Old Faithful Geyser like you typically see in the photography books.
Further complicating matters was this persistent light haze reducing the contrast between the steam and the skies. Eventually by 9:10am, the Old Faithful show was over and the crowds of people started to disperse. But just as we were headed to the visitor center, we saw what appeared to be Daisy Geyser or some other geyser way in the distance go off.
Inside the crowded visitor center, we were in search of a map of the area to try to gauge how long was the walk to get from here to Fairy Falls and avoid the parking situation there. But once it was finally our turn to talk to the ranger, we learned that we were better off driving because it was over 5 miles away.
Still, as a bonus, the ranger told us that Beehive Geyser was about to go off in another 10 minutes. So once we got the whereabouts of this geyser that he said went off only once a day, we made haste and walked in the general direction of the Beehive Geyser.
As we were making our way towards it, which was about a quarter-mile from the Old Faithful Geyser to the northwest, we saw a massive jet of water spouting directly up in the air. That must be the Beehive Geyser!
A lot of people instantly started making their way over there, and some people (myself included) were running towards it to get a better look. After taking several photos along the way, I'd eventually get almost right across the Firehole River from it, but by then, the show was over by 9:30am. Indeed, as the ranger said, this geyser was more impressive than Old Faithful, and the unexpected surprise already made this a pretty successful geyser viewing experience.
I kept saying to Julie and Tahia that little girl was getting quite the lucky sightings in such a short period of time, and she must be thinking that it's easy to see geysers and wildlife (even though in reality, you really do need a lot of luck on your side)!
Now, given that it wouldn't be for a while before the next geyser eruption, we decided to do what Julie and I did 13 years ago and walk all the way to the Morning Glory Pool while we were getting some hazy sunshine. It was already warming up rapidly so the jacket weather from this morning was quickly giving way to T-shirt weather.
Along the walk, we passed by several springs as well as the familiar less-predictable (than Old Faithful) geysers like Grotto, Daisy, Riverside, etc. We also passed by some lesser known ones.
Ultimately by 10:40am, we finally made it to the Morning Glory Pool, which was just as colorful and impressive as we had remembered it. There were a couple of dragonflies that didn't make it as they were floating lifeless in the boiling pool. They kind of served as reminders to us (and especially Tahia) just how getting near these things outside of the boardwalks was not a wise idea.
We made it here a bit faster than I had expected so on the return walk back to the Old Faithful Inn (which turned out to be a bit of a walk from the Old Faithful Lodge that we had passed through earlier in the day), we were trying to take our time walking the boardwalks (going clockwise) passing by more geysers along the way.
But we wouldn't be lucky seeing Riverside nor Grand nor Giant erupt as they were more likely to go off towards lunch time or later. And we weren't going to wait around longer for those.
By 11:50am, we had made it back to the Old Faithful Inn after having been all geyser'd out from walking the Upper Geyser Basin. Tahia was already complaining about being hot and hungry so we waited in line to go in for the lunch at the dining room in the historic hotel.
Once we were finally seated and the waiter took our order, I took the time to walk upstairs and try to photograph the rustic yet fancy interior of the Old Faithful Inn, which featured a very tall ceiling and wooden beams with a combination of dim and lantern light.
As I was on the second floor, I saw a crowd of people facing the Old Faithful Geyser even on the balcony itself. When I got out there to see what was going on, I knew that Old Faithful Geyser's eruption was imminent as there was a bigger crowd of people at the benches very close to the geyser itself.
By now, the skies were pretty thick with patchy thunderclouds so the skies were bright but gray. The geyser would eventually go off after another 5 minutes or so and throwing another couple of head fakes. And after seeing the initial jet of water spout off as numerous people were all frantically taking pictures, the geyser then quickly became covered in steam again.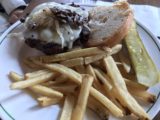 I guess the key to geyser viewing based on this experience was that you wanted blue skies for contrast (there wasn't much of that on this day), and you had to have some wind blowing the steam away from the water (which there wasn't much of that on this day either).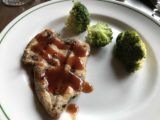 So while the geyser was still going off but was totally covered in steam, I already made my way back downstairs and rejoin Julie and Tahia for lunch. It was just as the food showed up, which consisted of bison burger, Montana Ranch burger, and some chicken for Tahia's kids meal.
By 1:05pm, we were done with lunch. It turned out that the burgers were terrible, and it made us wonder whether we should skip having dinner here. Julie was lamenting that we couldn't drive all the way to Canyon for another healthy meal before driving back to Flagg Ranch as it was too far away. She was also lamenting that the gift shop in this hotel didn't have the T-shirt she decided she wanted as she changed her mind and decided that Yellowstone National Park was her favorite park supplanting Yosemite National Park given all the diversity we were experiencing.
Unfortunately, we found out that Tahia somehow lost her sunglasses by bringing them into the restroom and leaving them there. When we tried the lost and found, it was never turned in. So that was not good in terms of protecting her eyes, but she had to learn her lesson one way or another to take care of her stuff, which she hadn't quite gotten to appreciate yet.
By 1:20pm, we were finally back at the car. Indeed, as I had suspected earlier on, we had parked far from where we should have parked. No wonder why there was so much parking space where we were at. But now, the parking lots were packed. And we had to have walked almost 10 minutes or so before we finally got here.
Next, we drove out towards the Fairy Falls Trailhead since we knew that there was a newly-built trail that replaced the informal hill scramble resulting in a view of the Grand Prismatic Spring. But now that made this trail uber popular and we were bracing ourselves for the crazy parking situation that was sure to confront us.
Well, it turned out that when we got there, there were indeed lots of cars and people looking for limited parking spaces. But after following a couple of people to their cars, we managed to score big time and secured one of the coveted parking spots not too far of a walk from the trailhead at 1:40pm. Even though the parking lot seemed a bit expanded from when we were last here, it was quite overwhelmed with tourists from all over.
While Tahia was in no mood to hike, we couldn't leave her in the car either. So we made our way along the familiar wide trail that was now very crowded with lots of people. This trail was never like that in the past.
Sure enough, we'd eventually get to a fork in the trail where it sloped uphill along another wide and established path that obviously wasn't there before. It would eventually get around a bend and right up to a newly built platform with the familiar wide open view towards the Grand Prismatic Spring. We managed to get here at 2:15pm.
Even though the skies weren't blue, there were still lots of colors on the gorgeous multi-hued pool. It was more of a chore to try to get up to places where you could take the desired photos of the Grand Prismatic Spring (kind of like the claustrophobic viewing experiences at Artist Point), but once we got our photos, we could finally split off where I could continue the hike to Fairy Falls while Julie and Tahia could hike back to the car, where Tahia could finally not hike.
So with that, I quickly made my way down the hill to the fork, and then head in the far less crowded trail north towards the familiar junction where there was a bike rack and signage to leave the wide road acting as a trail while heading west to a more narrower path leading to the falls. Along the way to this junction, I saw some infrastructure being worked on to extend the overlook trail into a complete detour but it wasn't ready yet. There were some people from the Montana Conservation Corps working on this part of the trail during the visit.
I'm sure that could have shaved off perhaps a half-mile round trip or so.
Regardless, at 2:50pm, I then followed what appeared to be a well-forested path. Unlike the last experience where the entire hike was exposed to the sun amongst ghostly trees that had burned from the 1988 wildfires, this time it appeared that the forest had recovered nicely and there were fewer and fewer evidence of those fires if you weren't paying attention.
There were still dead trees fallen over on the ground as reminders of the fiery past of this area, but by and large, there was at least some shade in this otherwise exposed-to-the-sun trail.
Now this stretch of the hike seemed a lot longer than I had recalled, and it started to make me question whether I had somehow missed the Fairy Falls and was headed to Spray Geyser or Mystic Falls in a longer loop or something like that. By eventually by 3:20pm, I had finally made it right at the base of Fairy Falls.
Indeed, this trail seemed to have been re-routed such that it hugged the base of the cliffs and gotten closer to the falls than last time, when I had to scramble over fallen trees and such though the falls was clearly visible from a distance. But that wasn't the case anymore in this instance.
An interesting thing about the falls was that the immediate area downstream of its 200ft plunge still showed visible signs of a fire. Was there another fire that happened here? Or was it still remnants of the 1988 fires that hadn't recovered in this section for some reason?
Regardless, there were a couple of other parties here while I was busy trying to document the falls against the muted sun against the thin but persistent layer of clouds. I realized at this moment that I didn't have the iPhone with me so I couldn't share it as easily. That was a bummer.
Anyways, once I had my fill of this falls, I made my way back to the trailhead. Given that this was definitely a longer walk than I had recalled (or maybe my memory just wasn't as accurate since it was 13 years ago), I was finally back at the trailhead at 4:35pm. The parking lot was still just as crowded as before, and I noticed in the distance that the Grand Loop Road also had a bit of a traffic jam though I wasn't sure if it was because of a wildlife sighting or was it because of people trying to park around the Grand Prismatic Spring.
Regardless, we decided that we should go back to Old Faithful Inn and try to snag an early dinner spot without reservations. Julie figured we mind as well give the dining room another chance as perhaps burgers just wasn't their thing here.
So at 4:50pm, we were back at the Old Faithful Inn. Learning from the earlier experience, I drove towards the general store and then easily found parking there. So our walk was dramatically cut from earlier this morning.
The restaurant was able to seat us right away, and we pretty much had a combo of the dinner buffet, quail, and some penne pasta with meatballs for Tahia's kids meal. The buffet had prime rib, which was good, as well as trout and glazed chicken thighs. And the meal was better than lunch, but buffets always resulted in overeating and this meal was no exception for me.
When we got back in the car at 6:45pm, we could clearly see that there had been rain from a thunderstorm but it had passed. Julie wanted us to drive over to the Old Faithful Lodge to see if their gift shop had her T-shirt, but they didn't.
So at 7:10pm, we left the Old Faithful area and headed back to Flagg Ranch, where I was really fighting fatigue (probably from the food coma resulting from the sugar crash from the buffet) along the way. By 8:10pm, we finally made it back to the Headwaters Flagg Ranch Lodge, where we were assaulted by mozzies.
And after hastily returning to the cabin at 8:20pm, we could finally call it a day. Tomorrow was the long-awaited day to finally do Union Falls though I'd have to do it solo. Julie and Tahia would have their tour of Yellowstone that was guided and would take all day long. Indeed, there was a lot of nervous energy on my part given the uncertainties and the risks of hiking solo in the backcountry in grizzly territory, but it was also a dream hike of mine that I had been looking forward to ever since our last trip 13 years ago.
I had to seize this opportunity…