Day 17 (August 12, 2017 – Moran, Wyoming): "Calculated Risk"
It was about 5am when I awoke. I wasn't in too much of a hurry to get started earlier than this because I knew that it was bitterly cold outside (think around 30-40F) so the later in the morning I'd get started, the warmer the temps would become and at the same time, the more people would likely be on the trail to help against the threat of surprise grizzly bear encounters.
Indeed, today was the day I was waiting for – the long day hike out to Union Falls. Ever since Julie and I aborted an attempt due to the fast flowing Falls River that we had to ford to proceed, I had been thinking about this hike ever since – a time span of about 13 years!
Now it was time for me to solo this hike and let Julie and Tahia do their guided tour of Yellowstone. It was the epitome of divide-and-conquer that we've been employing when a difficult or long hike was involved since it wouldn't be reasonable to expect either Julie or Tahia to take on this big hike.
Anyways, I took some time to wrap up the blogging from yesterday, and then I had a hasty breakfast of kefir with blueberries and strawberries. Julie had woken up during this time and helped to pack my picnic lunch with leftovers from previous things that Tahia didn't finish.
I was also mulling over whether to bring hiking boots on this epic 16-mile hike or just hike in Keens the whole way to keep the load light. I ultimately decided to do the latter.
Indeed, when I'm going this deep in the backcountry (let alone in grizzly country), there were definitely risks. I took a calculated risk in doing this hike on a Saturday so there'd likely be more people on the trail and thus reduce the likelihood of surprising a grizzly. Of course, I also came equipped with bear spray just in case. The only thing I couldn't do was hike with at least two other people (for a group of at least 3). I also could make noise by myself in a limited manner, but I'm sure there was a bit of me feeling self-conscious about talking aloud to myself or singing aloud. I definitely couldn't bring bear bells because they apparently acted like dinner bell signals to grizzly bears.
At 6:45am, I finally got started. It was about 40F outside according to the thermometer in the rental car. That was still a bit too cold for a river crossing in my mind. Regardless, I still pressed forward as I was leaving Flagg Ranch and taking the familiar Grassy Lake Road towards the Union Falls Trailhead.
The GPS
couldn't handle the route to the trailhead apparently, but since I had already gone this way before, I knew which road I was supposed to take. The paved road was pretty smooth and lacked potholes between Flagg Ranch and Polecat Creek. I recalled there were some nasty potholes in this paved stretch 13 years ago.
Once I went past Polecat Creek, the road became unpaved. It would remain this way for the remainder of the drive. The unpaved Grassy Lake Road also had quite a few washboard sections as well as some pretty deep potholes. Since I was going pretty slow this morning and just about everything was consistently lit in shadow, it was easier for me to pick out the potholes. I'm sure if it was too bright, the potholes would become harder to see.
I managed to catch one red globe sunrise view along the drive as well as watching a deer watch me before it ran off into the forest. Further along the drive, I also caught a look at the Grassy Lake Reservoir.
By about 7:35am I was finally at the Union Falls Trailhead on the Mountain Ash Creek Trail. I seemed to be the third vehicle that showed up at the spacious car park area besides the Grassy Lake gauge station or something. But just as I was getting out of the car and getting geared up for the big hike, I noticed two more vehicles pulling up.
I went ahead and got started knowing that at some point they'd probably catch up to me and pass me.
The initial part of the trail passed through a heavily wooded area with a lot of low-lying vegetation as well. After a few minutes, I saw a sign saying that I was entering Yellowstone National Park. There were also accompanying signs about bear encounters and what to do should that happen. It just underscored that I was hiking through an area that bears must frequent.
The hike continued for the next 1.3 miles or so before it made a descent towards the Falls River. There was a stretch where I could see and hear the Falls River running like rapids and cascades, which made it a bit intimidating. I have to cross through that?!?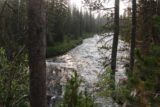 Sure enough, the trail disappeared right into the familiar Falls River crossing that turned Julie and I back 13 years ago. There was that familiar grassy island splitting the river up. I had initially thought that I should follow get to that island then finish the crossing, which would be shorter. However, just as I showed up and tried to figure out whether I could do this or not, the big group caught up to me.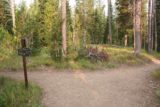 Their group leader was the tallest of the group, and he went right into the Falls River first as he was feeling his way through the shallowest crossing. Next, a trio of people were holding hands and making their way across. This was followed by a mother and son trying to make the crossing, but they had to turn back as they were losing their balance and each needed their own hiking stick.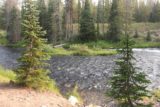 One guy that I was chatting with while they were doing the crossing was also looking around for a stick for balance. As he was doing that, I used my two trekking poles
for balance and pretty much followed the path that the trip leader took. I tried to follow the backcountry advice of facing downstream, unhooking the hip belt of the day pick I was wearing, and walking somewhat diagonally in a downstream manner. The depth of the water went about as high as my thigh and just started to wet the upper part of the hiking pants (I had taken some time to unzip the lower part prior to making the attempt).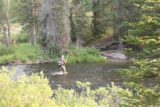 While the water was cold, it actually wasn't as cold as I thought. It was a good thing that I had my trekking poles for balance because there was definitely a current in the deeper parts as it wanted to push me downstream.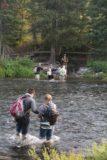 By 8:30am, I was finally on the other side, where I was chatting it up with the group leader and the two women who told me, "Good job" on the crossing. It turned out that these folks were Montana locals who work in the area. It made me wonder if most of the people willing to do this kind of hike were locals who were in the know about such attractions as Union Falls.
I also managed to get a mozzie bite on the leg.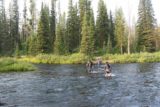 Regardless, this crossing experience made me wonder if crossing the Falls River to get to the other side of Terraced Falls (hopefully tomorrow) would be feasible. I was under the impression that even though it was mid August, that the conditions were more like July conditions given their high snowpack in the Winter and Spring months.
While the group was busy putting on their hiking shoes and zipping up the legs of the long pants, I went ahead and got a head start again. The trail from here climbed fairly steeply as I was trying to be aware of bears and even trying to sing some tunes along the way to make noise. But even that was limited as I could sing forever.
As the trail climbed higher, it seemed like the vegetation was more sparse though there were still a lot of tall trees about. With the long shadows of the morning, I still kept my hat off to let my head breathe a bit. The temperatures rose quickly as it went from high 30s low 40s into probably the 50s or 60s already.
At 9:30am, I saw a trio of backpackers heading back. They probably heard me talk to myself at the time, which can be embarrasing.
The trail then made a brief descent towards what appeared to be a seasonal creek with a stagnant pool of water on the trail. There were fallen logs set up to act as makeshift bridges to get across the water and mud without getting wet.
Beyond this section, the trail then climbed briefly again before flattening out through another long stretch of lightly forested terrain. But eventually at 9:40am, I got to a point in the trail where I was making a descent again. This time, the trail descended towards another creek that required getting wet as it was about ankle deep. I was glad I was wearing Keens
for this though this creek was bitterly cold compared to the Falls River ford.
I got to this crossing at 10:05am. It was nothing compared to the Falls River, but the water temperature on this creek was very cold.
Next, the trail then climbed again before it apexed then started a lengthy descent. I got to this part by about 10:20am. After another stretch of flat hiking, the trail then descended in earnest. I had a feeling that this long descent was going to be a real tough stretch on the return.
During this descent, after the initial rocky and steep part, the trail then meandered through a pretty lengthy section of berries growing alongside the narrow trail flanked by dense low-lying growth.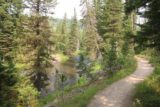 Eventually at 10:40am, I made it down to the Mountain Ash Creek Trail Junction. I went right and then proceeed to go through yet another extensive stretch of berries and low-lying growth. About five minutes later, the large group caught up to me though I wasn't sure if they rememered me or not because one of the ladies said to me, "You're brave, dude!"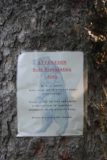 I guess that was a remark aimed at me for going about this hike alone. That said, I knew the risk of going through bear country alone, but I did make a very calculated risk by planning for this excursion or a Saturday when I knew there'd be more people on this trail.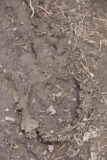 Anyways, there was still around 2 miles to go to get to Union Falls. The mozzies were also pesky so I had to keep moving. The large group left me in the dust as I was hastily trying to put on DEET since I had already been bitten on the leg.
At about 11am, I saw signage indicating that I was entering an area that was frequented by bears. It yet another reminder that I really was taking a risk hiking alone in grizzly country.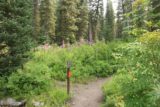 Just a minute later, I encountered yet a spot where it seemed like the trail disappeared into the rushing Mountain Ash Creek itself. While it lacked the speed, length, and depth of the Falls River, this crossing was no slouch either. So I was glad that they had erected this "9U4" sign pointing the way to a primitive "footbridge" which was more like a log with a carved flat top acting as a balance beam. This made one less stream to ford.
On the other side of the ford, the trail continued before five minutes later, I reached an interesting little shed with a tall roof and some kind of solar powered radio or cell tower next to it. A sign here indicated that it was the UF Ranger Station, and that this was not the campsite. By this time, I started to figure out that the "U" must have stood for Union Falls and that the numbers surrounding the U were backcountry campsites.
The trail then continued as the surface went from single-track dirt in a lush forested setting into some kind of sandy surface that was heavily pounded by stock (i.e. horses) as evidenced by the horse poop I had seen throughout this hike. This made the walking go a little bit slower even though the surface was soft and gentler on the knees. However, because I was wearing Keens, the pebbles tended to get inside the shoe and make the walking uncomfortable.
At 11:25am, I then reached what appeared to be parking for horses. A sign here said that travel beyond this point was for foot traffic only and horsies were not allowed. There was also a fork in the trail here where I had recalled from the maps that the path on the left led to another waterfall in 0.3 miles. I made it a point to visit that waterfall to see what it was about before finishing this hike.
So I proceeded to the right as the surface continued to be sandy and single track before the trail started to go up a pair of switchbacks. After the second switchback, the trail gradually climbed as the path flattened out and the sounds of a waterfall was getting louder and louder. Finally at 11:40am, I had made it to Union Falls after all these years!
Mission accomplished!
The group that had passed me and that I had met at the Falls River Ford were already here. The same lady that said "You're brave, dude!" now said "You made it!"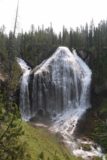 So everyone was having a picnic lunch while basking in the sight that was the Union Falls, where Mountain Ash Creek tumbled over an unusually-shaped trapezoidal wall and there was enough water spilling over the entire shape to fill in the whole shape with falling water. There were also other spillover streams and creeks, including one that joined with the trapezoid on the left, which was probably how this falls got its name as it was the "union" of creeks.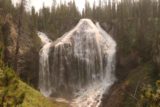 There were still pesky mozzies even at this overlook so I put back on the leg part of the pants though it was too little too late as I had hiked without it throughout and had gotten bit a few times. I had also reapplied DEET.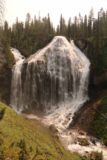 There was still spray coming from the falls to reach the overlook. That told me that this falls might have gotten higher flow in conditions more indicative of July than August due to the higher-than-average snowpack from the Winter and Spring months. That also might have explained why the Falls River ford earlier on seemed so challenging.
Anyways, the lighting on the falls at this time was a little suboptimal as the sun was almost right on top of the falls and created a bit of a partial shadow on it. I made it a note to come back here after checking out the other waterfall, even though it would ultimately extend the hike by another 1.6 miles.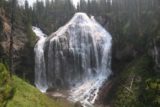 But before I did that, I was chatting with the same fellow that I had spoken to earlier before crossing the Falls River ford. It turned out that he was from Ohio and that he had just met this group from Montana a couple of days ago on Facebook. That told me that this guy must have been very resourceful and that he smartly looked for ways to hike in grizzly country in a safer manner.
I also ate some of the leftover gluten free bread from Seattle earlier on in this trip. It obviously had nowhere near the texture that it had when we first bought it, but it was food to keep me going. I told myself that I'd finish the rest of the picnic lunch either back at this waterfall or at the other waterfall.
The group then decided that they would scramble down to the base of Union Falls. As tempting as it was for me to do the same, I decided that I'd stay behind and photograph them in the act just to show what it took to get there. It turned out that after a rather steep section beneath the overlook, the rest of the way didn't look all that bad aside from being a bit wet and muddy.
I don't know if I would regret not doing this, but I made my decision and figure that time was more precious at this point.
Other people also showed up. There was even some kids that were here, making me believe that they must've come here by stock. Indeed, my theory that hiking on a Saturday in Summer would yield more human activity rang true, and thus a grizzly encounter was less likely. That was my key calculated risk.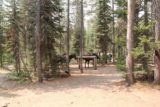 So at 12:40pm, I headed back down in search of the other waterfall. I had told the group that that was where I was going just prior to their descent to the bottom of Union Falls. They seemed to welcome the idea of going for a dip, and I'm sure they would see me again over there.
Thus, I quickly made my way back down to the stock parking lot where I saw that there were horses parked there, sure enough. I then quickly made my way over to the other trail and quickly walked to its end where there were a trio of people and a dog swimming at a small but wide waterfall with colorful water in its plunge pool. It was 1:05pm at this point.
A sign here something about the trail beyond this point closing, and that this was called the Ousel Pool. As I approached the waterfall, one lady there recommended that I go in for a dip because the water was actually "warm". And since I was in quick-dry pants that didn't require underwear, I mentally thought I was going to do that.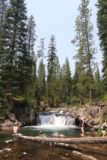 Anyways, I took my time slinging off my day pack and unzipping my pant legs in preparation. I also removed the damp Keens
. And as I was taking photos and videos of the place, the big group showed up just as I was having my lunch. They wasted no time in taking off some clothing to get into the pool (the guys went down to their boxers; the ladies were hesitant to just go in without a change of clothes, but they did).
And the result was a festive scene where people were doing cliff jumps from both sides and overall just having fun. It was the perfect interactive waterfalling experience after the visual splendor of Union Falls.
When I was done with my picnic lunch, it was now my turn to go into the water. Even though I also didn't have a change of clothes, I figured that you only live once.
And indeed it was kind of like lukewarm water. It was amazing that a place so remote could have such comfortable water. I stayed to the side to avoid getting in the way of the cliff dives while also staying away from the current.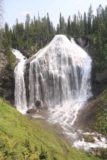 When I had my fill of this spot, I then headed back to Union Falls at 1:30pm. And by 1:45pm, I was back at Union Falls where as expected, the lighting was much butter. There were also more people chillaxing at the overlook while there were a trio of people that made their scramble to the base of the falls. It all made me wonder if I should or shouldn't do this, but I realized that by the time I'd leave this spot, it would mean that I'd come back later and worry Julie and Tahia. So I opted to remain at the overlooks again and take my pics and videos.
There were still mozzies buzzing about, which meant that they seemed to be pesky and persistent throughout the day instead of taking a chill pill at the height of the day and coming back out in the late afternoon.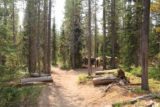 At 2:10pm, I was finally leaving Union Falls. I also noticed that my feet seemed to have cuts or were bleeding in the same spot. That kind of made me wonder if it was the result of the Keens
chafing my feet or something. Whatever the case, this wasn't good as I knew that there was probably a bit of bacteria or fungus growing down there, and now I had these open wounds.
The hike back went quickly as I trail ran the downhill sections. By 2:20pm, I was back at the corral, and by 2:35pm I was back at the ranger station. Along the way, I saw two more stock parties (one lady asked if there were other people I was with to which I said there were a handful of people at the falls). I also passed by two or three smaller groups of people still headed to the falls.
By 2:55pm, I had made it back to the long uphill stretch that I knew was going to be painful on the return. It was here that I had caught up to the large group again. And we were pretty much taking turns passing each other. In one stretch, we chatted more about the experience and the fires and the thunderstorms and other backcountry things.
They seemed amazed that I was as prepared as I was in terms of knowing what to expect here for someone from Los Angeles. But I told them that I was here before, and I had some books to help me along the way. One of the ladies also had that blue Yellowstone Waterfalls book even though it was more of a history book than a trail guide.
At 3:20pm, I made it back to the cold creek crossing, where the water really stung my open wounds, especially on my left foot. I definitely couldn't wait to get out of these shoes when I got back to the trailhead barring a grizzly encounter.
At 4:20pm, I made it back to the standing water creek, where there were fallen logs to get across without getting stuck in the muck. That was where I talked a bit more with the group again about more miscellaneous topics, including the horse flies that yielded very irritating bites that were worse than mozzie bits.
I then forged again once again and continued up the last climb (which was minor compared to those earlier) and then descended all the way down to the Falls River ford, where I arrived at 5pm. There was a different trio of hikers that made it here and proceeded to go right into their crossing. The water looked slightly deeper than I had recalled earlier as it seemed to go an inch or two above this morning's depth. Perhaps there was still snow running off from the heat of the day.
Afterwards, I made my crossing where I was fighting the current while slowly trying to walk sideways along the shallowest parts that I could find. When I got to the other side, I saw the group start to show up at the other side of the creek. We waved to each other, then I continued on the home stretch.
Finally at 5:40pm, I made it back to the car and promptly left after getting out of the wet Keens
.
The rental car had a bit of trouble going up the steep road to get back up to the Grassy Lake Road, and that where were I knew that I had to put the car in reverse and then gain some momentum to get past the slick parts even though there were deep potholes and ruts. It was good that this vehicle had high clearance.
Eventually at 6:25pm, I made it back to Flagg Ranch. A note in the room said that Julie and Tahia were already in the dining area. So I promptly drove back to the dining and reception area, and we were finally reunited once again.
Julie and Tahia regaled me with their stories of what they did during their tour. Apparently, they did some repeats like Old Faithful and Gibbon Falls, but they also did some things we didn't get a chance to do like Mud Volcano, brink of Upper Falls in Canyon, Yellowstone Lake Lodge, and other things.
Julie also told me that they got quite an interesting education on the history and especially the bear bells being bad, as they had learned to associate the bells with backpacks full of food so it was kind of like a dinner bell to them. Good thing I didn't carry that along on my hike. We were determined to definitely return these things when we get back.
At 8:05pm, we finished dinner at Sheffield's (the name of the dining room here), where we had a delicious dinner of trout, ribeye steak, and Tahia's chicken all with nice brussel sprouts, Roosevelt chili, and some free corn bread that was also very good.
Tahia then went into the gift store with Julie so she could pick up a book about who left poop in the woods. It was actually a good purchase as it could serve as a field guide for a curious mind like hers.
Finally at 8:30pm, we were back at the room to chillax for the rest of the night. We had skipped dessert at the restaurant, but Tahia and I were sharing a father-daughter moment eating chocolate chip cookies that they had picked up during their Yellowstone tour.
Ah, such priceless memories. Indeed, it had been a milestone day all around…