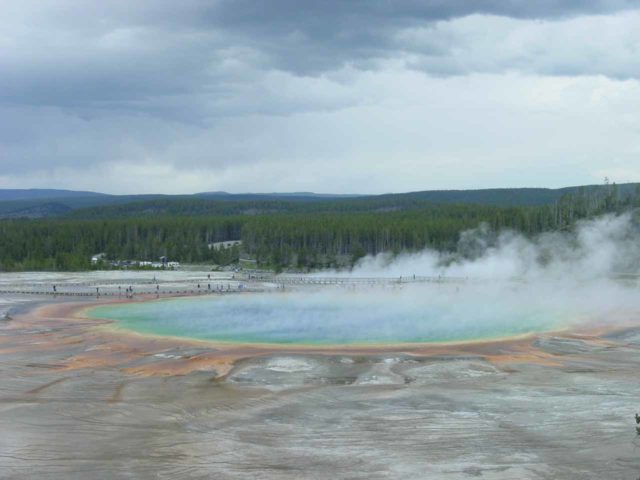 18-June 2004 to 20-June 2004:
As Julie was enjoying her lunch atop the scary rock, I joined her on the rock so I could take photos of Terraced Falls with the wide angle lens attached. I was getting butterflies in my stomach as I tried to position myself to take the photograph. I made sure I stayed away from the sloping edge that dropped right into the falls below. And Julie kept her eyes on me to make sure I didn't get too far out. Then, I pointed my camera down towards the falls, but suddenly the wide angle lens dropped from the camera…
Day 1: MISROUTED BAGGAGE, LONG DRIVE, AND SOGGY START
We had to spend a night at a hotel by the airport at Salt Lake City because someone at LAX misinterpreted the baggage tag on our huge duffle bag (full of camping gear). Instead of obeying the SLC (Salt Lake City) on the baggage sticker, the bag got routed to SJC (San Jose, California)! The next flight with the duffle wouldn't arrive until 9am this morning so that prevented us from being in Yellowstone earlier than I wanted to.
Then again, perhaps it was good that this did happen because I had this crazy idea to drive up from Salt Lake City after arriving last night. That meant driving in the dark and arriving in Yellowstone in time to just sleep in the car and then claim our camping spot when we get up. That way we'd already be in Yellowstone on this day. In hindsight, it was probably a stupid idea because of the dangers of driving in the dark (especially if wildlife would be out and about), plus there was a high likelihood of being asleep behind the wheel given that it was at least 4 hours of driving from Salt Lake City to the West Yellowstone Entrance.
So once we collected our duffle from the airport, we then went on our long drive. The last time we passed through this area along the I-15 was when my my brother's 13-year-old senior minor baseball team made the West Regional bracket that took place in Missoula, Montana many years ago. I recalled the drive primarily going through lots of farms, and we even made one brief detour through Yellowstone.
On this drive, it seemed kind of like how I remembered it – mostly farmland for many miles with a few forests here and there. As we got towards Pocatello and then towards Idaho Falls, we then took the Hwy 20 towards Ashton. Somewhere along the way, we took the Mesa Falls Scenic Byway thinking that this would be a pretty cool detour to take on the way to Yellowstone. We didn't anticipate seeing these waterfalls prior to the trip, so this was a pleasant surprise.
However in hindsight, I completely overlooked the fact that we could've driven from Ashton into the Bechler Backcountry to at least see Cave Falls and Bechler Falls. I think that was a miss on my part. I guess we'd have to go back to Yellowstone some time in the future.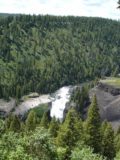 At around 2pm, after following the well-signed turnoff for Lower Mesa Falls, we finally got to the car park there. It was a short walk leading to a distant overlook of the impressive waterfall as the Henry's Fork was channeled into a turbulent dropoff.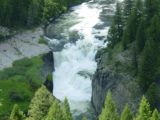 Given that this was all we could see and do at this overlook (although we wanted to get closer), we headed back into the car and kept driving.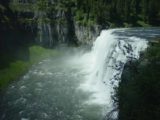 At around 2:30pm, we then followed the next well-signed turnoff for the Upper Mesa Falls. Unlike the waterfall we had just been to, this one had a much larger car park as well as some buildings. Apparently this waterfall was more of a big deal than the other one.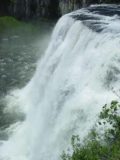 We wasted no time getting onto the well-established looped boardwalk, which took us right to the brink of the Henrys Fork where we got sideways views of the Upper Mesa Falls. It was either sideways views or brink-of-the-falls views, but there would be no way we could get the more frontal views to better appreciate its width and overall size.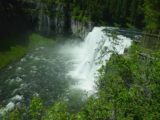 Still, this was a pretty nice waterfall to check out and certainly worth the detour on our way to Yellowstone. Who knew that such scenery existed just outside the doorstep of Yellowstone?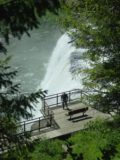 We'd eventually arrive at the town of West Yellowstone, which was in Montana (kind of surprising to me, I guess)! We spent a little bit of time there just to get a takeaway lunch as well as to go to an outfitters there to pick up a larger Camelbak backpack for Julie as well as some bear bells and a bear spray (Julie had a bit of a phobia of bears).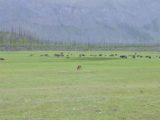 After showing our National Parks pass at the western entrance of Yellowstone, we then headed towards the Madison Junction. To our surprise, there was a large herd of elk and bison grazing on a large plain backed by some burnt trees and mountains in the distance. Julie and I had never seen such a large collection of megafauna in the wild in one place before. So this was quite a sight to see for us.
We'd eventually get to our campground to set up camp just before 5pm. It didn't take much time for us to get set up. This was where I really appreciated the 2-person Meteor Light CD tent by Sierra Designs that I intended for backcountry use, but seemed to make a decent car camping tent as well.
Anyways, there was still enough daylight to do a little more exploring though it did start to rain.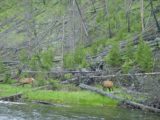 First up, we headed a short distance south of our campground at Madison to the one-way Firehole Drive. Along the way, we noticed some more elk grazing besides the Firehole River as we were slowly making our way through the loop.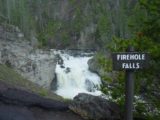 The main attraction of this detour for us was the Firehole Falls, which we'd eventually get to at 5:50pm. The waterfall was well-signposted and it was one of those short and gushy-type waterfalls. I suppose the waterfall must've gotten its name because this river must have sections that were geothermally heated or something (otherwise why call it "firehole"?).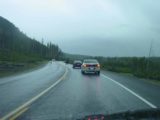 Next, we headed towards some geyser and geothermal areas to the north of Madison. Along the way, there was a minor traffic jam as a bison was occupying one lane of the road between Madison and Norris. Unfortunately, it seemed like it was in the mood to ram any car passing by it (at least it was gesturing like it was doing it), so that seemed kind of scary considering no one would want to pay for damages of this nature.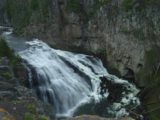 As the road narrowed, we found a small car park by the road with an overview of the impressive Gibbon Falls. The falls had a bit of an interesting and sprawling shape from this vantage point, but it was really the concrete barriers that allowed me to use it as a pseudo tripod and try to long exposure this waterfall with the point-and-shoot Sony Cybershot I had (that also let me play with the manual controls).
After having our fill of Gibbon Falls, we finally made it to the Artist Paint Pots at around 6:30pm. The skies were still heavily overcast and the rain appeared to momentarily let up so we got to explore the boardwalk passing through this geothermal region for a bit. However, we knew that without the sun, the colors of this area were quite muted.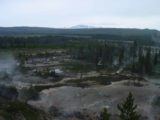 Nonetheless, we walked far enough to a point where there was a nice overview of the overall paint pots area while looking in the direction of the Absaroka Mountains in the distance. That was pretty cool.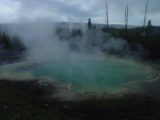 With still some daylight left, we then decided to continue a little further towards the Norris Geyser basin. We'd get there at 7:15pm and we quickly made our way towards the Steamboat Geyser where I had this crazy notion that somehow we might get lucky and see this park's most powerful geyser go off.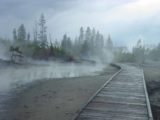 Of course we weren't so lucky though every once in a while, the geyser seemed to sputter and put out minor eruptions. Also along the way, we saw some intriguing hot springs. We knew that some time later on in the trip we were going to come back to this area, but now it was starting to get dark so it was time to get back.
On the drive back, there was another traffic jam between Norris and Madison. But this time, there was a herd of bison literally walking on the road and providing limited opportunities for motorists to pass. I guess it was kind of a reminder to us that we were in Yellowstone, where you take your time and let Nature put on a show whenever it wants to.
Finally at around 8:45pm, we were back at our campsite. Julie and I used some camp food since we didn't have time to eat a more substantial meal, but at least it was our idea of budget touring in Nature. However, somehow I wondered if this gave the Julie ideas about doing the bookings instead of me (ultimately planting the seeds of becoming a travel agent eventually) because I got the feeling that she wasn't terribly keen on doing this for another two more nights!
Day 2: STEAMY MOSAICS
It had been raining throughout the night, and when we awoke at around 6am or earlier, it wasn't exactly the kind of conditions where we wanted to just get up out of our sleeping bags and right into the cold wetness. I was a little bit nervous about all the rain we were getting, but at least the silver lining to this was that the tent so far was pretty good at keeping the water out of our interior.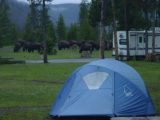 So we slept in a bit to hopefully wait out the rain. And it wasn't until around 7am when the weather finally relented and we went outside to have a quick brekkie of instant foods and power bars. As we were having breakfast, we noticed there was a herd of bison that was essentially passing right through the campground. In fact, they were at the camp right next to ours!
We were a little worried about getting gored amongst the chaos, but they eventually went by without overwhelming our campsite. Whew!
The priority for today was to visit the predictable geysers of the Upper Geyser Basin. For a day like today, we didn't feel it was necessary to get the early starts that I was starting to become infamous for (at least according to Julie).
So the first order of business was to get to the Old Faithful area, and we arrived there at around 8:30am. We went straight to the Old Faithful visitor center where there was a handwritten chart talking about the last known geyser eruptions of each of the major geysers in the park.
The method here was based on historical data giving you an idea of the intervals of time between eruptions. It was no guarantee that the eruptions would occur exactly within those intervals, but it seemed like this time-honored method worked out most of the time.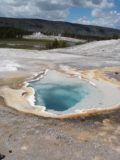 So we saw that Old Faithful Geyser typically went off after 75-90 minutes of inactivity. It still had a ways to go before the next eruption. Meanwhile, there were other geysers that seemed to have already gotten sightings for the day (I'm guessing some rangers doing their rounds early in the morning or some early birds doing it then reporting their eruption times). Some of the expected times seemed like they were right within our window of touring the greater Upper Geyser Basin, which was what we were about to walk through.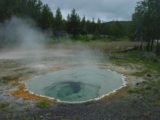 Most of the early morning was spent checking out a bunch of springs, each of which seemed to have names based on the apparent shape they assumed. Some of these springs were called Shield, Atrium, and Belgian among others simply because one looked like a shield while another looked like the atrium of a heart and yet another looked like the country of Belgium (I guess).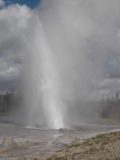 At some point we got to the Daisy Geyser, which was the one closest to erupting according to the Old Faithful visitor center. So we waited out this one, and sure enough by around 10:55am, Daisy Geyser did its thing!
We weren't sure how it got its name, but with some pockets of blue skies, we tried our best to get the photo of the angled geyser against the contrast of the blue backdrop. The eruption seemed like it went on for a while (maybe 15 minutes or more). But when it was done putting on its show, we then continued further along the Upper Geyser Basin.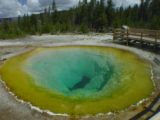 We'd eventually walk all the way to the colorful Morning Glory Pool at 11:15am. Apparently, this used to be much closer to the Grand Loop road where people would toss coins in there, which would alter the chemistry of the hot spring and ultimately affect the bacteria giving rise to the vibrant colors.
Now, getting here required a bit of a walk, and just that move alone seemed to have reduced the amount of mindless littering that could've easily jeopardized this lovely hot spring and ruin it for the next generation and the following generations to see.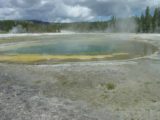 The pool was quite wide from the official viewing spots so I used the wide angle lens that attached to my Sony Cybershot to bring the whole pool in (although I came to realize later that that lens tended to distort the edges and cause severe vignetting).
After having our fill of the Morning Glory Pool, we headed back towards the Old Faithful Geyser area. But along the way, we noticed there was a crowd gathering at the Grand Geyser. Given this, we just had to find a way there as we knew that a geyser eruption was imminent.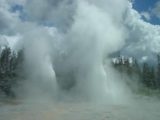 According to the signs here, there was also a second geyser called Turban Geyser that was said to go off together with Grand Geyser. We were anticipating the show as having two geysers going off together would be pretty neat to see.
Sure enough by about 12:15pm, the show was on. Initially, the jets of water spouting up from the ground could be seen, and we frantically tried to capture the action on our cameras as it was all happening before us.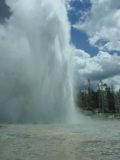 Of course, we weren't alone as hundreds of other people were doing the same thing.
But at the show kept going (the eruption must've lasted at least 20 minutes or so or longer), steam was starting to dominate the scene and that meant the jets of water started to become hidden amongst all that steam. So it was becoming less and less photogenic depending on the direction of the steam, and so we tried to reposition ourselves to get a more meaningful photo.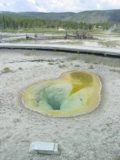 After the Grand Geyser's show, we then deliberately continued along the other side of the Upper Geyser Basin noticing more springs and vents along the way.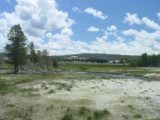 The walk back to the Old Faithful area seemed like a bit of a walk, which I guess attested to just how much real-estate we covered this morning. But at least the terrain was wide open and we could see the Old Faithful Inn in the distance.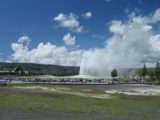 Eventually, as we got closer to Old Faithful Geyser, we could see that it was going off around a crowd of people in the distance. It was a good way to photograph the whole context and overall size of the geyser itself from back here. Plus, the skies were opening up and showing a bit more blue.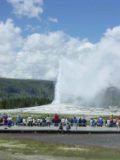 We'd eventually have our fill of the Upper Geyser Basin at around 1:30pm. Next, we decided to go over to the Midway Geyser Basin where we were hoping to take advantage of the improving weather to see the colors of the Grand Prismatic Spring.
We ultimately got to the Midway Geyser Basin at around 2pm. By now we were quite used to the persistent sulfure smell of the geyser basins, but what was interesting about this geyser basin was that the Firehole River was passing by some geothermally-produced mounds that resulted in mini cascades of 5-10ft or something.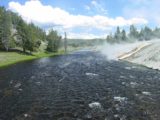 I believe they were outflows of the Excelsior Geyser, which wasn't going off during our visit. But still the scene was a bit unusual and it kind of reminded me that perhaps we should've taken the time earlier this morning to check out the Riverside Geyser instead of the Daisy Geyser (I believe they were both going off at the same time according to the visitor center logs). Oh well, maybe next time.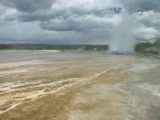 Beyond the Excelsior Geyser, we were then on a large boardwalk that went past some brownish and beige mats. There were no colors of the Grand Prismatic Spring just yet.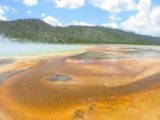 But as we got further along the walkway, we were right amidst the kaleidoscope of colors that the Grand Prismatic Spring was known for. We saw several bands and streaks of orange and brown streaking towards bright blue in the distance.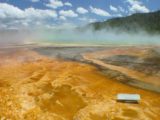 While it was pretty cool to see the Grand Prismatic Spring up close like this, it would've been even cooler to see it from the air or at least from some place where we'd have a higher vantage point. I had recalled from my pre-trip research that it was possible from the Fairy Falls Trail, and we were about to do that next. So I kept that in mind as we slowly made our way back to the car.
At around 2:45pm, we were at the Middle Geyser Basin where there was another car park as well as the trailhead for Fairy Falls. We could see right away that the forest was heavily burned in the 1988 fires here, and even 16 years later, the area looked like it was still in recovery.
Anyways, we continued walking the initial flat part of the trail, which was basically burnt trees against a hillside to our left and the Grand Prismatic Spring way in the distance to our right. The whole time we were walking this stretch of the trail, I was keeping one eye to the left hoping there might be some kind of obvious spur path that would allow us to scramble up the hill for a better view of the Grand Prismatic Spring (albeit a distant one).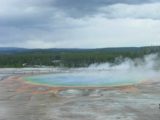 Ultimately, we found a few unmarked spur paths that seemed to be on the moderately wide side, and we just decided to start the steep uphill scramble. As we got higher, it seemed to get a little steeper. So we were trading off how much we were willing to risk a fall versus getting high enough above the burnt trees to get that nice contextual look at Grand Prismatic Spring.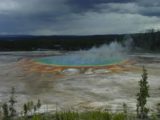 I think we got somewhere around half- or two-thirds the way up the hill before we were content with our view against the ominously dark skies (as it seemed like there was still some instability in the weather despite the pockets of blue skies throughout the morning).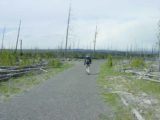 After having our fill of this little detour, we then returned to the main trail and continued further until we got to a junction for the Fairy Falls trail at around 3:30pm. Now, the spur trail went even deeper into a ghostly forest that was just full of charred and grayed out remains of trees still standing but bare and without leaves. Boy that 1988 fire must've been one mean inferno!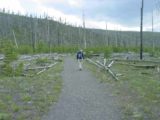 We'd eventually get to our first look at Fairy Falls at around 4pm. It was a tall and wispy waterfall, and I'd imagine that it wouldn't flow very well the further along into the Summer it went. But from the looks of things, the view was pretty nice and open. I guess that was one silver lining of the wildfires of 1988 for I had read that the views weren't that great and mostly obstructed by these trees in the past.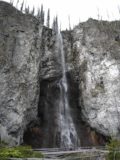 We decided against continuing the hike towards the Spray and Imperial Geysers since it was said to be another 3 miles to get there. Plus, I didn't think they were predictable, and even if they were, we had already seen three predictable ones today. So we turned back and headed back to the car park.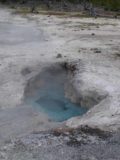 Next, we then went to the Biscuit Basin as we arrived there at around 5:30pm. In addition to the intriguing hot springs here, I knew that it was also part of the trailhead for Mystic Falls. We figured that seeing this waterfall would be the perfect way to cap off this eventful day in Yellowstone as tomorrow, we had our sights on a rather unconventional visit to the Bechler Backcountry.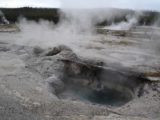 So by around 6pm, we were on the Mystic Falls trail. Unlike the trail to Fairy Falls, we saw some sproutlings and greenery though we also passed through more massive pockets of bare and burnt trees from the 1988 wildfire.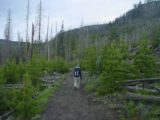 As we got closer to the waterfall, at first we thought we would have to settle for some pretty rough and subpar views of the falls from along the river. We figured there had to be a better way to see the falls so we backtracked onto the main trail, then realized that we somehow missed some climbing section.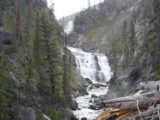 Once we realized this, we then passed a temporary waterfall en route. I don't think that one showed up in the Yellowstone Waterfalls book that we had brought with us, but then again, it was probably of the ephemeral variety and only came into existence today because of the rain from last night and this morning.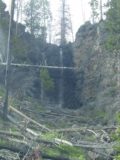 There must've still been some rain given the unstable weather (though there was plenty of sun today) because we saw a bright and bold rainbow in the distance once we reached the top of the climb around the obstacles that went above and past the awkward views we had of Mystic Falls earlier.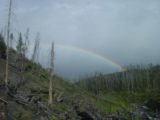 After a little bit of more climbing, we got to another part where it seemed like we would only get a partial view of Mystic Falls. It was mostly in shadow so we knew that there would at least be somewhat satisfying photos of the falls in even light instead of having those dreaded light and dark zones.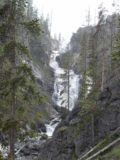 After a little more searching around, we found another small climbing section that led us even higher above the rock obstruction. And that was when we finally found a pretty satisfying view of the multi-tiered Mystic Falls.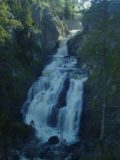 From up here, we could see that there was some steam coming out of the river near the waterfall's top. That seemed to suggest that even this waterfall was near some thermal springs. I wasn't sure if it was accessible, but somehow getting in the water above a rushing waterfall didn't seem to be like a good idea. Besides, we weren't about to go take a dip anyways so we headed back to the car park at this point.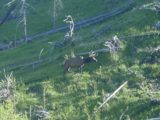 On the way back, we noticed another elk grazing across the river. I was somehow hoping to start seeing some of the more rarer wildlife as we had been seeing plenty of elk and bison to this point. I was now on the lookout for moose though somehow I didn't think moose frequent this area.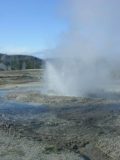 Back at the Biscuit Basin, we took a few more minutes to see if any of the small geysers here would go off. I think there was one that frequently made small spurts before churning. But other than that, the weather was improving again, and we finally drove back to the Old Faithful area once again.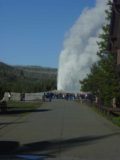 We arrived at the Old Faithful area at around 7:15pm. And we happened to show up just as the geyser was already in the middle of its show. We probably could've ran to get a closer look of the geyser against blue skies, but as we were taking a few steps more, the geyser was already past its peak eruption and now it was just in its remainder stages.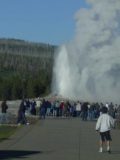 Since Julie and I had come prepared on today's day trip with a spare change of clothes and toiletry, we didn't have to go back to Madison then back to Old Faithful to go take a shower. So after doing that, we then had a dinner in the Old Faithful area before we returned to the Madison Campground to tend to get into our sleeping bags and spend another night in the great outdoors.
Day 3: BACKCOUNTRY DRAMA
We awoke from our tent at a little after 4am. The tent was damp from a combination of the morning condensation as well as the relentless rain of the past two evenings. When I got out of the tent, clouds were still overhead and it looked as if rain was threatening again.
But that wouldn't deter us from our goal for today, which was to do an out-and-back day trip to see Terraced Falls and Union Falls. So with our early start, we were already on the road before 5am.
During the drive, it was interesting to see steam everywhere we went as we passed through Yellowstone's famed Lower, Middle, and Upper Geyser basins. Some sections were foggy as if there was some kind of interplay between the steam and the morning temperatures creating some kind of inversion. We had spent time amongst this thermal wonderland yesterday, but we committed to our goal for today so we motored on without stopping.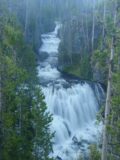 However, we did briefly stop at the overlook for the Kepler Cascades just before 6am.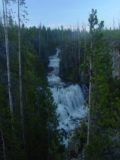 When we crossed over the Continental Divide and headed towards the West Thumb Junction, we could see the sun rise between the clouds and the vast Yellowstone Lake. We were encouraged by the sight of the sun this early in the morning since it had been raining often each of the last two days we'd been here.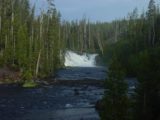 When we got closer to the park's southern boundary, we noticed Lewis Falls as the early sun shone on the falls just long enough for us to get a couple photos before the sun's light disappeared as it rose into the clouds.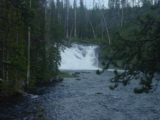 It was nearly 7am when we arrived at Flagg Ranch, which sat a few minutes outside the southern boundary of Yellowstone National Park. We knew that we had to turn right at this point and go down the Grassy Lake Reservoir Road to get to the trailhead of our desired hikes.
Both Terraced Falls and Union Falls reside in the so-called Cascade Corner of the park. Formally known as the Bechler region, it was a haven for waterfall lovers, but it was also a place where you had to earn the waterfalls you wanted to see. I was nervous about doing this excusion because I knew Union Falls had a river crossing and I wasn't sure we were going to get through it with the river's water levels in late June (even though it had been a pretty dry year rainfall wise).
Anyhow, the Grassy Lake Reservoir Road started off paved near Flagg Ranch but some of the potholes looked awfully deep. Being careful not to get a flat tire by running over them, we went through its brief paved section before the road immediately went unpaved and pretty rough going. The driving on the unpaved road really gave me white knuckles as I tried to make sure the underside of the car wasn't going to get damaged while keeping my wits as we moved forward off the beaten path.
After negotiating several ruts and a steep hill where there were lots of loose gravel that threatened to scrape the underside of the car, we continued passed the Grassy Lake Reservoir and eventually ended up at the Cascade Creek Trailhead at about 8:30am.
Being in the remote wilderness early in the morning, we were the only ones here. So as we prepared ourselves with our packs, water, and insect repellant, I also brought bear spray and bear bells hoping they would somehow help us and give us tools to deal with an aggressive grizzly should we run into one. Of course, I wasn't so sure we'd be level-headed enough in such a circumstance so we hoped for the best. But Julie was even more concerned about them after reading about a park visitor who was attacked by one just a few days ago.
Nonetheless, we set off on the trail. It immediately descended downhill and we quickly reached a sign with a map indicating river crossing locations. Of course, we were most interested in the Falls River crossing for the Union Falls hike, but the wording at the bottom of the sign ominously warned the river levels were high this time of year.
Just then, I had a foreboding sense that I forgot to turn off the lights of the car. I couldn't move forward with this thought on my mind so I quickly ran uphill to check. Julie stayed by the sign. When I got back to the car, I was startled to see the lights were still on!
Quickly I turned it off and ran back down the hill to rejoin Julie.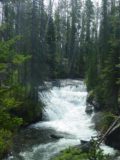 And so we continued walking down the trail, noticing how scary the Cascade Creek crossing looked should we want to get to Union Falls from this trail. We weren't going to try it anyways so we kept going on the Terraced Falls trail passing by several cascades.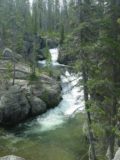 Eventually, we'd get to where Cascade Creek and the Falls River joined. At that point, the trail stayed on the south side of the river with limited river access.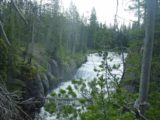 It was a little after 9am when we heard the Falls River tumbling loudly behind the foliage. I knew this must be the falls we were looking for. Sure enough, we also saw signs saying not to go any further. Both Julie and I went past that sign just to see what the obstacle was and sure enough, the trail degenerated into a very steep gully. It looked a bit steep going down and we decided to just stay at the top.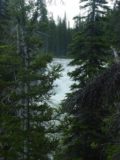 Now the problem was we couldn't really see Terraced Falls. There was nothing but trees and rocks blocking the way and we could only see bits and pieces of the falls when we got here. However, we did notice a precarious-looking rock that appeared to stand over the falls.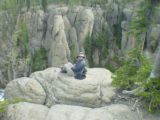 Now that we stopped moving, the mosquitos were looking for blood. We quickly put on our deet repellant and got out our sandwiches for a lunch on that scary-looking rock. Julie was the first to get on that rock. Meanwhile, I attached the wide angle lens to my point-and-shoot camera, knowing that I'd need it for this waterfall.
As Julie was enjoying her lunch atop the scary rock, I joined her on the rock so I could take photos of Terraced Falls with the wide angle lens attached. I was getting butterflies in my stomach as I tried to position myself to take the photograph. I made sure I stayed away from the sloping edge that dropped right into the falls below. And Julie kept her eyes on me to make sure I didn't get too far out. Then, I pointed my camera down towards the falls, but suddenly the wide angle lens dropped from the camera.
With a crack the lens crashed onto the rock and continued to roll down over the edge. Almost instinctually, I dropped to me knees and reached for it in one stab but was unsuccessful. Julie panicked and reached to grab onto me. A bottle of deet fell from her pack and also rolled over the dropoff into the Falls River. Both of our hearts were racing with nervousness at our near fall.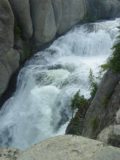 When we started to calm down, I still managed to get a few shots (without the wide angle lens) before we decided it was time to leave this rock. I couldn't understand how it got detached from the camera, but we were quickly reminded just easy it was to get killed out here.
Blood was dripping from me knee cap (probably from when I dropped to me knees to make that one lunge for the lens). I guess it was my souvenir for surviving this brush with death.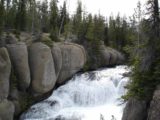 Julie was giving me a major guilt trip about lunging for that lens. She was probably right, but I wasn't even consciously thinking when it happened. Even worse yet, we didn't even get the views we were after for this waterfall – the one shown in the book "The Guide to Yellowstone Waterfalls and Their Discovery." I was a bit annoyed at how misleading the photo was. I wondered why they should show that photo if it wasn't accessible from the formal trail? So we had to make do with our unsatisfactory photos. It was quite a bit of trouble to get out here only to be disappointed at our views and our near-death experience.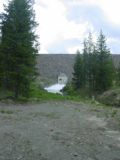 It was about 10:30am when we returned to the car. The next order of business was to return to the Grassy Lake Reservoir and check out the Union Falls hike.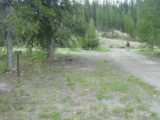 At this point, neither of us were really in the mood to do this hike especially now that the morning was nearly gone. But we did do the hike as far as the Falls River crossing to see whether it was doable or not.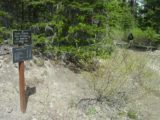 During the hike, we descended below the dam and followed the forested terrain with mosquitos swarming around us. There were several fallen trees along the trail, but they didn't pose too much of an obstacle for us. It was a bit unnerving to hear loud groans amongst the trees. I wasn't sure if it was a bear or a moose or whatever. All both of us knew were that we had never heard this sound before.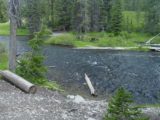 It was almost 11am when we saw and heard the Falls River at the crossing. The crossing looked a bit wide and intimidating, but there was an island in the middle. However, the water was also moving fairly fast. Julie refused to do the crossing and was worried I might give it a try. But I knew Union Falls was a lost cause at this point so we turned back.
Defeated, we recovered the car, then drove the Grassy Lake Road back to Flagg Ranch. There was a tricky part where the road climbed steeply out of Grassy Lake Reservoir on loose gravel, but the car climbed it ok (fortunately for us). Then, we headed north across the South Entrance and back into Yellowstone National Park.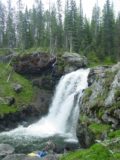 Not long after getting into the park, we saw Crawfish Creek and decided to stop by the bridge here at around 1:30pm. We then took a short trail that led us down to a view of Moose Falls. There were plenty of folks swimming at the base of the falls having a good time.
Anyways, we were back in Old Faithful by 2:45pm and spent the rest of the afternoon walking around the Old Faithful Lodge – glad to be back in "civilization."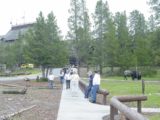 Without anything else planned for this afternoon, we pretty much just checked out the lodge itself (and its elaborate interior) while also having ourselves a dinner, and a shower. Then, we finally retreated back to camp where we would stay our last night at Madison Campground. Tomorrow, we'd move onto the next phase of our Yellowstone trip as we head more to the Canyon area.
Visitor Comments:
Got something you'd like to share or say to keep the conversation going? Feel free to leave a comment below...
No users have replied to the content on this page