Day 1: MISROUTED BAGGAGE, LONG DRIVE, AND SOGGY START
We had to spend a night at a hotel by the airport at Salt Lake City because someone at LAX misinterpreted the baggage tag on our huge duffle bag (full of camping gear). Instead of obeying the SLC (Salt Lake City) on the baggage sticker, the bag got routed to SJC (San Jose, California)! The next flight with the duffle wouldn't arrive until 9am this morning so that prevented us from being in Yellowstone earlier than I wanted to.
Then again, perhaps it was good that this did happen because I had this crazy idea to drive up from Salt Lake City after arriving last night. That meant driving in the dark and arriving in Yellowstone in time to just sleep in the car and then claim our camping spot when we get up. That way we'd already be in Yellowstone on this day. In hindsight, it was probably a stupid idea because of the dangers of driving in the dark (especially if wildlife would be out and about), plus there was a high likelihood of being asleep behind the wheel given that it was at least 4 hours of driving from Salt Lake City to the West Yellowstone Entrance.
So once we collected our duffle from the airport, we then went on our long drive. The last time we passed through this area along the I-15 was when my my brother's 13-year-old senior minor baseball team made the West Regional bracket that took place in Missoula, Montana many years ago. I recalled the drive primarily going through lots of farms, and we even made one brief detour through Yellowstone.
On this drive, it seemed kind of like how I remembered it – mostly farmland for many miles with a few forests here and there. As we got towards Pocatello and then towards Idaho Falls, we then took the Hwy 20 towards Ashton. Somewhere along the way, we took the Mesa Falls Scenic Byway thinking that this would be a pretty cool detour to take on the way to Yellowstone. We didn't anticipate seeing these waterfalls prior to the trip, so this was a pleasant surprise.
However in hindsight, I completely overlooked the fact that we could've driven from Ashton into the Bechler Backcountry to at least see Cave Falls and Bechler Falls. I think that was a miss on my part. I guess we'd have to go back to Yellowstone some time in the future.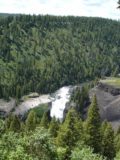 At around 2pm, after following the well-signed turnoff for Lower Mesa Falls, we finally got to the car park there. It was a short walk leading to a distant overlook of the impressive waterfall as the Henry's Fork was channeled into a turbulent dropoff.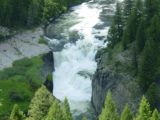 Given that this was all we could see and do at this overlook (although we wanted to get closer), we headed back into the car and kept driving.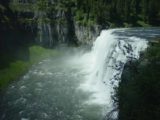 At around 2:30pm, we then followed the next well-signed turnoff for the Upper Mesa Falls. Unlike the waterfall we had just been to, this one had a much larger car park as well as some buildings. Apparently this waterfall was more of a big deal than the other one.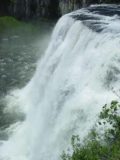 We wasted no time getting onto the well-established looped boardwalk, which took us right to the brink of the Henrys Fork where we got sideways views of the Upper Mesa Falls. It was either sideways views or brink-of-the-falls views, but there would be no way we could get the more frontal views to better appreciate its width and overall size.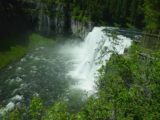 Still, this was a pretty nice waterfall to check out and certainly worth the detour on our way to Yellowstone. Who knew that such scenery existed just outside the doorstep of Yellowstone?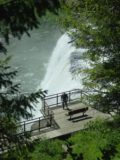 We'd eventually arrive at the town of West Yellowstone, which was in Montana (kind of surprising to me, I guess)! We spent a little bit of time there just to get a takeaway lunch as well as to go to an outfitters there to pick up a larger Camelbak backpack for Julie as well as some bear bells and a bear spray (Julie had a bit of a phobia of bears).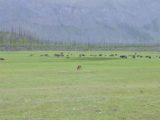 After showing our National Parks pass at the western entrance of Yellowstone, we then headed towards the Madison Junction. To our surprise, there was a large herd of elk and bison grazing on a large plain backed by some burnt trees and mountains in the distance. Julie and I had never seen such a large collection of megafauna in the wild in one place before. So this was quite a sight to see for us.
We'd eventually get to our campground to set up camp just before 5pm. It didn't take much time for us to get set up. This was where I really appreciated the 2-person Meteor Light CD tent by Sierra Designs that I intended for backcountry use, but seemed to make a decent car camping tent as well.
Anyways, there was still enough daylight to do a little more exploring though it did start to rain.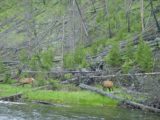 First up, we headed a short distance south of our campground at Madison to the one-way Firehole Drive. Along the way, we noticed some more elk grazing besides the Firehole River as we were slowly making our way through the loop.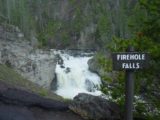 The main attraction of this detour for us was the Firehole Falls, which we'd eventually get to at 5:50pm. The waterfall was well-signposted and it was one of those short and gushy-type waterfalls. I suppose the waterfall must've gotten its name because this river must have sections that were geothermally heated or something (otherwise why call it "firehole"?).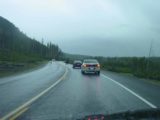 Next, we headed towards some geyser and geothermal areas to the north of Madison. Along the way, there was a minor traffic jam as a bison was occupying one lane of the road between Madison and Norris. Unfortunately, it seemed like it was in the mood to ram any car passing by it (at least it was gesturing like it was doing it), so that seemed kind of scary considering no one would want to pay for damages of this nature.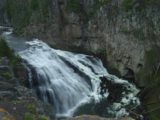 As the road narrowed, we found a small car park by the road with an overview of the impressive Gibbon Falls. The falls had a bit of an interesting and sprawling shape from this vantage point, but it was really the concrete barriers that allowed me to use it as a pseudo tripod and try to long exposure this waterfall with the point-and-shoot Sony Cybershot I had (that also let me play with the manual controls).
After having our fill of Gibbon Falls, we finally made it to the Artist Paint Pots at around 6:30pm. The skies were still heavily overcast and the rain appeared to momentarily let up so we got to explore the boardwalk passing through this geothermal region for a bit. However, we knew that without the sun, the colors of this area were quite muted.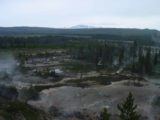 Nonetheless, we walked far enough to a point where there was a nice overview of the overall paint pots area while looking in the direction of the Absaroka Mountains in the distance. That was pretty cool.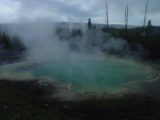 With still some daylight left, we then decided to continue a little further towards the Norris Geyser basin. We'd get there at 7:15pm and we quickly made our way towards the Steamboat Geyser where I had this crazy notion that somehow we might get lucky and see this park's most powerful geyser go off.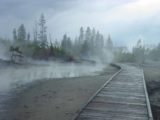 Of course we weren't so lucky though every once in a while, the geyser seemed to sputter and put out minor eruptions. Also along the way, we saw some intriguing hot springs. We knew that some time later on in the trip we were going to come back to this area, but now it was starting to get dark so it was time to get back.
On the drive back, there was another traffic jam between Norris and Madison. But this time, there was a herd of bison literally walking on the road and providing limited opportunities for motorists to pass. I guess it was kind of a reminder to us that we were in Yellowstone, where you take your time and let Nature put on a show whenever it wants to.
Finally at around 8:45pm, we were back at our campsite. Julie and I used some camp food since we didn't have time to eat a more substantial meal, but at least it was our idea of budget touring in Nature. However, somehow I wondered if this gave the Julie ideas about doing the bookings instead of me (ultimately planting the seeds of becoming a travel agent eventually) because I got the feeling that she wasn't terribly keen on doing this for another two more nights!