Day 3: BACKCOUNTRY DRAMA
We awoke from our tent at a little after 4am. The tent was damp from a combination of the morning condensation as well as the relentless rain of the past two evenings. When I got out of the tent, clouds were still overhead and it looked as if rain was threatening again.
But that wouldn't deter us from our goal for today, which was to do an out-and-back day trip to see Terraced Falls and Union Falls. So with our early start, we were already on the road before 5am.
During the drive, it was interesting to see steam everywhere we went as we passed through Yellowstone's famed Lower, Middle, and Upper Geyser basins. Some sections were foggy as if there was some kind of interplay between the steam and the morning temperatures creating some kind of inversion. We had spent time amongst this thermal wonderland yesterday, but we committed to our goal for today so we motored on without stopping.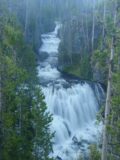 However, we did briefly stop at the overlook for the Kepler Cascades just before 6am.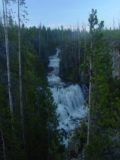 When we crossed over the Continental Divide and headed towards the West Thumb Junction, we could see the sun rise between the clouds and the vast Yellowstone Lake. We were encouraged by the sight of the sun this early in the morning since it had been raining often each of the last two days we'd been here.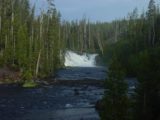 When we got closer to the park's southern boundary, we noticed Lewis Falls as the early sun shone on the falls just long enough for us to get a couple photos before the sun's light disappeared as it rose into the clouds.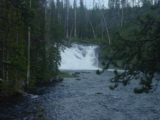 It was nearly 7am when we arrived at Flagg Ranch, which sat a few minutes outside the southern boundary of Yellowstone National Park. We knew that we had to turn right at this point and go down the Grassy Lake Reservoir Road to get to the trailhead of our desired hikes.
Both Terraced Falls and Union Falls reside in the so-called Cascade Corner of the park. Formally known as the Bechler region, it was a haven for waterfall lovers, but it was also a place where you had to earn the waterfalls you wanted to see. I was nervous about doing this excusion because I knew Union Falls had a river crossing and I wasn't sure we were going to get through it with the river's water levels in late June (even though it had been a pretty dry year rainfall wise).
Anyhow, the Grassy Lake Reservoir Road started off paved near Flagg Ranch but some of the potholes looked awfully deep. Being careful not to get a flat tire by running over them, we went through its brief paved section before the road immediately went unpaved and pretty rough going. The driving on the unpaved road really gave me white knuckles as I tried to make sure the underside of the car wasn't going to get damaged while keeping my wits as we moved forward off the beaten path.
After negotiating several ruts and a steep hill where there were lots of loose gravel that threatened to scrape the underside of the car, we continued passed the Grassy Lake Reservoir and eventually ended up at the Cascade Creek Trailhead at about 8:30am.
Being in the remote wilderness early in the morning, we were the only ones here. So as we prepared ourselves with our packs, water, and insect repellant, I also brought bear spray and bear bells hoping they would somehow help us and give us tools to deal with an aggressive grizzly should we run into one. Of course, I wasn't so sure we'd be level-headed enough in such a circumstance so we hoped for the best. But Julie was even more concerned about them after reading about a park visitor who was attacked by one just a few days ago.
Nonetheless, we set off on the trail. It immediately descended downhill and we quickly reached a sign with a map indicating river crossing locations. Of course, we were most interested in the Falls River crossing for the Union Falls hike, but the wording at the bottom of the sign ominously warned the river levels were high this time of year.
Just then, I had a foreboding sense that I forgot to turn off the lights of the car. I couldn't move forward with this thought on my mind so I quickly ran uphill to check. Julie stayed by the sign. When I got back to the car, I was startled to see the lights were still on!
Quickly I turned it off and ran back down the hill to rejoin Julie.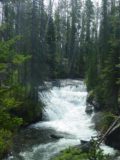 And so we continued walking down the trail, noticing how scary the Cascade Creek crossing looked should we want to get to Union Falls from this trail. We weren't going to try it anyways so we kept going on the Terraced Falls trail passing by several cascades.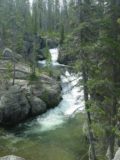 Eventually, we'd get to where Cascade Creek and the Falls River joined. At that point, the trail stayed on the south side of the river with limited river access.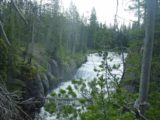 It was a little after 9am when we heard the Falls River tumbling loudly behind the foliage. I knew this must be the falls we were looking for. Sure enough, we also saw signs saying not to go any further. Both Julie and I went past that sign just to see what the obstacle was and sure enough, the trail degenerated into a very steep gully. It looked a bit steep going down and we decided to just stay at the top.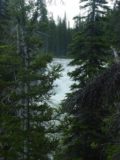 Now the problem was we couldn't really see Terraced Falls. There was nothing but trees and rocks blocking the way and we could only see bits and pieces of the falls when we got here. However, we did notice a precarious-looking rock that appeared to stand over the falls.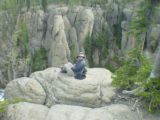 Now that we stopped moving, the mosquitos were looking for blood. We quickly put on our deet repellant and got out our sandwiches for a lunch on that scary-looking rock. Julie was the first to get on that rock. Meanwhile, I attached the wide angle lens to my point-and-shoot camera, knowing that I'd need it for this waterfall.
As Julie was enjoying her lunch atop the scary rock, I joined her on the rock so I could take photos of Terraced Falls with the wide angle lens attached. I was getting butterflies in my stomach as I tried to position myself to take the photograph. I made sure I stayed away from the sloping edge that dropped right into the falls below. And Julie kept her eyes on me to make sure I didn't get too far out. Then, I pointed my camera down towards the falls, but suddenly the wide angle lens dropped from the camera.
With a crack the lens crashed onto the rock and continued to roll down over the edge. Almost instinctually, I dropped to me knees and reached for it in one stab but was unsuccessful. Julie panicked and reached to grab onto me. A bottle of deet fell from her pack and also rolled over the dropoff into the Falls River. Both of our hearts were racing with nervousness at our near fall.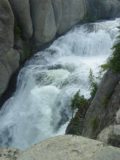 When we started to calm down, I still managed to get a few shots (without the wide angle lens) before we decided it was time to leave this rock. I couldn't understand how it got detached from the camera, but we were quickly reminded just easy it was to get killed out here.
Blood was dripping from me knee cap (probably from when I dropped to me knees to make that one lunge for the lens). I guess it was my souvenir for surviving this brush with death.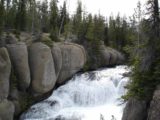 Julie was giving me a major guilt trip about lunging for that lens. She was probably right, but I wasn't even consciously thinking when it happened. Even worse yet, we didn't even get the views we were after for this waterfall – the one shown in the book "The Guide to Yellowstone Waterfalls and Their Discovery." I was a bit annoyed at how misleading the photo was. I wondered why they should show that photo if it wasn't accessible from the formal trail? So we had to make do with our unsatisfactory photos. It was quite a bit of trouble to get out here only to be disappointed at our views and our near-death experience.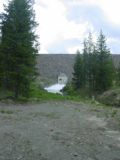 It was about 10:30am when we returned to the car. The next order of business was to return to the Grassy Lake Reservoir and check out the Union Falls hike.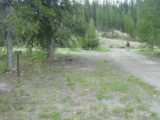 At this point, neither of us were really in the mood to do this hike especially now that the morning was nearly gone. But we did do the hike as far as the Falls River crossing to see whether it was doable or not.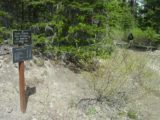 During the hike, we descended below the dam and followed the forested terrain with mosquitos swarming around us. There were several fallen trees along the trail, but they didn't pose too much of an obstacle for us. It was a bit unnerving to hear loud groans amongst the trees. I wasn't sure if it was a bear or a moose or whatever. All both of us knew were that we had never heard this sound before.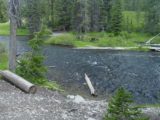 It was almost 11am when we saw and heard the Falls River at the crossing. The crossing looked a bit wide and intimidating, but there was an island in the middle. However, the water was also moving fairly fast. Julie refused to do the crossing and was worried I might give it a try. But I knew Union Falls was a lost cause at this point so we turned back.
Defeated, we recovered the car, then drove the Grassy Lake Road back to Flagg Ranch. There was a tricky part where the road climbed steeply out of Grassy Lake Reservoir on loose gravel, but the car climbed it ok (fortunately for us). Then, we headed north across the South Entrance and back into Yellowstone National Park.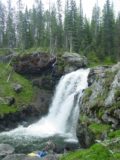 Not long after getting into the park, we saw Crawfish Creek and decided to stop by the bridge here at around 1:30pm. We then took a short trail that led us down to a view of Moose Falls. There were plenty of folks swimming at the base of the falls having a good time.
Anyways, we were back in Old Faithful by 2:45pm and spent the rest of the afternoon walking around the Old Faithful Lodge – glad to be back in "civilization."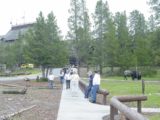 Without anything else planned for this afternoon, we pretty much just checked out the lodge itself (and its elaborate interior) while also having ourselves a dinner, and a shower. Then, we finally retreated back to camp where we would stay our last night at Madison Campground. Tomorrow, we'd move onto the next phase of our Yellowstone trip as we head more to the Canyon area.