This weekend itinerary covered our camping trip in Yosemite National Park centered around a hike to the top of iconic Half Dome.
The trip planning started from the moment I had made camping reservations 24 weeks in advance while the physical and mental preparation took place over several hikes and several trips over this span of time.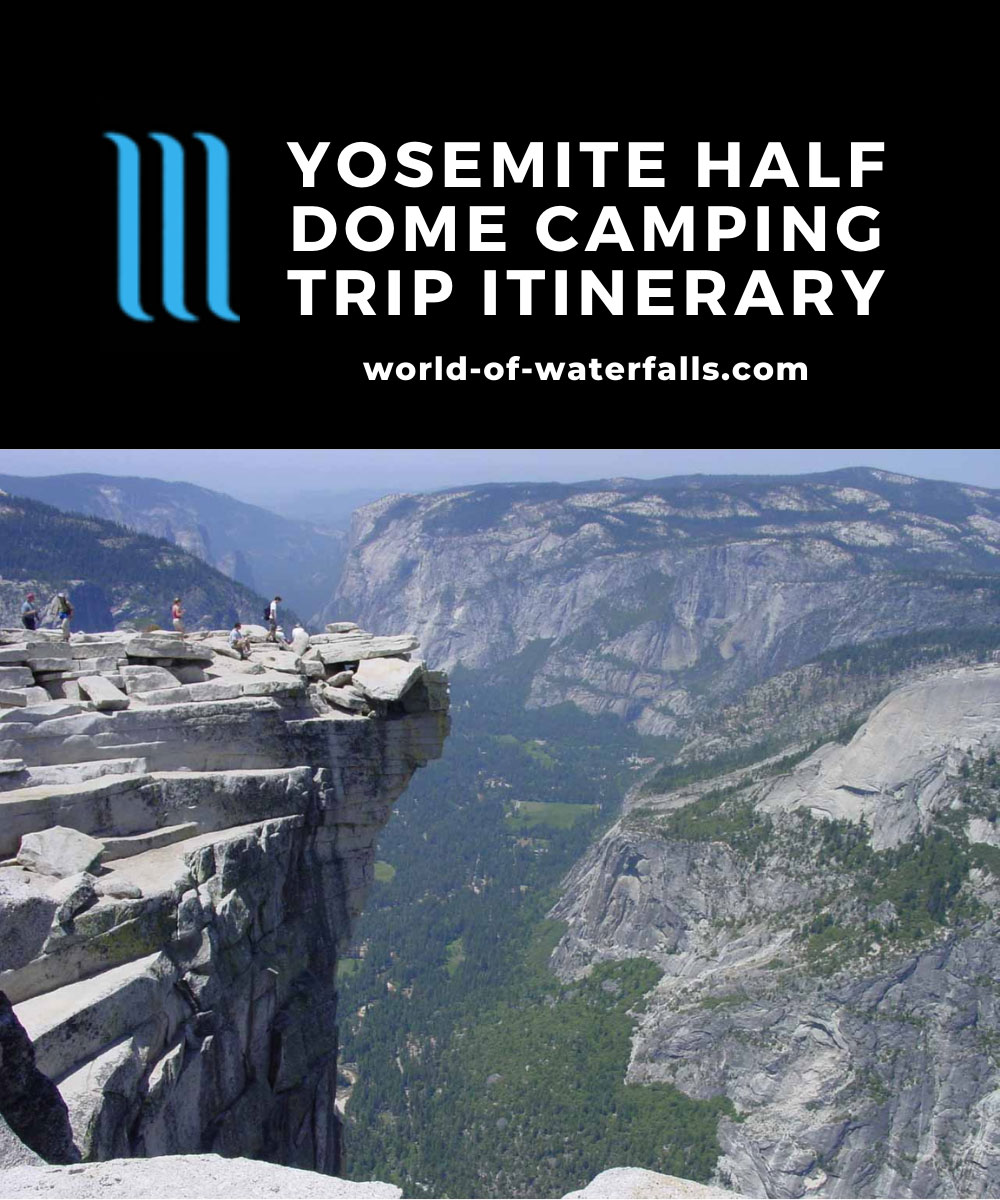 This trip was probably the largest outdoor gathering amongst friends that I had ever organized as we occupied two campsites and wound up with a party of seven (including ourselves). This even included a few last-minute cancellations so it could have been even more people if they had all shown up.
As you can see from this page, even though we focused on accomplishing our goal of completing the difficult Half Dome hike in a single day, we also managed to accomplish quite a bit of other sightseeing as well. It turned out that only Julie, Chris (one of the friends), and myself did the difficult hike. Everyone else rode bikes around Yosemite Valley.
Trip Highlights
Half Dome – Since this trip revolved around doing this Yosemite rite of passage, we felt a tremendous sense of accomplishment and fulfillment in having completed this challenge. Even though there were lots of other things to see along the way like the Giant Stairway of Vernal Fall and Nevada Fall, we also got to see Pywiack Cascade and Snow Creek Falls towards the summit. Indeed, it was epic.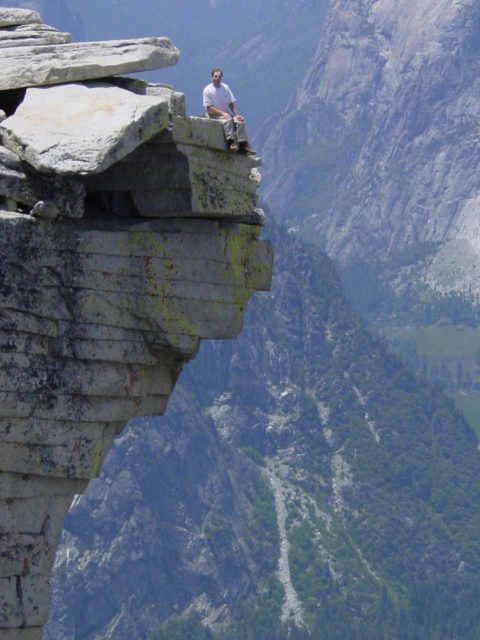 Quality Time with Friends by a campfire – Although this isn't specific to a site in Yosemite, a big highlight for me on this trip was the priceless moments we had trading stories of our adventures over a campfire while having spaghetti as well as some meat over a grill. We also had smores as we were basking in our accomplishments and just being around each other in a place as special as Yosemite, and that made all that trouble organizing and making it happen all worthwhile.
Trip Advice
We were quite well-researched going into this trip, especially regarding the preparations for the Half Dome hike. Here are some of the things we've found to be useful that you may also find useful for your own trip…
Change of socks: Blisters could really ruin a long hike like the 16-mile round-trip, 4,000ft elevation gain Half Dome hike. So to mitigate this issue, I actually brought a second pair of wool socks so I could change into them once we got up to the summit. That helped a lot because it turned out that Chris was struggling with blisters towards the latter part of this hike.
Booking in advance: I knew that booking a campsite this late into the year would require advanced reservations. And basically I made my bookings 24 weeks in advance as that was the earliest that it could be done. In terms of timing, I made sure that this trip did not happen on Memorial Day Weekend (end of May), but I also wanted to make sure that the Half Dome Cables are up. Well, there's no way I could predict what the snow pack would be like by that time of the year as I was making bookings in January so I picked the first week of June based on the historical average opening times. Of course, there's a chance that it might not work out, but if I waited too long for the snowpack predictions, I'd be shut out of a campsite reservation.
Bringing a water filter: I actually brought a pump filter because I knew that carrying around all the water we would be needing the whole day would be difficult due to the bulk and the weight (especially as we're going uphill). It turned out that when we were going down Half Dome, we had run out of water, and we still had quite a ways to go before getting to Little Yosemite Valley to fill up on water in my collapsable bucket and then pump into our bottles.
In hindsight, we probably should have pumped and topped up on water once we got above Nevada Fall and into the Little Yosemite Valley. That might have mitigated us going without water for that long stretch when we went back down from Half Dome and had nothing until Little Yosemite Valley (a stretch that might be around 3-4 miles).
Travel Itinerary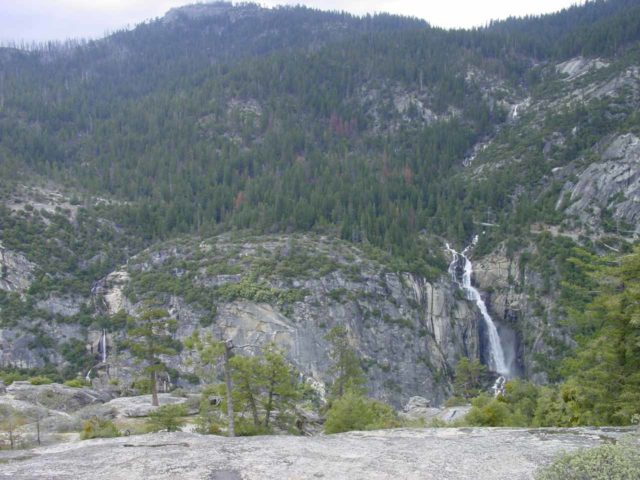 Overnight: Upper Pines Campground (Yosemite National Park, California, USA)
This was a driving day as we left in the early morning and made it Yosemite National Park by the mid-afternoon. We still had time to visit the Tunnel Overlook (seeing Bridalveil Fall and Silver Strand Falls) as well as Sentinel Falls and Yosemite Falls on our way to the Upper Pines Campground.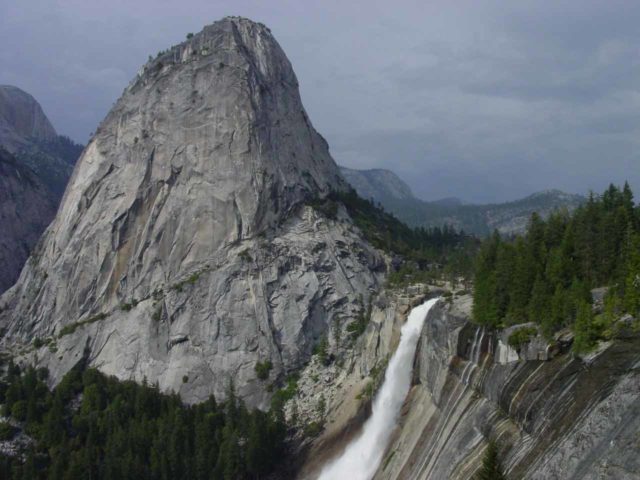 Day 2: Half Dome Day Hike
Overnight: Upper Pines Campground (Yosemite National Park, California, USA)
We divided and conquered on this day. Julie, Chris, and I got a pre-dawn start and went all the way to the top of Half Dome and back. The rest of the group went bike riding in Yosemite Valley.
Day 3: Drive Home
This was a straightforward drive home after breaking camp.
Trip Reports
Waterfalls included in this itinerary
Visitor Comments:
Got something you'd like to share or say to keep the conversation going? Feel free to leave a comment below...
No users have replied to the content on this page