Even though this is a waterfalls website, we recognize that there are many highlights in Yosemite National Park (both involving and not involving waterfalls).
So we've come up with this page to pay homage to some of the highlights that we think are worth mentioning as you try to figure out what to see and do in your own trip plans.
While I recognize that this list is by no means exhaustive and that it is highly subjective, at least you have an idea of what we loved about our favorite National Park.
So without further adieu, here are the highlights in no particular order…
Half Dome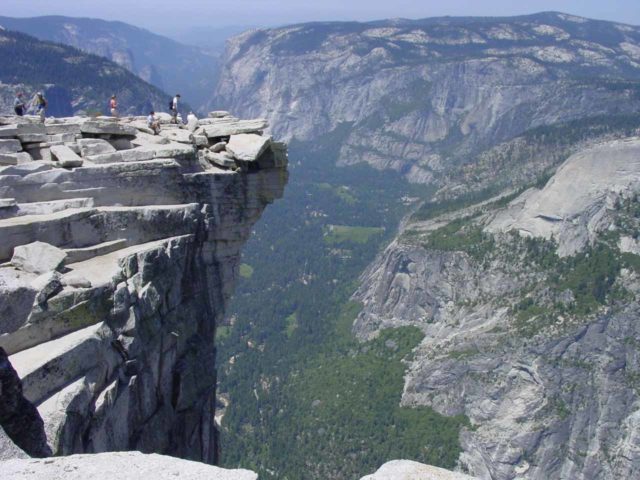 This iconic granite feature sits high above the foot of Tenaya Canyon, and I can't think of any other natural feature as distinctive and grand as this.
You can see it from much of Yosemite Valley (even as far away as the Tunnel View at the foot of the Valley) as well as from high country areas such as Glacier Point, North Dome, and Sentinel Dome.
You can also get less familiar views of the dome from the Yosemite Falls Trail at Columbia Point as well as the dome's backside from the Half Dome Trail itself.
And if you're ready for a challenge, you can also do a very strenuous 16-mile return hike to its summit.
El Capitan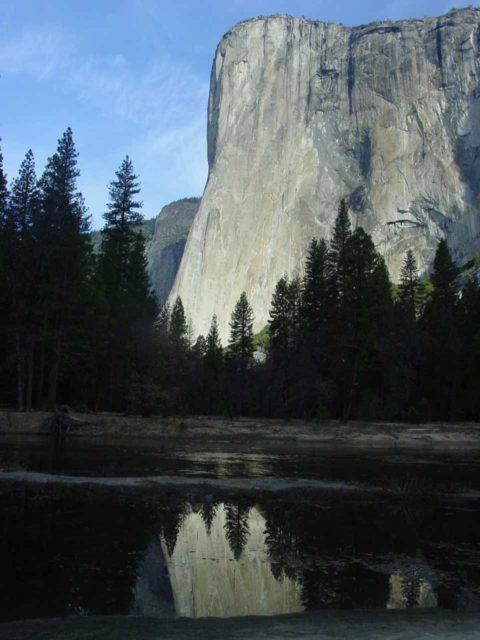 This massive sentinel of granite is the holy grail of rock climbing. Not only do rock climbers scale its walls (sleeping in hanging tents and noticing bats along the way) but plenty of onlookers at El Capitan Meadow check them out with binoculars in what seems like a popular spectator sport as well.
I believe it's the single largest continuous piece of granite in the world, but I'm not sure about that claim.
In any case, it's big. It also welcomes visitors (along with Bridalveil Fall) in the familiar Gates of Yosemite Valley panorama.
Like Half Dome and Yosemite Falls, it's easily recognizable and a quintessential feature of Yosemite Valley.
Glacier Point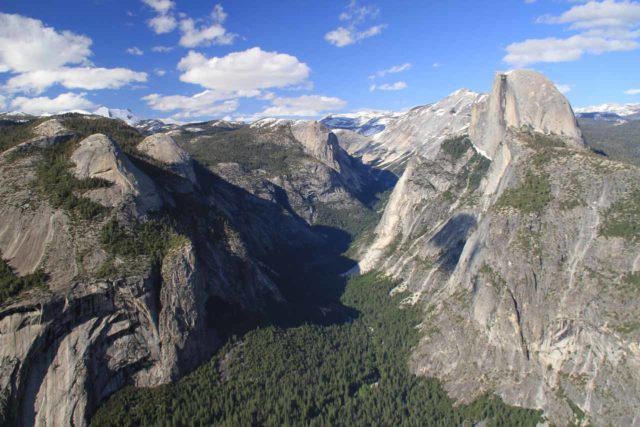 If ever there was one viewpoint that captures the grandeur and beauty of Yosemite National Park, this is it!
Situated at the end of the 30-mile Glacier Point Road, this vista treats you to birds eye views of Yosemite Valley, Tenaya Canyon, and the Giant Stairway. You also get a nearly eye-level view of Half Dome as well as a sideways view of Yosemite Falls.
Not often is such an all-encompassing view so easily accessible so expect to share this viewpoint with many other people. This is especially true around sunset when many photographers come here to capture Half Dome with the soft light of the setting sun.
This spot is also the starting point for the very scenic Panorama Trail as well as the end point (or starting point) of the Four-Mile Trail.
I've walked part of the Four-Mile Trail starting from Glacier Point but never finished it. I did, however, do the entire one-way hike down the Panorama Trail.
Mirror Lake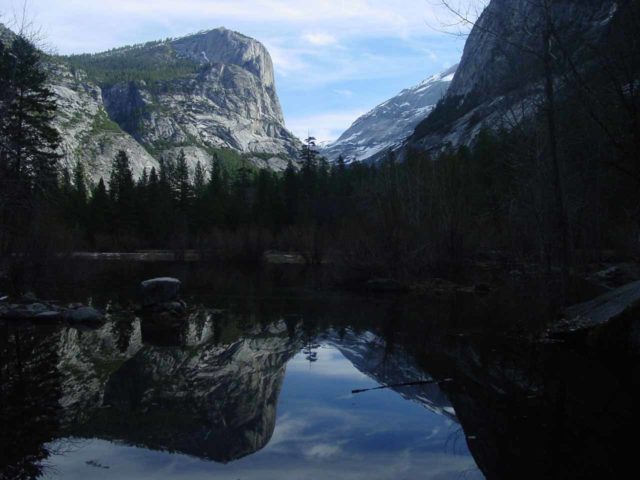 This little spot along Tenaya Creek right underneath the face of Half Dome is an easy walk from the shuttle stop just beyond Happy Isles.
The walk is almost entirely paved so it's also nice destination for those who like riding bikes in the Valley.
At the end of the paved road, you start to see where Tenaya Creek widens and forms a "lake." However, the water here is usually rippling and doesn't have that sought after mirror effect.
No worries though… Just keep walking along the trail a few more minutes until you reach a spot where the water is totally still. It's here that you get the nice reflections with Mt Watkins in the background. Come here in the late afternoon or the early morning for the best photographs.
I should mention that Mirror Lake really isn't a lake at all. Basically the sediments carried off by Tenaya Creek collects where the lake forms and you end up with its waters seeping into the ground as it continues its journey towards joining the Merced River.
Thus, this "lake" is seasonal (probably dry come mid summer) and it will eventually become a bog and then a meadow in the future.
Sentinel Dome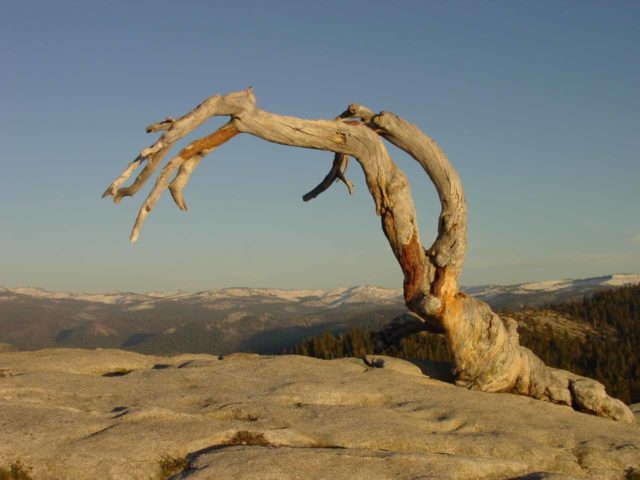 Higher than Glacier Point, this is one of the easier domes to summit.
Your reward?
You get a 360-degree panoramic view that includes Yosemite Valley, Half Dome, and even the Clark Ranges to the south.
This viewpoint is most famous for the lone jeffrey pine tree atop its summit. However, after being struck by lightning in the 80s (not killed by vandals as some might believe), it started dying off and losing its leaves.
Sadly, the tree fell over during one of the typical afternoon summer thunderstorms of 2003. I feel lucky to have seen this guy while it was still standing back in 2002, but it was too bad I had a crappy camera to capture it.
Getting here requires a short two-mile return hike off of Glacier Point Road. You can also extend this excursion and make a loop hike encompassing the Pohono Trail and the precipitous Taft Point.
Taft Point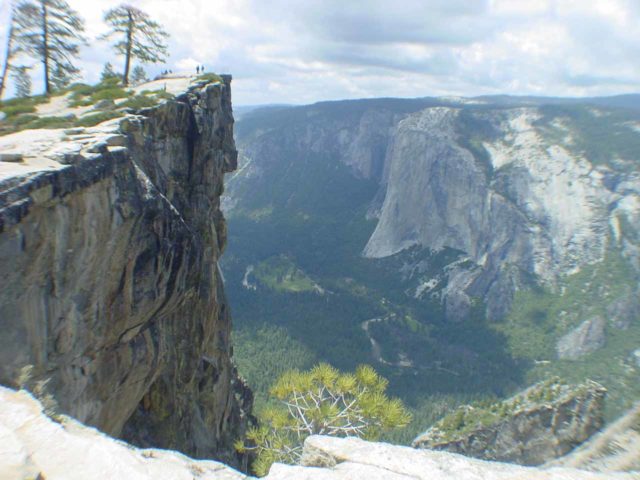 This lookout area atop the southern cliffs of Yosemite Valley is known for its butterflies-in-your-stomach views.
You've got features up here like Profile Cliff, the Fissures (with rocks wedged in between them), and an unusual view of Yosemite Falls. You might even spot an ephemeral waterfall here (though it's hard to call this a legitimate waterfall in my opinion) if you're willing to get close enough to the edge to see it.
Getting here requires a hike of slightly longer than two miles return. But you can extend the walk into a loop that takes in the Pohono Trail and Sentinel Dome.
Tuolumne Meadows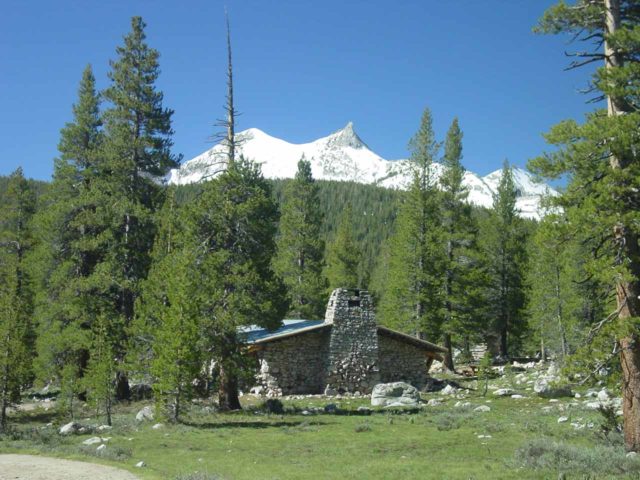 This vast expanse of alpine grass and granite peaks is the centerpiece of the Yosemite High Country along the Tioga Road.
As you walk within the mix of grass, trees, and granite, you'll find peaks rising in the distance such as Cathedral Peak, Unicorn Peak, Fairview Dome, and Lembert Dome among others. You can also follow the Tuolumne River towards its plethora of waterfalls and cascades.
Unlike Yosemite Valley, I think you have to take a hike in the area to really appreciate it. You'll miss out on the essence of the high country if you all you do is auto-tour this area.
Olmstead Point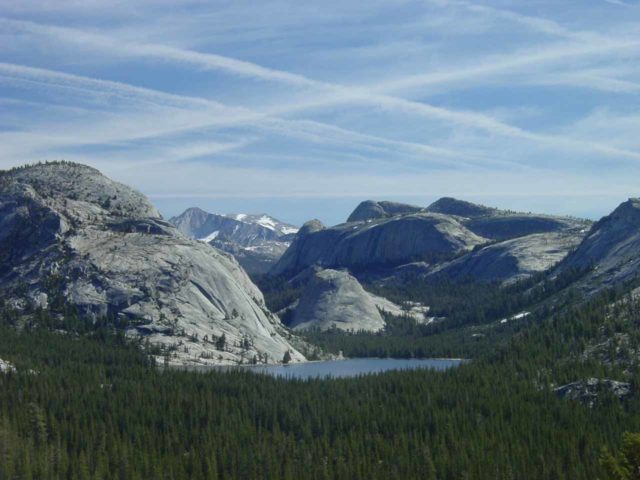 This roadside viewpoint is probably the most comprehensive one along Tioga Road.
You get to see interesting cracks in the granite with orphaned granite boulders (called glacial erratics) strewn amongst isolated jeffrey pine trees. You also get an unusual view of the back side of Half Dome as well as a postcard view of the largest natural lake in the park – Tenaya Lake.
This is also a good starting point for a six-mile return hike to Pywiack Cascade.
Indeed, if you intend to stop in only one spot along Hwy 120, don't miss this one!
North Dome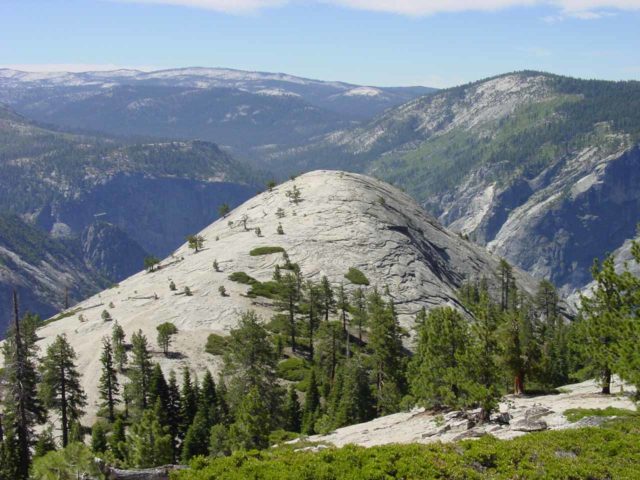 This is the dome opposite Half Dome perched high above Tenaya Canyon. The best way to get to the top of this dome is to start from the Tioga Road and take on a nearly ten-mile return hike to the North Dome summit.
Once you're above the dome, you're treated to birds eye views of Tenaya Canyon, Yosemite Valley, and even the Illilouette Gorge and waterfall.
And I must also mention the in-your-face view of Half Dome – probably the closest full-sized view of its sheared cliff face you're gonna get.
If you do the hike for North Dome, don't forget the natural arch on the Indian Rock spur as natural arches are very rare in Yosemite.
This steep spur trail gives you a chance to see the arch from all sorts of angles, including possibly the only place where you can view Half Dome through a span of a natural arch!
Click here to read a story about my hike to North Dome
Waterfalls
Waterfall Pages
Visitor Comments:
No users have replied to the content on this page