Day 1 (June 15, 2017 – Yosemite West, California): "Traffic and Errands"
It wasn't until about 1:40pm when we left the house. It was a hot day, and I had to take a half day off from work so I could get home just in time for our post-lunch departure. With such a late start, I suspected that we had to struggle with the LA traffic, which meant there was no way we'd be getting to Yosemite in time to do anything other than checking in and getting settled (along with a grocery run).
Sure enough, the drive along the 5 Freeway was sluggish as expected, especially in the downtown LA area, which also carried over through Burbank. The traffic then freed up momentarily before slowing down again as we got to Valencia. The traffic then continued until we approached the Pyramid Lake and Lake Castaic area, which was around where the I-5 was making its steepest climb.
The traffic started speeding up with all the uphill driving as there were lots of spacing between vehicles struggling with the climb and those with more powerful engines (hopefully with the AC turned off). We had to temper our high catchup speed with the CHP presence, however. There was one moment where I thought one cop who was hiding out by an onramp started moving after we had passed a truck in the fast lane, and when the cop was right behind us, I moved over from the fast lane to the next lane on the right.
As fortune would have it, the cop proceeded to zoom faster than us on the fast lane so I knew at that point he wasn't interested in pulling us over.
Finally, once we made it to the Grapevine, the pace of the traffic was more or less smooth though it was still a pet peeve of mine when people clog the left lane instead of keeping right except to pass.
The traffic in LA probably costed us on the order of 30-60 minutes.
During the drive up to Fresno, Julie did some internet researching about Yosemite, and it was starting to hit home all the place name changes that were made because somehow DNC (Delaware North Company), the long-time Yosemite concessionaire, had somehow patented or trademarked the traditional Yosemite place names.
Apparently, some judge or authority didn't do their job in allowing the concessionaire to trademark all the familiar place names that they didn't even come up with like The Ahwahnee, Curry Village, Yosemite Lodge, Wawona Hotel, etc. I don't know how it was even possible that Native American names could be trademarked by a vendor that was using it as leverage in the event that they'd get replaced (which was exactly what happened not that long ago).
Regardless, we knew that our condo at Yosemite West wouldn't have any internet nor phone reception (or at least very minimal reception on the order of one bar or something). So that meant all the coordinating that we had to do with my parents (who were bringing Joshua along on this trip) would have to be done on the road before making it to Yosemite.
So we agreed to meet up with them at the Sprouts in Fresno. We ultimately wouldn't get there until about 6pm, where it was still in the 90s. Even though the parents were ahead of us by about 15 minutes while driving through Los Angeles, it turned out that we wound up making it to Sprouts before they did.
The traffic in the Fresno area was a bit on the dense side because it was rush hour over there. However, it wasn't as excruciating as the LA traffic. In fact, when we were stuck in the LA traffic, it was not even rush hour on a weekday. We couldn't imagine how much worse driving in LA would be DURING rush hour!
Julie went crazy buying up all sorts of produce and foods in anticipation of cooking while we were spending three nights in Yosemite West. She ended up buying organic ribeye steak (in celebration of Fathers Day) while also buying ground meat to aid in preparing pasta for the kids. She even bought pretty expensive organic vanilla bean ice cream, where we were a bit concerned about whether it would last the 90 minutes or so of driving to get to our condo.
We wound up spending quite a bit of time at the Sprouts buying up cherries, organic grapes, and all the other stuff that Julie anticipated the whole family would be eating on this weekend trip. So it wound up being a very hefty grocery bill at around $162, but I guess when we look at it from the standpoint of feeding 6 people over multiple meals, I guess that grocery bill wasn't too bad.
Finally at 6:55pm, we got back to the car and loaded it up. We moved Tahia's car seat to my parents' car so both Joshua and Tahia could ride in the car together. That left Julie and I to keep each other company on the drive up to Yosemite just like old times.
It wouldn't be until about 8:40pm when we finally made it to the Yosemite West Cottages Office, which was quite a drive along Henness Ridge Road then Park Way. On multiple occasions along the Hwy 41 through the south entrance to Yosemite West, we saw deer by the road. One actually darted across the road in front of us, which was fortunate for us that I saw that deer within the trees before it made its move. I guess my experience in hitting a deer in the past (as well as a kangaroo on a separate trip) forced me to respect the hazard.
There was also a family of 4 deer on the way to the office as well just as the skies were really getting dark. I guess that was proof to us that deer tended to come out in the sunset to evening hours, and most likely in the pre-dawn to dawn hours as well.
Once Julie checked in and got the keys, we then drove all the way back towards Henness Circle, where we then continued up that road to the Yosemite West Condos complex. There, we found parking and then got into the familiar two-story building where we once stayed nearly 15 years ago in a loft with our friends Stacey and Andy along with my parents. Well now, we have a party of six except it was now my parents with Joshua and Tahia.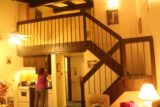 At 9:30pm, we finally were settled into our loft, which felt quite a bit smaller than we remembered from our first loft experience 15 years ago. So it felt a bit tight and cramped, but we knew we were paying nearly $300 per night for the location and not so much the amenities (as Julie and I had gotten used to IHGs, Marriots, and Hyatts over the years).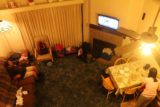 At 10:30pm, we had ourselves a late dinner of beef noodle soup as well as dumplings that my Mom had brought from home. Julie had her own stuff as usual to tend to her gut issues.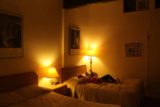 And after gorging on the food as we were quite hungry and cranky at the time, we'd finally sleep by 11:30pm. Of course, on my mind was doing an early hike with Mom out to either Carlon Falls or Foresta Falls. But knowing that it would be tough to go all the way to Carlon Falls tomorrow morning, I decided that we'd have to do Foresta Falls as the early excursion before we'd all be going down into Yosemite Valley for the rest of that day…