Day 3 (June 17, 2017 – Yosemite West, California): "Fathers Day Updating"
It was about 4:30am when Mom and I awoke to the alarm. Given that we had a long day of hiking ahead of us, we knew that we needed the early start to beat the heat as well as the crowds. But realizing just how hot it had gotten yesterday, we decided at the last minute to do Chilnualna Falls first (which was a much longer 8.5-mile hike) and then try to do Carlon Falls (a shorter 4.5-mile hike) in the afternoon. I had previously had the order reversed thinking that Carlon Falls would be the early excursion while the Chilnualna Falls could be done as a family. But then I came to my senses and realized just how brutal that hike would have been with the kids let alone at the height of the day, when it would be uncomfortably hot.
So after having the obligatory pick-me-up brekkie of kefir and some instant oatmeal that Mom provided, we loaded up the car and were off by 5:10am. It was still somewhat pre-dawn so the sun had not risen yet, and so I did the drive south on the Hwy 41 pretty deliberately as we made our way to the Chilnualna Falls Trailhead knowing the everpresent hazard of the possibility of deer dashing out in front of the car.
The surprising thing was that there were already quite a few cars making their way into Yosemite Valley at this hour. So I could only imagine just how much more crowded the valley would be by the time Julie and company would finally be ready to leave the condo. Actually, we encouraged them to check out some water play area around Wawona instead of the valley as we knew that it would be a zoo down there.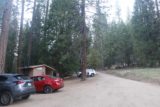 By about 5:50am, we made it to the familiar Chilnualna Falls trailhead parking. However, the car park looked a bit different than last time, and I figured that was because of some building that was erected adjacent to the parking area. It was definitely not there before (it was more like an empty lot), but I guess lots can change in the 13-14 years since we were last here.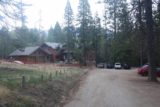 As Mom and I had gotten geared up and started, we decided to follow the paved road. I guess my memory had faded me because I thought that the trail we had taken before was along that road. But when we descended down to the bridge over Chilnualna Creek, which was raging, I knew that we were on the wrong trail.
There was some kind of informal trail leading up to what appeared to be the first Chilnualna Falls higher up the cliffs, but Mom and I backtracked instead and went up the other fork. Almost immediately at that fork, there was a signposted foot trail that left the stock trail and then went along the familiar path towards the first Chilnualna Falls.
It's funny how fallable memory can be.
By about 6:25am, we finally arrived at the first of the Chilnualna Falls. As expected, everything was under the long morning shadows so it wasn't all that photogenic at this time. I knew that throughout the hike, we'd always be looking against the sun.
Basically, we made a trade where we decided on getting the early start to get the hard part of the hike (i.e. all the climbing) out of the way under the morning shadows at the expense of good photos when the sun would be behind us in the afternoon. I knew that this was a pretty relentless uphill hike so doing it at the height of a day in the 90s was just asking for trouble.
After having our fill of that first falls, where there was one lady that passed us here as apparently Mom and I weren't the first nor the only ones here, we then proceeded to go up towards the trail junction with the stock trail. At that point, the trails merged once again and we were going up a couple of switchbacks before reaching an area where we got to see Wawona Dome as well as the Chilnualna Creek down below at 6:50am.
As it was still too early in the day to take meaningful photographs and there were quite a few mosquitos buzzing about, it didn't take long before we continued on.
The next part of the hike remained in the morning shadows but we were now walking through some forested terrain. At about 7am, I noticed on the trail that there was something small with patterns on it that was slithering. When I got a closer look at it, I saw that it was what appeared to be a baby rattlesnake or something. Mom was glad that she had walked by and didn't step on it or get bit by it.
Regardless, I managed to get just one shot at it before it went into the foliage. I'm sure the snake already knew we were there long before we even were aware of it. This was probably the first time I saw a rattlesnake on a trail in Yosemite since we did the Rancheria Falls hike in the Hetch Hetchy area many years ago.
Not long after that, the trail then went alongside Chilnualna Creek again where I noticed a spur trail went towards a turtleback rock-like thing as the creek slid over it while another short tier gushed just above it. In my book, this should count as one of the Chilnualna Falls though I had never really paid any attention to it all these years (thinking it was just rapids). But with my more experienced and discerning eye for waterfalls, it seemed to make sense to take some time to check it out.
So Mom and I took some videos and photos in long exposure given the low light conditions. I saw one trail runner zoom past on the main trail so that made the third person we've seen on this trail so far.
After having our fill of this second Chilnualna Falls, we then embarked on the familiar long dry uphill stretch that went through a long field of low-lying shrubs and wildflowers before climbing even more steeply with partial glimpses (against the sun) of the now-fourth Chilnualna Falls high up on the top of the cliffs in back of Wawona Dome. I knew it was the largest and most impressive of the Chilnualna Falls of the lot, but we would never get a satisfying view of it except the distant ones between the trees along the trail.
As the morning shadows persisted, the mozzies were quite relentless. We kept moving to keep them from getting clean shots at us, and even though Mom and I both wore long-sleeved tops (my Les Stroud shirt and Mom's jacket), I knew that the mozzies were precise enough to bite through the fabric and still draw blood from us (and hopefully not passing diseases like West Nile or something).
As we got even higher up the climb, the sun started to penetrate the horizon and really heat things up. This really made the morning mozzies even more relentless so both Mom and I definitely slapped on the DEET to at least try to deter these critters from getting pot shots at us.
It wouldn't be until about 8:20a when we finally made it up to the third Chilnualna Falls, which wasn't on Chilnualna Creek. Given the high snowmelt, we had seen other overflow ephemeral falls along the trail (also causing swamps to really spawn the mozzies), but this one was a more obvious falls just like we had seen before. It was also quite cool at this spot, which was very welcome as we had gone nearly 80 minutes since the last waterfall we were near.
Meanwhile, we also checked out the 4th Chilnualna Falls up ahead as the vegetation was a little more open up here. Unfortunately, the morning sun all but assured us that taking pictures at this time was futile. We'd have to come back down here on the way back when the sun would be in a more favorable spot.
And so the climb continued as we left the third falls. Now, the morning sun was a bit more persistent though there was still enough shade to keep me from needing to wear my heat (and trap some of that heat on my head). As we'd get higher and higher up the trail, we'd start to get nice views towards Wawona.
I remembered in the past where the granite stretch of the climb had snow and ice when my parents went with us on this hike many years ago. Still, this hike felt a lot harder than it did back then. I wasn't sure if it was the heat that was starting to take a toll on us or if we were just younger and more spry back then. Regardless, I did notice in my writeups that I tended to up the difficulty level bias of modest-lengthed waterfall excursions like this one, and now instead of being a 4 in difficulty, it was starting to look more and more like a 5. Maybe I have to re-evaluate how I'm evaluating the difficulty of the hikes in our database.
Anyways, at 9am, we finally made it to the top of the fourth Chilnualna Falls. In the mist down below, we could see a bold double rainbow appearing. It was hard to get a meaningful photo with both the rainbows and something interesting in the background, but we did what we could.
As I looked further upstream, I could also see the fifth Chilnualna Falls like before. I kept thinking the whole time that if the park service would have put a bridge over the top of Chilnualna Falls and then let us walk to where we could get an edge-on view of the falls (ala Illilouette Fall), then I would have made the scenic rating of Chilnualna Falls a 4 instead of a 3.5. It was a pity they couldn't do that, which ultimately denied intrepid hikers going through with this trail the ability to fully experience perhaps the best of the six waterfalls of the lot.
After spending several minutes trying to capture the experience between the 4th and 5th Chilnualna Falls, we then went up a couple more switchbacks as we then found ourselves feeling like we were now on top of the world (as we could get even more commanding views towards the Wawona direction).
Just as we had pretty much gotten somewhere close to the top of the 5th falls, we then could see further upstream the 6th and final Chilnualna Falls. This time, this multi-tiered cascade was much wider than I had ever remembered seeing it. So the drop into bowl into drop characteristic of this last falls wasn't quite as apparent as before.
Still, Mom and I looked for scrambling paths that would get us past the wet overflowing parts of the granite before allowing us to get right up to the base of this last falls. After getting both the direct view and then the angled view of the last falls, we then reached the plunge pool at its very base at 9:50am.
At that point, Mom and I decided that we would relax here for a bit for our well-earned picnic as it took us nearly 4 hours just to make it all the way up here. But with the hard part of the hike over, we knew that the return hike wouldn't be as painful despite being in the height of the heat of the day as it would pretty much be all downhill from here on out.
Anyways, Mom and I had a picnic of eggs, cheese, cherries, grapes, and apples. We dipped our feet in the icy cold pool, which was uncomfortably cold. I felt compelled to do it because my left ankle bone felt bruised once again. It seemed like it was an unavoidable condition for as long as I'm hiking (it started ever since our Salt Lake City Trip a couple of weeks ago).
So I figured that dipping the left foot in the painfully icy cold water might have the same effect as icing the foot to keep the swelling down. But I couldn't keep the foot in the water for long as it was way too painful to do so. Plus, I was starting to get worried about getting frostbite as a result.
Mom and I ended up chilling at this spot for nearly an hour. It wouldn't be until about 10:45am when we finally started to leave. We saw a trio of guys brave the icy cold water a short distance downstream as well as a pair of ladies who also made it to the falls. So with us no longer being by ourselves here, we figured that now it was time to head back down and be back at the condo in time for a lunch before continuing later in the afternoon to do the Carlon Falls hike.
Mom was already thinking about calling it a day after finishing this hike as apparently 8.5 miles round trip now feels much harder than it did some 13-14 years ago. But I also knew that we had to do Carlon Falls to improve the writeup from way back then. Besides, I'm sure the experience would be different given how conditions change over time.
And so we proceeded to hike back down the trail. Along the way, I tried to take advantage of the better lighting to capture the 6th falls as well as the 5th and 4th falls. I was surprised to see that there was still a rainbow in the mist of the 4th falls.
There were also quite a few more people on the trail heading up to the falls. So even though this was a relatively quiet hike compared to anything in Yosemite Valley (which would be a zoo today), it was by no means secluded and isolated.
It wouldn't be until about 11:35am when I finally made it to the 3rd falls. Now, there was no more shadow on the falls and when I looked back at the 4th falls, it had much better lighting than before. Mom was way ahead of me since she moved ahead of me back at the 5th Chilnualna Falls.
It probably didn't help my cause in that I took my time taking pictures and even conversing with a guy who observed that ever since he bought a DSLR to replace his broken point-and-shoot, he took much longer on the trails.
I never thought of it that way, but now that he mentioned it, I was definitely taking much more time on the hikes than ever before, and perhaps it was that DSLR
that did it as I would keep stopping to take trail shots and try to notice more subtle things along the way than ever before (when I took fewer pictures and notes).
After getting my fill of the better lighting conditions of the 3rd falls, I then continued hiking downhill in an effort to catch up to Mom. She must have been so far ahead of me because I kept doing a combination of trail jogging and fast walking as I was using my downhill momentum. It was a good thing that this dry downhill stretch in the heat of the day was indeed downhill instead of uphill like so many other folks who had gotten much later starts than we did.
Definitely it was a smart move on our part to get the early start despite the bad lighting agains the morning sun. Because the people making their way up right now certainly didn't look like they were having fun.
I'd eventually catch up to Mom when we got into the big flower and low-lying shrub path with the Wawona Dome in the background. We figured out that most of the heat was radiating up from the ground as opposed to the hot air.
As we were about to be within earshot of the Chilnualna Creek near the 2nd waterfall (the one with the turtleback slope), some hikers were making their way up and inquiring with us about how much further they had to go.
I wasn't sugar coating it telling them they had at least another hour or more just to even get up to the 3rd Chilnualna Falls, which would be the next opportunity to cool off. One group of Indian hikers sounded discouraged when we told them that we had gotten started at 6am and we were on the way back down (noting that it was around 12:20pm at the time).
Regardless, we were still quickly making our way down until eventually we got to the upper junction between the stock trail and the spur trail leading to the first Chilnualna Falls. Just then, I realized that my etrex handheld
unit wasn't sitting in my tactical pouch, and right then and there, I knew that it must have fell out during the bouncing up and down from all the quick hiking.
So while Mom was waiting behind at the trail junction, I had to hike back up at least one switchback before I saw a group of hikers heading down. I asked them if they had seen a yellow GPS unit, and they confirmed that there was a group further up the hill watching over it. And when I eventually got up to that other group at about 12:50pm, they graciously handed the GPS unit to me after telling me it was next to some tree.
I guess I was fortunate that no one played finders keepers losers sweepers and swiped it for themselves. It was indeed a close call!
And with that, I followed the group back down to the stock trail junction where Mom was waiting and conversing with the group there (undoubtedly about the missing GPS unit that I had just recovered). At that point, Mom decided to follow the large group of hikers back down to the first waterfall instead of taking the less scenic stock trail.
Despite the dropoff exposure and steepness of this trail back down to the first falls, we didn't regret our decision as the lighting was much better than this morning. There were also dozens of people cooling off in the spray of that first waterfall, which we also managed to do for some temporary relief from the high heat of the day.
Eventually at 1:15pm, we made it back to the busy trailhead where our car was still in shade. With our feet very sore and my ankle still suffering from what I suspected might be a bone bruise or spur or something, we promptly took off and followed a long caravan of vehicles (as the head vehicle refused to use the pullouts to let faster vehicles pass) until we eventually made it back to Yosemite West at 1:50pm.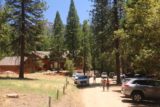 It turned out that the rest of the family was already in the condo so we pretty much had a late lunch together. It was a replenishing meal knowing that we still had an afternoon hike to Carlon Falls right after this. But at least we gave ourselves a moment of recovery time after the pretty difficult Chilnualna Falls hike.
It wouldn't be until about 2:40pm when we finally left from the Yosemite West condo. I knew that it took over an hour to drive up to the trailhead, which was outside the northern entrance to Yosemite (on the way to Hetch Hetchy on Evergreen Rd). So with the round trip drive and 4.5-mile round trip hike, I had a feeling that it wouldn't be until after 7pm when we'd be back at Yosemite West again.
It would be another divide-and-conquer thing going as the rest of the family would be going out to Glacier Point and back while Mom and I went to Carlon Falls. And as much as Mom wasn't looking forward to additional physical challenges after the Chilnualna Falls hike, there was no way we could fit in this excursion tomorrow morning before going home.
The drive into the valley took quite a bit of time, and there was quite a bit of traffic at all the major lookouts and pullouts in addition to drivers not using the turnouts to let faster drivers pass. At the Southside Drive, they had this thing going where the right lane was prohibited to private vehicles to let shuttles have that lane.
There was some $280 fine for clogging up the right lane.
I had never seen this instituted before, but it must be a mechanism to alleviate the traffic and congestion of Yosemite Valley on the Summer weekends. After all, we hardly ever visit Yosemite Valley this late in the year.
Eventually, we then followed the Northside Drive, where the left lane that was unpaved was actually open for traffic. Then, when we headed up on the Big Oak Flat Road, we noticed that the gate for the Hwy 140 was also still closed due to the landslide that happened earlier in the week.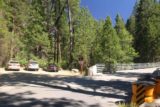 The drive up to Crane Flat and then the Big Oak Flat Entrance was pretty uneventful though we did see a handful of cars get traffic tickets from rangers playing the role of CHP apparently. At the entrance (or exit gate), the employee checked our pass on the way out, which we were prepared for, and then we promptly got back onto the familiar Evergreen Road where after a mile on the road was the familiar bridge by the Carlon Day Use Area and Carlon Falls Trailhead.
We got there at 3:45pm, and we happened to take the last parking spot on the trailhead side of the bridge. There was actually more commotion on the other side of the river as there was some picnic and play area there. Mom and I thought that Tahia and Joshua would have loved it here.
Regardless, we left the National Parks pass hanging on the dash (knowing now that the Interagency Pass also works in National Forest lands like this one being the Stanislaus National Forest), and then we promptly got onto the Carlon Falls trail, which was fortunately well shaded from all the tall trees flanking us despite the reported fire damage that had occurred here back in 2013.
The trail was mostly flat as it followed along the river that the falls was on, and aside from a few minor uphill and downhill stretches, we made good progress. It wasn't until we were well into the hike that there was a more concerted uphill stretch as the trail started to get a little rougher.
Already weary of climbing from the Chilnualna Falls Trail, this climb fortunately wasn't too long, and by the time we got to the top, we then had to descend alongside a really eroded part of the trail. One person told us to keep left which was easier than the right path which went right down to the fallen trees and had to clibm up a badly eroded section.
Once we got past this obstacle, we then had to negotiate a bunch of false trails leading close to some intermediate cascades. But it was clear from memory that it wasn't wise to boulder scramble alongside the rushing creek. So we had to backtrack, and then negotiate more eroded and steep sections as there were more use trails leading up to the final descent for the Carlon Falls. We ultimately got there at 4:50pm.
Just like the last time we were here, the falls had that slanted appearance as it was wider than it was tall. However, there was also a rainbow in the mist of the falls as well as lots of people (seemingly a big Latino family) bathing in the cold waters or at least dipping feet in one of the potholes alongside the plunge pool.
Mom and I did the same briefly to at least enjoy the fruits of our labor for getting here. The granite was a little on the sandy side, but we didn't care. We just cared that we were cooling off before making the 2.25-mile hike back to the trailhead. We also had to apply some DEET as I knew that the forested terrain also meant a lot of mosquitos would be around at this time of the afternoon.
The longer that Mom and I lingered, the longer the shadows were creeping into the falls on the left side of the falls. So the falls became less and less photographable given the high contrast between the bright zones in the whitewater and the shadows right next to it.
So eventually at 5:15pm, we left Carlon Falls. After having a brief conversation with one of the elder Latino men at the falls (making small talk in sort of a broken half-Spanish half-English awkwardness as only these moments can provide), we then hiked back along the same way that we came in from.
During the return hike, the long shadows yielded mostly shade so we didn't need to keep our hats on. Plus, not many words were spoken as we were more focused on getting back to our condo in time for dinner. This gave us the opportunity to listen to the serenity of the sounds of the forest from the flowing river to the birdsongs.
Eventually at 5:55pm, we returned to the Carlon Falls Trailhead where surprisingly all four cars were still at the trailhead. We then promptly got out of our hiking boots and into the comfort of our sandals, and then promptly drove back into Yosemite National Park through the Big Oak Flat Entrance.
With Julie's car low on gas, I filled out just enough to add around 3 gallons (at over $4 per gallon) which should hold us over until at least Fresno. We also made a quick stop at the pullout with a view of Bridaleil Fall and the Merced Canyon along with the Upper Cascades which were now in shadow (it was perfect lighting when we were going in the opposite direction earlier in the afternoon).
After following a red car that refused to use the turnouts (turned out he was headed to Glacier Point), we'd eventually make it back to the Yosemite West loft at 7:10pm. Indeed, it was just in time for some organic ribeye steak dinner along with some soup and salads. Meanwhile, the kids had pasta.
It was such a simple get-together, and yet the dinner was delicious and the company was priceless. It was the best day-before-Fathers-Day moment that a father could ask for.
And so we basked in our accomplishments while regaling each other with the stories of how our afternoons went. It was a good thing that we went against the grain and avoided Yosemite Valley on a day like today. Even on Julie and company's short visit to Glacier Point, they actually had to take a shuttle from Badger Pass to get all the way to Glacier Point because finding parking at Glacier Point would be pointless.
The last shuttle was said to be at 5pm so they had to crowd in to catch that last shuttle. Apparently a couple of women from Florida were gracious enough to let Tahia and Joshua squeeze in and sit on their already tight seat spaces. The rest of the shuttle bus was packed like sardines.
So in that sense, as physically demanding as it was for Mom and I, it was more or less crowd free and peaceful on both our Chilnualna Falls and Carlon Falls hikes. Indeed, leaving the crowds behind yielded benefits even though our jaded selves had been to Yosemite so many times that we felt comfortable seeking out alternatives without feeling like we were missing out on anything.
Well, when all was said and done, we rested our tired bodies and called it a night without needing to sleep too late.
All that was left for tomorrow was to pack up and drive home. And perhaps, have another shot at celebrating the real Fathers' Day…