Day 4 (June 18, 2017 – Los Angeles, California): "Fathers Day Celebrating"
At 5am, I woke up and spent some time trying to fit in some blogging where I knew time would be hard to come by. I always had that feeling that when trips like this were finished, there was still a lot of work to be done in terms of getting all of the new content composed and/or getting up-to-date.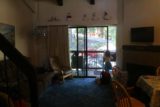 While all that was going on, everyone else eventually got up some time after 6am where we then had one last breakfast in our loft. Then, everyone got packed up and ready to go. At that point, it was about 8:30am when we finally left the keys in the room and headed out.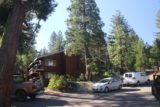 The original plan was to eat at Chipotle in Fresno while also making a gas stop there. But since Chipotle still wouldn't be open by the time we'd get there, we changed the plans and decided to stop at the Chipotle in Tulare while making a gas stop there.
The drive out towards Fresno was a little bit delayed because Tahia was apparently car sick in the parents' car. Julie and I could only speculate what happened because she was never carsick whenever she was with us (and we had already gone on many road trips involving mountain roads) so we suspected that the grandparents must have given them screen time (i.e. iPhone
or iPad
to play).
So we met up in Fresno to make sure everything was OK, and there wasn't too much of a mess made. Then, we followed each other all the way to Tulare, where we got to the Chipotle at 11:25am.
While driving south on the 99 to get to Tulare, we saw there was noticeable snow above the haze looking to the east. Clearly, that was where Sequoia National Park was. There also appeared to be some thunderclouds budding out of the snowy mountains out there.
We wouldn't be affected by this, but it underscored the amount of snow that the Sierras had accumulated this year (that there could still be that much snow visible from the Hwy 99 this deep into June).
Maybe some other time, we could visit Sequoia National Park while bringing the kids along. But that one would be more of a challenge from a carsickness standpoint given how twisty and slow the Generals Highway would be.
Eventually at 12:10pm, we were done with the Chipotle lunch and finished the long drive back from Yosemite to the parents' place. We'd eventually get there at 3:25pm, where Julie and I also picked up an ice cream cake to celebrate Fathers Day as a family.
After about 90 minutes of getting our cars organized (including Tahia's car seat), we'd then drive out to the Earthen Restaurant to try to beat the Fathers Day rush for one last dinner. My brother and his wife and daughter joined us and it became a very pleasant family affair before the workweek would begin again starting tomorrow.
Now, all three kids were together making commotion at the restaurant while the adults were getting caught up on the hot weather as well as the goings on while we were away.
We pretty much stuffed ourselves silly as we had probably ordered too much food, but at least we were all happy in each others' company.
After the dinner, we then chilled out some more at the parents' place, where we enjoyed the ice cream cake as well as Julie's mug cake. The kids still were expending a lot of energy as they showed no signs of slowing down.
I don't know how many more of these gatherings we're going to be having going forward, but I've learned to cherish them as they come and never take them for granted.
Indeed, this weekend was so full of precious moments that regardless of what happens at work (with all the uncertainty that had been going on there), we can rest assured that we still have family and such priceless moments. And so it came time to return home, get settled, and get back to life, back to reality…