Day 1: REVISITING OLD HAUNTS
On Friday, we went to Yosemite as planned. The now-familiar drive up to the park was uneventful, which was largely because Mom and I were both early birds so traffic wasn't much of an issue.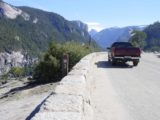 It was still mid-morning by the time we arrived at the Turtleback Dome pullout along Hwy 41 about a mile before entering the tunnel concealing Yosemite Valley.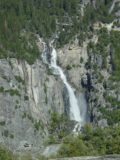 Naturally, we pulled over at the Turtleback Dome and took our time trying to capture good photos of Cascade Falls from across the Merced Canyon that morning. It almost felt obligatory at this point to make this scramble and photo stop.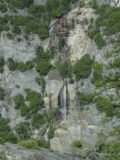 And once again, we noticed that Wildcat Falls' upper tiers were also running.
When we had our fill of this view, we then continued driving straight to Hetch Hetchy. We opted not to set up camp right at this moment in the Upper Pines because it was probably still too early. At least we knew we had reservations so we didn't expect anyone to be squatting in our spot.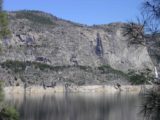 Somehow Mom and I got this idea that maybe Wapama Falls might still flood the trail. After all, our only memory of that place was from June 2002 when the conditions were crazy. We had some regrets about not taking movies or capturing the turbulence of the scene on that fateful first trip. So now that we came with the right mindset, we were ready to communicate it through photos and videos.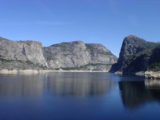 However, just as we were approaching the dam, we could see immediately that Tueeulala Falls wasn't doing so well. We still wondered if Wapama Falls would still be as crazy as it was back then, but the conditions we encountered on this day somehow made it seem unlikely.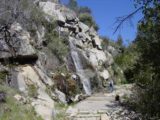 Anyhow, we passed through the familiar tunnel and then embarked on the sun-drenched trail skirting the northern shores of the inaccessible reservoir. We passed by a trailside cascade before another cascade that seemed to do better than Tueeulala Falls commanded our attention.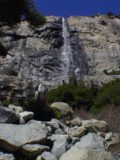 The hiking was brisque given our familiarity with this trail. After getting various angled views of that unnamed waterfall accompanied by a minor stream crossing, we then approached Tueeulala Falls.
This time, Tueeulala Falls was struggling to flow. Clearly, it had nowhere near the volume it had from two years ago. When we looked up at it, all the falls could produce was a wispy plume backed by a stained cliff from the scattering of the wispy mist I'm sure.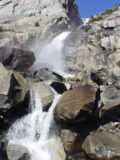 As we passed Tueeulala Falls, the thing we noticed that was conspicuously missing this time around was the flood past the footbridge. Now, it was dry as a bone and it was easy hiking.
Eventually, we made the 1/4-mile walk further to the familiar footbridges at the base of Wapama Falls. And now we could see that the conditions were nowhere near as stressful as before. Photographing the top of Wapama Falls was no longer as difficult (near impossible) as before.
Meanwhile, we were pretty stress free about taking more photos alongside the footbridges. In some instances, we saw slight rainbows next to the footbridges.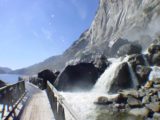 However, when we looked back towards Tueeulala Falls, we no longer saw the rising mist concealing that waterfall. Instead, we just saw the profile of a struggling waterfall against the midday sun.
After we had our fill of this waterfall, we headed back to the car park. Part of me was a little disappointed that we didn't have the turbulent scene from two years ago, but I'm sure Mom was a little relieved.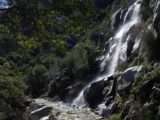 With the afternoon sun getting lower on the horizon, we could see that trailside cascade starting to glow with the side lighting. It kind of reminded me of how Horsetail Falls was supposed to behave, and in a way, it further reminded me that we ought to check out Horsetail Falls before the sun would set today.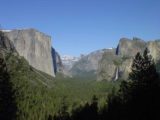 So after leaving Hetch Hetchy, we drove back to the Tunnel View, knowing that it was still too early to see Horsetail Falls. However, we knew that afternoon would be a good time to get that classic view of the Gates of Yosemite Valley.
After having our fill of this lookout, we then headed back down into the valley in search of a pullout where we could check out Horsetail Falls.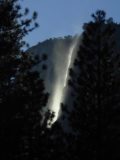 At first, we had to make a circle on the one-way road because we apparently overshot the pullout we were supposed to stop at. This pullout was unsigned and quite obscure.
But when we finally found the suitable spot to pull out, we then walked over to where we could see the wispy ephemeral waterfall lit up by the late afternoon sun.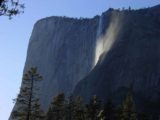 When we saw it, the falls had a bit of a ghostly white appearance as the mist was scattering. And all that mist was being sidelit, which made for quite an unusually attractive scene. Sure we knew that the falls wouldn't glow red at this time of year, but we noted our observations on this go to better prepare for a time when we might actually see the waterfall do its thing.
So the rest of the day passed without incident. When we were done with Horsetail Falls without the firefall effect, we checked in to the uncrowded Upper Pines Campground, pitched the tent, and went to Curry Village for a shower and some pizza.
Expecting a frigid night since it was early spring, the night was unexpectedly pleasant and cool. Neither of us had any trouble sleeping.