Day 3: LAST MINUTE HIKING BEFORE RETURNING HOME
Once again the day started off nice and sunny. Although there was condensation on the tent, we were able to pack up and load up mom's SUV.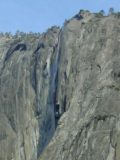 We first circled the valley in search of some more photo ops given the attractively soft morning light. First up was a return to Horsetail Falls. However, this time, it was in the morning backlight and we could see that there was a faint rainbow in its mist though the falls itself was nothing to brag about.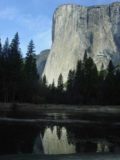 Next as we swung around to the Southside Drive, we made a quick stop where we were able to walk towards the Merced River. I think we stopped somewhere near the Cathedral Spires viewpoint. Anyways, it was a pretty seldomly used stop so all this was pretty new to me.
Eventually, we got to a part of the river where we could see El Capitan reflected in the river before us. With the attractive morning light, it was almost as if I had reproduced a black-and-white photo that I recalled seeing in our Yosemite Road Guide.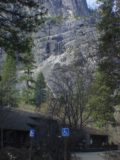 Next, we drove back to Curry Village where we parked the car and took one of the shuttles leading us towards the Mirror Lake Stop. I thought we could use this opportunity to see Mirror Lake in the early morning light, and perhaps see Snow Creek Falls. At least that was the thought process before we would leave Yosemite today.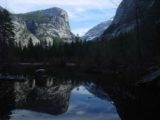 The leisurely paved trail took us quickly to the famed Mirror Lake. After getting the usual reflection photos, we continued on the trail in search of Snow Creek Falls.
Probably another twenty minutes or so later as the trail was very tranquil, we heard that familiar sound of tumbling water. Could this be the elusive Snow Creek Falls?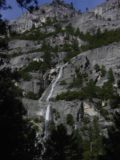 As the sound got louder, we looked up through the trees and saw what looked to be quite a tall waterfall with good volume.
Convinced this was Snow Creek Falls, we took photos of it and then started to head back to the trailhead. Unfortunately, I found out after the fact that this wasn't the desired waterfall. It was actually an ephemeral waterfall that tumbled beneath Basket Dome. I would eventually dub this unnamed ephemeral waterfall "Mirror Lake Falls," but I was a little disappointed it wasn't the other waterfall. Still, it was quite nice for an ephemeral waterfall.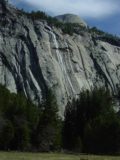 When we regained the car, we made sure to stop at several more photo stops before we would finally leave Yosemite for good on this weekend.
First up was a pullout with a view of the Royal Arch Cascade with North Dome above it.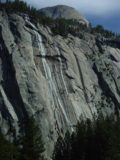 I never recalled stopping for this view of the Royal Arch Cascade, but then again, it was in our Michael Osborne book so at least we could delight in actually having an interesting subject accompany this otherwise pretty unremarkable cascade.
The pullout we stopped for wasn't signed, but it was a fairly obvious pullout. I'm guessing most people zoom past this pullout though bikers would probably notice it.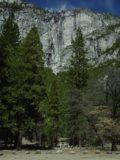 Next, we stopped in front of Camp 4, where we saw that ephemeral waterfall that commanded our attention when we hiked halfway up the Yosemite Falls trail. The falls wasn't very easy to see in our photographs as its waters were blending in with the granite.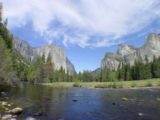 As Mom and I were on our way out, we made one last stop at the Valley View Lookout. This time, we used the wide angle lens to capture this scene, which included Ribbon Falls far to the left. It was pretty cool that we could get Ribbon Falls as well as Bridalveil Fall in one photo – though the distortion on the wide-angle lens left much to be desired.
Anyhow, it was a great way to cap off the photo run that Mom and I had just experienced.
And when this weekend was through, Yosemite managed to make me forget about my corporate frustrations (albeit temporarily) with the incredible photo opportunities, the picture perfect weather, and especially the rainbows.
It's no wonder why Yosemite is a haven for photographers.
Yet perhaps more importantly, the park was the scene for meeting up with a familiar face – from work of all places – in such a special place. And so I got a glimpse of what a coworker's life was like outside of work.
I also came to the realization that indeed we live in a small world after all.