Day 1: THE FIREFALL CURSE
Julie and I were busy trying to get packed and prepared for this weekend's trip to Yosemite. This trip was supposed to be our excuse to let Tahia play in the snow. However, I had an ulterior motive to catch the firefall with a DSLR camera since we failed to do it 7 years ago (though we did see the firefall, but the new camera didn't arrive until after we had left for that trip).
It was a hectic morning as there was still lots to do regarding getting Tahia's food and belongings ready. So as much as I would've liked to leave around 7am, we didn't leave our place until about 9:30am, and we didn't leave my Mom's place until about 10:10am.
Given the late start, I knew that we were cutting it quite close to arrive in Yosemite Valley in time for the firefall event. Complicating things was that we kind of knew that the word got out so we feared crowds and the inability to find parking. Exacerbating those fears was that this weekend also happened to be President's Day weekend.
After some initial LA traffic, we'd eventually get out of the shackles of LA county and into the Grapevine a little under two hours later. We decided to make a quick stop at an In 'N Out while filling up on gas in Bakerfield at 12:10pm. I guess it was a good thing we made the stop when we did because the wait at the fast food joint wasn't too bad, and we had gotten a lot accomplished.
We ended up leaving at about 12:35pm, and for the next 2.5 hours, it was pretty uneventful as we were cruising along the 99 and then the 41. The only real drama of the entire drive was trying not to get caught by CHP, which seemed to be out in numbers looking to nap someone for speeding, while also trying to maintain cruising speed despite the quantity of cars out on the road. The other bit of concern was the amount of cloudiness we saw as we approached Yosemite.
Those clouds weren't good news because if it stayed cloudy like this, it might take mute the fiery red light on Horsetail Falls. And therefore, there wouldn't be a firefall.
It was about 3:05pm when we finally made it Oakhurst, but we could see that the sun was still trying to break through the persistent layer of high clouds around the area. I almost wanted to give up on racing to catch the firefall on this day because of those clouds.
Mom and Julie were quick about doing the grocery run at the Vons in town, and it was only 10 minutes later when we were back on the road.
Even though we knew it was getting late to catch the firefall, we still found the time to make the quick detour to our Yosemite West condo. We picked up our key and dropped off our stuff into our room at about 4:15pm. It took some time to get settled with loading up the fridge while letting Tahia stretch a bit.
It wasn't until 4:45pm when we were back on the road again. I knew that we were now really cutting it close.
So we followed another caravan of cars into Yosemite Valley as we passed through the familiar tunnel and then saw the familiar view of the Gates of Yosemite Valley with Bridalveil Fall flowing pretty well for Winter.
I had entertained thoughts of making a stop here so Tahia could get close to Bridalveil Fall, but then I decided to just keep going and at least scout out the view of Horsetail Falls from a spot just east of Cathedral Beach. This was a viewpoint I wasn't familiar with (since it wasn't in the edition of the Photographer's Guide to Yosemite that we owned), but I figured it might be a decent day to give this a shot since we were already familiar with the view from the Northside Drive.
The late afternoon sun was still muted as it remained hidden behind the clouds, which was disappointing. However, as we got closer to the Cathedral Beach area, we could see that the Park Service actually blocked off one of the two lanes on the Southside Drive so people could park along the road. There was even a sign that indicated "Special Event" that fronted the lane blockade. I guess this phenomenon became so famous that it now gained Special Event status (something I thought was normally reserved for concerts or the arrival of some dignitary).
However, there were so many cars parked along the Southside Drive that we feared we wouldn't be able to find parking. It was crazy to think how much quieter this event was 7 years ago. Now, it was so popular that there were literally hundreds of cars and maybe thousands of people on both sides of the valley trying to check out the event.
Anyways, what Julie ended up doing was to drop me off where we saw a group of people set up to photograph the firefall. Meanwhile, Julie, Mom, and Tahia kept driving forward to look for parking.
By now, it was about 5pm, and there I was trying not to mess up someone's shot while looking for Horsetail Falls. The view here didn't seem that great as there were quite a few trees around and somehow the waterfall looked kind of wimpy from here.
Anyways, I made my decision to just stop here and wait out the firefall while socializing with some of the other folks that were here. Some of the kids looked bored so they were actually running around entertaining themselves while the adults were conversing.
As we were waiting, we could see that the lighting remained muted from the persistent cloud cover. So that induced some people to leave. But most of us still remained as we waited and hoped for the light to come out.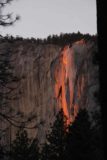 Eventually as the time got to 5:30pm, that was when we started to notice that the rocks around the hard-to-see Horsetail Falls were starting to glow red. However, the waterfall looked rather wimpy from here and I started to get the feeling that it somehow wasn't the firefall effect that I recalled seeing 7 years ago. I also started to draw the conclusion that this view from the Southside Drive wasn't all that great.
Still, I was impressed with how red the light was as the sun sunk lower on the horizon. In fact, most of the folks around me thought we caught the special event. When the light finally started to fade, I started to worry about how I was going to find Julie and the others.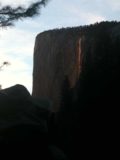 Fortunately, Julie yelled out my name and so I managed to rejoin her and make what turned out to be a pretty long walk back to our car. Then, Julie excitedly showed me her camera as I was wondering why she was so ecstatic while I was sort of lukewarm to the spectacle.
Then, Julie showed me her photo on her iPhone
…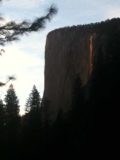 I took just one glance at it and I knew immediately that I had been in the wrong spot all this time!
Her smart phone photo definitely showed that she managed to catch the firefall as I had envisioned what it was supposed to be. She didn't use a tripod and she didn't do any color saturation with long exposure photos. She just had a point-and-shoot, and she managed to catch the scene far better than how I had it despite my tripod and DSLR capabilities.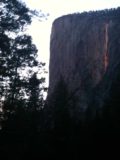 I had this sinking feeling that I had been cursed or something. For I thought I knew what I was doing, but Julie's photo clearly proved that I didn't have a clue. So once again, I was caught in a situation where the firefall did indeed happen, but it wasn't recorded on our DSLR camera (i.e. our "decent" camera).
At this point, I had that sinking realization that that for me it was going to be tomorrow or bust, but Julie and Mom were now playing with house money at this point. In hindsight (always being 20-20) that I should've just stayed in the car with the rest of the family and not try to find the firefall prematurely. I remembered some folks around me saying there were hundreds of people further up the road, and now I understood why. The rest of the family was with those hundreds while I was with the dozens that thought we had found a better spot and ended up striking out.
Anyways, Julie and I continued to walk back to our parked car as it was clear that we had walked maybe at least a quarter-mile or so. Julie pointed me out to the spot where she got the view of Horsetail Falls, and now I really understood where I should've been and how I really wished I had set up over there instead of my premature spot (as jam packed as I'm sure it would've been here). I guess the start of the lane blockade where I was at was just not the right spot for viewing.
At 6pm, we were all finally back at the car. It was dark at this point, but there were literally hundreds of cars marching either towards Curry Village or Yosemite Village. We'd eventually reach Curry Village by 6:20pm, but I had to park towards the side of the lot closest to Stoneman Meadow (past quite a few muddy and snowy patches) as the closer parking spots were completely full.
There would be no Curry Village pizza on this go around as Julie opted instead for some kind of pulled pork sandwich dinner in the dining area. Finding a table wasn't easy, and we ended up sharing a table with some strangers.
We also happened to show up in the dining area on a night when there was Winterfest, where there was a raffle going on, plus a live band playing. One of the lady's serving the food was thanking everybody for "supporting the school" as apparently they were teachers who put together this event to raise money for the school in Yosemite Village. I didn't even know they had a school down here!
Indeed, this seemed like one of those days where we stumbled onto quite a bit of activity. Yosemite was bustling for what would normally be low season. But perhaps it was because of the firefall event that things got exponentially crazier. Now we understood what some people meant when they observed how crazy it had gotten. And we were going to do it again tomorrow!
At 7:45pm, we were back in the car as we were done with dinner and we were done encouraging Tahia to dance on the dance floor in front of the live band. Unfortunately, she seemed more interested in running around the dining area than dancing with the other kids here.
We finally made it back to our Yosemite West condo at 8:30pm, and now we could finally call it a day. Of course Tahia was still being a handful as she would insist on playing kitchen with the pots and pans. She also knew how to turn on the gas on the stove as well as how to run the dish washer. We had to relocate all the pots and pans out of her reach.
She'd eventually be put into her travelpod tent to sleep, but not before launching a big protest as it seemed she didn't want to be alone in that tent. We were about to sleep soon, too, and it wasn't until Mom got out of the shower and started to try to sooth her did Tahia finally start to calm down.
Finally at around 10pm, the lights went out and slowly but surely, everyone was going to sleep.
With no real itinerary for tomorrow except for the firefall event again and letting Tahia play in the snow, perhaps we could finally sleep in (something I know I hadn't really gotten a chance to do, especially since I was getting over a pretty nasty cold since last weekend). However with my lamenting my Horsetail Falls curse and that sinking feeling of deja vu of not being able to capture the event, that I probably wouldn't be sleeping all that well.
Here's to hoping that tomorrow's weather would cooperate so we could go at it again…