Day 2: HOUSE MONEY
There weren't many blankets provided as part of our rental unit. So Julie and I had to share a thin blanket (practically see through) while Mom had a different (but also thin) blanket. And it got pretty chilly through the night. Perhaps Tahia's night was warmer becaue she was wearing three layers plus she was covered with a Hello Kitty blanket that was quickly becoming Tahia's favorite.
It all resulted in a pretty early wakeup for most of us at around 5:30am. Even Tahia was ready to wake up as she asked us to open her travel pod. In my particular case, I found myself unable to go back to sleep probably anxious from looking forward to one last go at trying to capture the firefall with similar kind of success as what Julie and Mom were able to do yesterday. At least when we looked out the window, we didn't see any clouds so perhaps that was a good sign for us.
So the morning started off rather deliberately as we all had a pretty nutritious breakfast of serial with eggs and toast. It wasn't until around 9:15am when we were finally out of our room.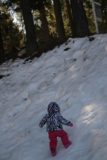 We intended to spend most of the morning letting Tahia experience snow either nearby our condo our out at Badger Pass. Since Tahia wasn't old enough to really appreciate and pick up skiing, we opted to try our hand at the cheaper option by sledding on a patch of sloping snow right above our condo building. The office for the rental property actually loaned some of those plastic circular sleds out so we helped ourselves to one.
It would turn out that for the next 90 minutes, we were having fun with the sled. Tahia was having a blast on some of the mini slopes but we'd eventually ride tandem with her. We'd eventually graduate towards the 1/4- to 1/3- height of the little hills (as going all the way up meant we would be going down real fast and we weren't sure Tahia was ready for that).
It was amazing to see how Tahia naturally figured out how to keep her balance climbing up some of the snowy hills, especially around some of the icier spots though she still took a couple of spills here and there (which didn't seem to bother her, however).
We ended off our sledding session with me trying my hand at the full height of the taller slopes. Just as we were about to call it quits and head towards the valley, I made one last run from the very top of the highest hill, but there was one mogul or bump at the base of this hill. I worried about catching air on the sled and landing awkwardly with possible injuries. But part of me was starting to get addicted to the speed rush I was getting from the other slopes.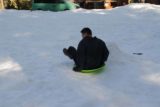 And when I went down, there was no choice but down and right into that mogul. I ended up catching air and then landed on my elbow and bum, which didn't feel very good. After an initial check to see if I had broken anything, I got up and walked with Julie towards the condo. However, I then realized that the sled we had borrowed was sliced nearly in half!
Oops! So now we had to return the sled and be up front with the property that we had broken it. So we were prepared to pay for a new sled, but then the lady on the intercom was telling us not to worry about it. So that was that.
Anyways, we left the Yosemite West area at around 11am, and we made the decision to keep driving towards Curry Village while bypassing both the Tunnel View and the base of Bridalveil Fall. I guess instead of letting Tahia get her taste of getting right up to the 620ft waterfall, Julie wanted to beat the lunch rush.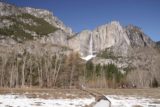 We did make one brief stop to see Yosemite Falls from along the Southside Drive since the low Winter sun casted an attractive afternoon backlight on the waterfall and its snow cone. The trees and meadow were all brown though (as expected since it was Winter) and there were still patches of snow and ice in the meadow before us. Meanwhile, people were playing in the snow across the Southside Drive behind us.
We'd eventually make it to Curry Village at around 11:40am, but their pizza parlor wasn't open until 12pm on the weekends so we had to wait it out. At least the benefit of showing up a few minutes early for lunch was that we had pretty much beat the rush since it was us and another family that were the only ones at the pizza parlor.
When the lunch finally opened a little after 12pm, we'd share our medium sized wheel of pizza while letting Tahia enjoy some of the greasy treat. When Tahia had her fill of lunch, she was busy running around the dining hall area while noticing the bear in the lounge area. She'd insist on having me give her a boost so she could ride that stuffed bear while also running around in circles around the fireplace always getting reaquainted with the bear. She even told some other toddler that the bear was hers. I wasn't sure where she got that possessiveness from.
It wasn't until about 1:15pm when we finally left Curry Village, but then we went to the other side of the valley looking for groceries since Julie had forgotten to buy meats for the pasta she wanted to make tonight, but the market at Curry Village wasn't open due to some long term renovation.
With parking practically impossible to find at the Village Store car park, we eventually joined a pair of other cars being parked illegally with people waiting inside their respective cars while someone made a quick run at doing the errands. In our case, Julie went into the village store while Mom, Tahia, and I were waiting patiently in the car.
At 1:35pm, Julie finally made it back to the car. But Tahia was really fussing at this point. Apparently, she didn't like being constrained in the child seat for too long while the car wasn't moving. In any case, we were finally moving but her fussiness only died down a little.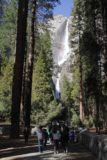 About five minutes later, I had noticed there were some parking spaces for Yosemite Lodge near the paved path to the base of Lower Yosemite Falls. So at the very last minute, we decided to just do it since Tahia wasn't quite asleep for her afternoon nap yet. We figured that we didn't have the luxury of going to the base of Bridalveil Fall since it was getting late in the afternoon and that we still wanted one more shot at catching the firefall at sunset.
So at 1:40pm, we parked the car and took out Tahia's stroller. This time, Tahia knew what a waterfall was and so I was pretty certain that she would at least know that she was seeing perhaps the tallest legitimate waterfall in the Continental US.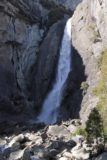 We shared this paved pathway with hordes of groups. It was almost as if we were visiting during Summertime, but here we were in the middle of February experiencing this zoo. We just couldn't believe how different the experience was from our February 2006 trip. Maybe it was because this weekend also happened to be President's Day weekend though that was a particular holiday that I knew we didn't get off at work so I never really thought much of it until now.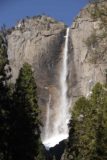 When we got to the footbridge and viewing area for Lower Yosemite Falls, we could see that afternoon wasn't the best time to see the falls given how shadows were cutting through the top of the Lower Falls. This waterfall had significantly more flow than we remembered from back in February 2006 so it was still compelling to photograph even though it wasn't optimal.
When we had our fill of this falls, we returned to the car at about 2:45pm. Now, it was time to start scoping out a spot along the Northside Drive for a view of the firefall. Given my whiff from yesterday, I wanted to go back to the Southside Drive and try it again. However, Julie insisted that we check it out from the Northside Drive because the falls would be closer. And since we had seen the falls 7 years ago from this spot, we at least had the benefit of experience to tell us that we shouldn't be cheated out of seeing it unlike my experience yesterday.
As we were driving along and scouting out the views, I couldn't help but notice how there were hundreds of people at the picnic area near El Capitan. I was a little perplexed by how people would be all the way out there nearly 2.5 hours before the event. I thought the angle was a little too straight on from this spot so I once again found myself conflicted about whether I should join these folks or go back to what I knew. Was there something they knew that we didn't, or was there a bit of the lemmings effect going on?
Since there was no prayer of finding parking all the way down there and that we were well past the parking areas for Horsetail Falls, we had to circle back around the Southside Drive. By the time we got past the Cathedral Beach area, we could see that the cars were already staking claims to parking spaces even though there was still 2 hours to go before the event. Crazy!
We then had to face traffic as we swung around the Northside Drive and there was a bit of crosswalk congestion right in front of the Yosemite Lodge.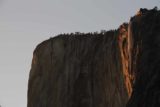 Eventually at around 3:30pm, we finally stopped the car near where the sign indicating "Special Event" was placed to blockade one of the Northside Drive's lanes. Then, I was on my own to look for a suitable spot to plant the tripod and engage in some friendly chatter with other folks looking for the same thing I was.
Something about the initial spot kind of bothered me as Horsetail Falls was hardly visible and it just seemed to be nowhere near the vigor I recalled seeing from back in February 2006. Plus, I had this sinking feeling of deja vu from yesterday that perhaps the angle I was hoping to capture the falls from was still a bit too forward for me to get the streaking firefall effect that Julie managed to get from yesterday.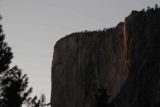 So at around 4:30pm, I moved spots and went closer to my original viewing spot from 7 years ago. And that was where we waited and engaged in more banter with other fellow photographers who were already there. It really was like we were at a tailgate party or something with this kind of atmosphere.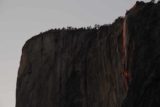 Eventually when 5:30pm came around, the sun was setting and we could barely make out a deep red thin streak that gave us the illusion that something was on fire as it went down the cliff on the backside of El Capitan. Unfortunately, it was nowhere near as pronounced as yesterday, and so I had to make do with what we had on this day.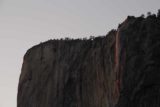 Now I was curious about what those folks at the picnic area might have seen. But I was also starting to lament that we didn't stick with re-trying the Southside Drive. Then again, Julie was playing with House Money so her insistence at checking out the Northside Drive's views and possibly Galen Rowell's original vantage points kind of made that the ultimate last word on the dilemma that faced us.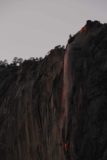 At around 5:40pm, the light was gone and that was when Mom and Tahia showed up behind us. Now, it was time to go back to the car as the light was fading fast. We joined the traffic as it seemed like hundreds of cars were on their way out.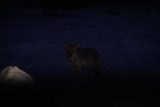 As we were about to leave the valley at around 6pm, we notied that there were a handful of cars parked near an unusual spot to view Bridalveil Fall not much past the Fern Spring pullout. It turned out that they were photographing what appeared to be either a coyote or wolf. I didn't recall there being many wolves (if any) in the Sierras, but as we were taking what photos we could of this mammal, it was a topic of active debate and we probably needed to ask a ranger or something to break the stalemate.
Finally at 6:40pm, we were back at the condo. Now, we could unwind on this day with some pasta and chicken pot pie that Julie made to cap off this day.
I was still wondering what if had I stuck with the family to see the Southside Drive's view of the firefall. But alas, I knew this would still induce me to want to return to Yosemite in February again to get that elusive true firefall effect. I just didn't know when that would be though.
As we finished our dinner and went to bed before 10pm, we were pretty much conked out and in need of a good night's sleep in the worst way.
Tomorrow, it was time to go home. There was no way we'd stick around for a third try at the firefall before a Tuesday storm would show up since I had to work on Tuesday. However, we might catch the Mariposa Grove on the way out, and that part of the park was something we had never done in all the years that we've visited the park…