Day 3: THE BUTTERFLY GROVE
It was 6am when Tahia started talking in the dark. When she started to ask that we open her Travelpod, we knew that it was time to get up for the day. Since we were going to make the long drive home today with a visit to the Mariposa Grove (a part of Yosemite National Park that Julie and I haven't been to together), I guess Tahia acting as the natural alarm clock was fitting and the timing was right.
We got right to it as we were busy packing and loading up the car while leftover food was being made to double as the breakfast.
As I looked out at the blue skies, the thought of still not getting the firefall effect that both Julie and Mom managed to grab on their respective phones kept gnawing away at me. I knew there was not much I could do with respect to this trip, though I kept wondering what might have been had I gotten my way of returning to the Southside Drive yesterday instead of trying the Northside Drive.
So for the next couple of hours, our condo unit was bustling with trying to keep Tahia from turning on the stove or running the dish washer while I was busy loading up the car while Julie was doing the brekkie, and Mom was also helping out or packing her stuff.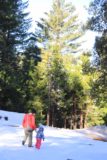 When it was around 8am, I was able to take Tahia back outside to play in the snow. It seemed like Tahia was getting used to the idea of slipping and sliding in the snow. And when Mom joined us roughly a half-hour later, she had this idea of letting Tahia slide on her bum down some of the short slopes we were sledding down yesterday.
The idea seemed to have worked as Tahia was having a blast. Even when it looked like she took a bit of a spill, she was giggling and all smiles.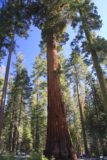 At 9am, Julie had the car all loaded up and it was time to go. Tahia was having so much fun that she protested having to leave. But all good things had to come to an end, and now it was time to start making our way back towards LA with a short planned detour to the Mariposa Grove of Big Trees by the Southern Entrance of Yosemite.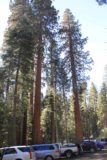 We'd eventually make it to the Mariposa Grove at 9:45am. In years past, this road was usually closed for the Winter as I figured it was always snowed in. However, on this weekend, it seemed like the road itself was mostly snow free though when we got to the Mariposa Grove car park, we could see there were lots of snow patches flanking the pavement and at the bases of the tall trees in the area.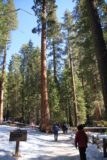 Seeing sequoia trees was something Julie and I weren't used to in all the years we've been to Yosemite. But to have the opportunity to check out the giant trees without having to go all the way to Sequoia National Park was pretty cool. Plus, Tahia got to see these things for herself though I wondered whether she'd remember any of this at her young age.
There were lots of cars already in the lot here, which made me wonder if this was a result of President's Day weekend or if this just so happened to be a popular attraction in the park that Julie and I have completely overlooked over the years.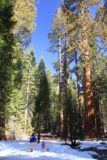 Whatever the case, we were intending to do some short walking before we hopped back in the car and would head for home. So with the mentality that it would be a rather short outing (more like a stroll than a hike), we started the walk pretty ill prepared as I was walking in Chacos and Julie had some kind of slip on shoes. Only Mom was wearing hiking boots and Tahia had snow boots on.
We really didn't have a goal in mind on our walk until we saw some sign indicating the Grizzly Giant. I thought that would be a worthwhile destination for the walk before turning back. However, I somehow caught wind of the fact that it was 0.8 miles each way, which was a little longer than I was hoping for, but we figured what the heck. We were here anyways and we weren't really in any hurry to go home.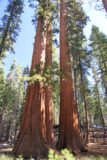 So we all went on the hike, and Tahia insisted that she walk on the trail by herself without us helping her. This was probably the very first time she got to hike at least a mile by herself, which was kind of amazing the more I thought about it because we had done numerous hikes with her, but all this time, she had hitched a ride on our backs.
Plus, the hike itself wasn't that easy as much of the trail was covered in snow and ice so the footing was quite slippery. Even with Tahia's snow boots, she took a couple of spills, but she wasn't fazed at all and just kept going. I started to question whether hiking in Chacos under these conditions was wise, and Julie voiced similar concerns.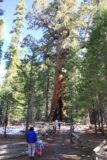 Anyways, the trail seemed like it was on part pavement, which probably made it easier for ice to cling onto the surface and thus conspire to make this a rather slippery affair. It wasn't until we reached the Bachelor and Three Graces did the trail start to go on the more conventional dirt trail.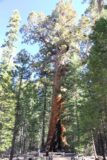 We had gone about a half-mile at this point and there was still 0.3 miles to go. But we continued on as part of the dirt trail was a little wet but pretty smooth going. However, it wasn't until we got towards the top of the short switchbacks did we start to face some icy bridges and a particularly sloping stretch with snow and ice all over where the only way to go was through the dirty snow.
Eventually, we'd get right up to the giant sequoia tree known as the Grizzly Giant, and for sure, this tree was noticeably thicker than the rest that we had seen. In fact, its upper branches seemed just as thick as some of the non-sequoia trees growing in the area.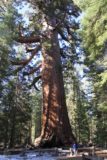 As we went around the big tree, we noticed quickly that this tree was leaning. We weren't sure how much longer this tree had before it was going to topple over and end its life, but it certainly seemed like it wasn't going to be that much longer.
It was hard to photograph this tree given its huge girth as well as height. But that didn't keep a couple of photographers with tripods from doing it as they picked out a spot where the sun was against them, but it somehow made parts of the tree glow with a reddish orange.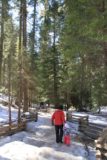 After taking the obligatory family photos with Tahia, it was time to head back. When we returned to the car park at about 11:30am, the place was pretty busy with marauding vehicles looking for parking space as well as lots of people out and about. This caught me by surprise since I thought the Mariposa Grove was little visited, but I guess I was wrong.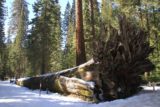 Anyways, at 11:40am, we finally left the Mariposa Grove of Big Trees (which by the way was part of the original state park of Yosemite in 1864, which was then known as the Yosemite and the Mariposa Grove of Big Trees). And after showing our receipt to the gatekeeper at the South Entrance (something they didn't used to do), we were on our way to Oakhurst. We'd eventually arrive in the gateway town at 12:15pm for a Subway lunch and by 1:15pm, we finally left Oakhurst and drove home in earnest.
It wouldn't be until about 6:30pm when we'd be back in LA county and eating some Chinese food with Dad, who didn't join us on this trip as he was having foot problems. But it was good to be back together as family once again before we had to face the reality of going home and getting ready for work tomorrow.