Day 2: DAYTRIPPING IN THE HIGH SIERRA…
Normally, I'm an early bird who likes to get an early start to the day. But even though I was already up by 6am, Cindy and Ed didn't get up until around 8am.
We took our time having breakfast and refilling our water bottles.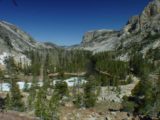 Today, the plan was to day hike out to Waterwheel Falls and return back to camp. It was supposed to be 6 miles out-and-back – at least according to my book on California Waterfalls
.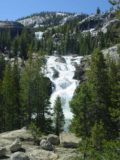 It wasn't until it was nearly 10am that we had finally set out on our hike – leaving most of the weight of our packs back at base camp.
As we started the hike, we were immediately greeted with a lovely expansive view of the Glen Aulin area. After taking a few photos, we proceeded with the hike.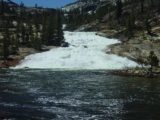 The trail descended to the base of the last of the cascades near the Glen Aulin area. Then it became sandy as it followed a calm Tuolumne River.
The trail would proceed uneventfully for quite a while until we started to notice an interesting waterfall off to the cliff on our right.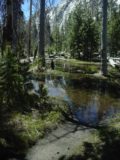 I never expected to see this cascade as I had never heard about it in the literature. Nonetheless, I took some time to take photos of it. But soon after we had our fill of this waterfall and continued hiking.
There was then another cascade that I noticed on the wall to my right. This particular cascade was even more attractive and taller than the previous one. However, it didn't look like we had time to get closer to that cascade. So we continued hiking and then…
…we were met with lots of deep standing pools of water covering the trail!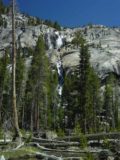 Apparently the runoff from that waterfall inundated the Waterwheel Falls Trail. Cindy and Ed were ready to turn back because of this obstacle, but I was determined to get to our goal.
So I coerced them to come with me and find a way to get around these obstacles without getting our feet wet and soggy.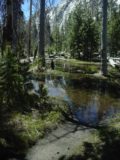 After about a half hour of scrambling over downed trees and keeping our balance, we eventually made it through this obstacle.
It wasn't long afterwards until we got to the next cascade – California Falls.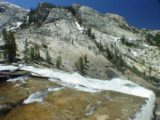 Once again the trail switchbacked its way down granite steps alongside the cascade. At the bottom of the descent, we saw a spur trail, which we took. It led to the banks of the river with a descent view of the multi-tiered cascade of California Falls.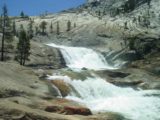 The falls wasn't that eye-popping to us so we were quickly on our way.
The cascades of California Falls seemed like it tumbled constantly. You couldn't tell where one waterfall ended and where one began. Anyhow the next hour or so of hiking was dominated by granite steps with the clapping sounds of rapids.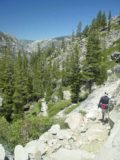 I couldn't remember where California Falls ended and where LeConte Falls began. There seemed to be little (if any) opportunities to catch a glimpse of the cascades constantly to our left. When we did see one opening, we saw some unremarkable cascades so it wasn't like we missed out on much for this stretch of trail.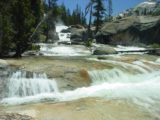 Anyhow, we eventually got to a point where the trail steeply descended down more granite steps. We noticed a spur trail leading into some vegetation offering a closer look at a cascade that appeared to have waterwheels on it!
Could this be the Waterwheel Falls?
I couldn't figure out where LeConte Falls was in all that whitewater we saw on the way.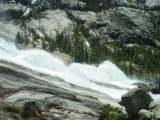 Anyhow – confused or not – we took the spur trail and got a closer look at the waterwheels on the cascade. The waterwheels, by the way, were areas of the cascade where water would dive into a groove backed by a rock – causing the water to shoot up in the air before landing back on the cascade. When viewed from afar, you get the illusion that the cascade has waterwheels on it. Quite cool!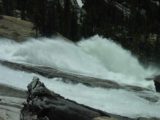 There had to be at least a half dozen waterwheels on this cascade.
Cindy, Ed, and I each had our lunches here. Ed and I had a field day trying to experiment with long exposures to capture a silky smooth waterwheel on our shots.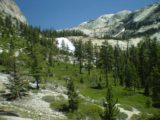 While we were relaxing by the falls, I took a few minutes to hike further down the trail to get more comprehensive views of this cascade that we had assumed was Waterwheel Falls. It wasn't long before I rejoined Ed and Cindy.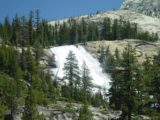 It was nearly 2pm and it was time to return to camp. The further down the trail we went, the more we had to climb on the way back. So we saw no need to proceed any further thinking we had indeed seen our goal.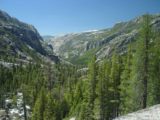 But before we turned back, we looked further downstream towards what appeared to be the Grand Canyon of the Tuolumne River, which was basically a forested valley surrounded by granite peaks on both sides.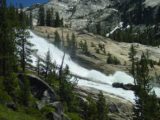 Meanwhile, we noticed some attractive waterwheels even along the main trail. We basically spotted them where the trees had parted enough so we could see them.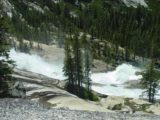 Looking downstream at an angle towards more waterwheels, we felt pretty satisfied with our viewing experience. Thus, we slowly trudged back uphill with the constant cascades rushing to our right, now.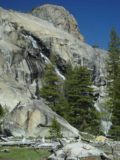 So up we went on the relentless granite steps – listening to the incessant sounds of clapping rapids.
Finally when we made it to the top of California Falls, we had to go through that flooded section again. Knowing that we had already gone through it once, we weren't as delayed going through this on this go around.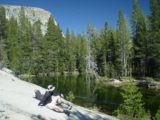 Now, the Tuolumne River calmed down. Ed and Cindy took this opportunity to have a brief nap besides the picturesque settings.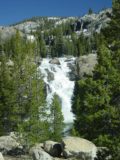 Now it was 3:30pm when we got up from our momentary reverie. Ultimately, we made it back to our camp by Glen Aulin at about 5pm.
We spent some time filling up some water while staring at the attractive White Cascade. There was a faint rainbow across it at this time of day, so that was kind of like a nice bookend to all the photos that we took on this day.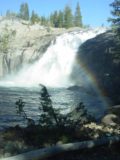 Once again Cindy and Ed were preparing quesadillas on top of the lid of the stove while the water was boiling – how efficient! I replenished our water supply by the river again, but I was a little frustrated at the apparent clogging of my filter since it was pumping sooo sloooow. Regardless, we still got our water and our hearty meal.
It was once again another beautiful late afternoon with the sun setting and beautiful alpenglow colors on the cliffs watching over us. As the light began to fade, I decided to head over to the toilet. But after a few steps, I noticed something big moving right next to someone's tent…
…it was that bear again!
Since I was alone, I wasn't sure what to do. So I basically got his attention by saying, "Hey! You! Go Away!"
Not that it did much since it just stood there dumbfounded at what I was trying to do.
Moments later, Ed was wondering what the commotion was about. Then he saw the bear. He immediately grabbed his whistle and blew on it.
That made the bear go away.
A lady in the tent wondered what went on when we she looked out and saw that big bear walking away from her tent.
"Thanks!" she said. "That's one huge bear."
Soon afterwards, the familiar raucous of clanging pots and pans with people screaming ensued. Like the wave at a sporting event, the raucous would change in volume along with the whereabouts of the bear.
Eventually, it lumbered away from the campsites – probably discouraged. Cindy noted how sickly the bear looked with its prickly fur.
Despite its size, it was clear the bear might have been malnourished as it had been seeking people food instead of its own omnivorous staple diet of insects, berries, shrubs, and maybe the occasional small rodent. We couldn't help but feel sorry for the poor guy.
But at the same time, we were also concerned about sleeping in the open with the hungry bear looking to pilfer someone's stash of food or even mistaken something or someone for food.
After tending to our personal hygiene, Ed, Cindy, and I clambered back to our tents to sleep the night away.
Since last night was not too cold, I decided to take the rainfly off the tent and sleep under the bright moon and starry sky. Given the brightness of the moon however, it took awhile to fall asleep. The constant worry of a 500lb bear pouncing the tent didn't help either…
Visitor Comments:
Got something you'd like to share or say to keep the conversation going? Feel free to leave a comment below...
No users have replied to the content on this page