Day 3: GOING HOME…
All of us got up at around 6am. Itching to get home and shower, we were hastier in breaking camp and stuffing our internal frame packs.
We left Glen Aulin by about 7am hoping to get to Tuolumne Meadows in time for us to have a lunch at the Tioga Gas Mart – situated on the corner where the Tioga Road and the Hwy 395 junction just south of the town of Lee Vining. Cindy and Ed raved about the cafe there, and I was dying to dry the killer mango fish tacos there myself.
Spurred on by that thought, we did the mostly uphill hike that started off as mostly granite steps but soon gave way to dirt once we got past the footbridges crossing the Tuolumne River.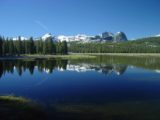 The early morning light was great for landscape photographs of the vast Tuolumne Meadows. When we got to a point where the river was calm and wide, we could see the familiar high country peaks of Cathedral Peak, Unicorn Peak, and Fairview Dome all reflected in the river!
We negotiated the three stream crossings without trouble and eventually got back to the Parson's Lodge vicinity.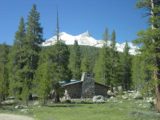 It was here that we talked with a backcountry ranger walking the other way checking for permits. After showing him our permits, we talked about our bear experiences of the last two nights.
The ranger went on to tell us that it was one of two cubs who accompanied a mother (sow). The sow was successfully able to obtain human food in the Glen Aulin area and managed to teach her cubs to find food there. It was kind of a sad story actually since the cubs didn't know any better.
Obviously the wildlife managers in the park have been keeping tabs on these bears. It's almost comical how these rangers talk about these bears as if they know them like the old neighbors down the street in a residential community.
Anyhow, we parted ways and continued along the Tuolumne Meadows area with the odd marmot here and there basking in the sun on the trail before us. As we passed the Soda Springs area, we started noticing the mosquitoes that wouldn't leave us alone. That hastened our pace and made us want to get to the car sooner.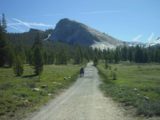 We knew we had finally finished the hike when we saw Lembert Dome looming large over the parked cars up the trail. It was 10am when we returned to the car and headed straight for the Tioga Gas Mart to spoil ourselves and ensure we had enough fuel to make it home.
After enjoying the delicious and hearty Mexican-influenced meals while staring out at Mono Lake, we headed home. We'd eventually make it back in Los Angeles by 5pm.
With Cindy and Ed having their first real Sierra waterfall experience (they usually do High Sierra backcountry hikes around lakes or peaks above the tree line), they'd tell me how sometimes they'd dream about cascades and waterfalls.
In my mind, this was one memorable Memorial Day backpacking experience. It had it all – good company, good exercise, excellent scenery, great weather, great food, and unforgettable experiences.
It's too bad I couldn't say the same for the hungry bear. I hope it eventually figures out that it needs to go on its natural low carb diet and survive the way they normally do in Yosemite…
Visitor Comments:
Got something you'd like to share or say to keep the conversation going? Feel free to leave a comment below...
No users have replied to the content on this page