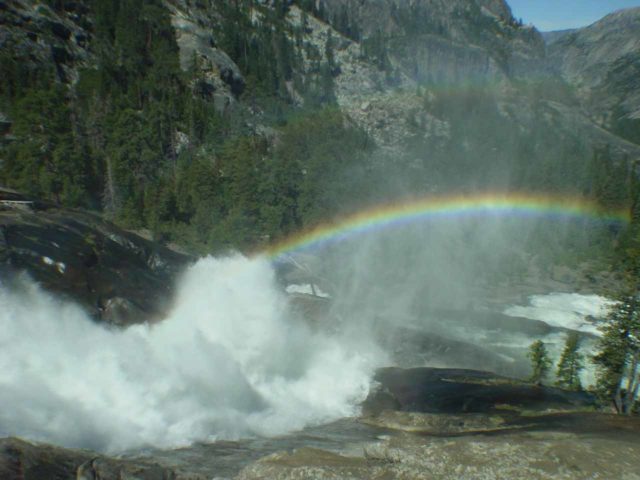 5-June 2004:
Determined to see
Waterwheel Falls
after my disappointing discovery last week, the time had come to revisit the Grand Canyon of the Tuolumne River. We left Mammoth at about 5am, made it up the steep Lee Vining Canyon without incident, and arrived at the
Tuolumne Meadows
trailhead at a little after 6am. Since we didn't have backcountry permits, we had to do the Waterwheel Falls hike in a day – a strenuous hike of at least 20 miles return!…
The trip began Thursday night when Mom and I opted to leave Los Angeles after dinner and eventually arrive at Mammoth Lakes at 1am. Without trouble, we were able to perform our late check-in, then do a series of sightseeing stops as well as a long day hike the next day.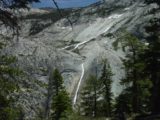 Amongst the features seen on Friday were Mono Lake, the Pywiack Cascade, Olmstead Point, and various other roadside stops along the Tioga Road – including a roadside waterfall.
So far so good.
It was now Saturday morning. Determined to see Waterwheel Falls after my disappointing discovery last week, the time had come to revisit the Grand Canyon of the Tuolumne River. We left Mammoth at about 5am and noticed some attractive alpenglow against the Eastern Sierra peaks to our left.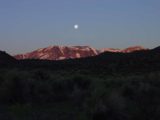 There was even an attractive full moon showing itself prominently amongst the reddish orange glow of the snow-capped peaks against the early morning sun.
Mom and I briefly pulled over to take a photo of the scene so somehow I doubted it did the scene any justice.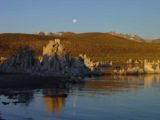 Then, we headed over to Mono Lake as Lee Vining was getting closer. We took the detour and checked out the warm glow of early morning sun on the tufas surrounding the saline lake. We also saw ducks obliviously swimming about and minding their own business on the saline lake.
Once again, the full moon and the early morning light against the tall peaks of the Eastern Sierras really made this a pretty photogenic spot.
Clearly, it was an unexpected one at that.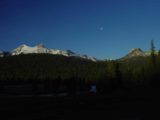 Next, we made it up the steep Lee Vining Canyon without incident, and arrived at the Tuolumne Meadows trailhead at a little after 6am.
Since we didn't have backcountry permits, we had to do the Waterwheel Falls hike in a day – a strenuous hike of at least 20 miles return! The hike also required an elevation change of at least 3000ft, especially towards the end.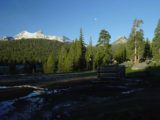 And so Mom and I parked the car at the familiar spot alongside the dirt road near the trailhead. It was considerably less crowded than last week since it was no longer Memorial Day Weekend and we showed up at sunrise. However, there were still quite a few cars there.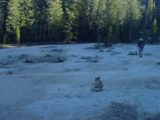 It was barely thirty minutes when mom and I passed by Soda Springs and Parson's Lodge. Since I remembered much of last week's hike, I had no trouble avoiding the false trails that threatened to waste our time. We moved confidently and quickly with a sense of purpose – knowing we had to be efficient or else hike in the dark or not even finish the hike!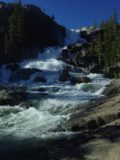 By 8am we were already at Tuolumne Falls. It wasn't particularly as dramatic as in the afternoon so we tarried no longer and continued our fast pace.
After descending past Tuolumne Falls, we snuck a glimpse looking back up towards the falls almost blending in with the cascades downstream of it.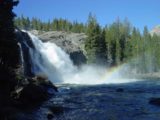 Minutes later, we were back at the Glen Aulin High Sierra Camp next to the White Cascade. There was a morning rainbow in its mist so I took advantage of this opportunity to take a few photos while resting from the initial 6 miles we had just hiked.
The rest didn't last long though. So onwards we marched.
Since both Mom and I knew about the flooded trail caused by a waterfall just above California Falls, we both brought and attached hiking sandals to our day packs.
We made it through the flooded area without incident.
It was 9:30am when we arrived at California Falls, and once again the light was just right for a partial rainbow as we looked down at the falls. Still, there were bigger fish to fry, so to speak, so we maintained our quick pace.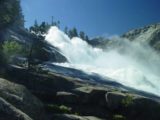 By the time it was 10am, we arrived at LeConte Falls. Confused last week by the whereabouts of California and LeConte Falls, this time I paid attention to where the Tuolumne River calmed down and separated the two falls.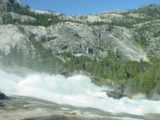 Mom and I took a brief moment to take the spur trail to where you could look down at a half dozen waterwheels. Once again the morning sun provided partial rainbows near the waterwheels.
Now it was time to finally see what we came for – the real Waterwheel Falls.
So Mom and I continued to descend alongside LeConte Falls. The trail flattened out somewhat but it wasn't long before the trail started to descend again.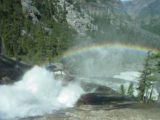 At this point, there was a large granite opening. Noticing the Tuolumne River was very loud from that direction, we scrambled towards the opening. As the scene opened up above the granite hill before us, we looked down and were awestruck by what we saw…
…a steep cascade with a massive waterwheel throwing up enough mist to form a full rainbow framing the Grand Canyon of the Tuolumne River below!
We knew when we first saw it that clearly this must be the real Waterwheel Falls. Like the topo map said, it was only 3/4-mile downstream from LeConte Falls.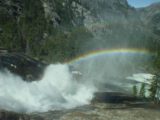 And so I took this opportunity to photograph the falls from all sorts of angles. The rainbow remained full for almost the whole time we were there. Even Mom and I took self-portraits with the falls and rainbow to show we were here.
When the rainbow started to disappear as the sun continued to rise, we weren't going to take any chances. So we continued to descend the trail alongside Waterwheel Falls.
The trail was noticeably steeper than LeConte Falls, but we were determined to make sure this was indeed the last major waterfall. The white water persisted even below Waterwheel Falls.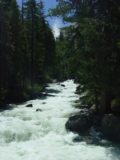 At the bottom of the granite steps, the trail flattened out again but the rapids kept moving. Soon we would cross a footbridge crossing over Return Creek.
Looking upstream on the Tuolumne River near the bridge, we saw mist getting thrown up in the cloudless blue sky courtesy of Waterwheel Falls. It showed just how much water was thrown up and down the cascade, and indeed, this kind of reinforced to us that that was indeed the real Waterwheel Falls.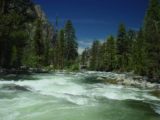 By this time, the white water continued further into the canyon, but a sign near the Return Creek bridge was a sobering reminder of how far back we still had to hike – 11 miles. Moreover, we had just lost a total of about 3000ft so we had to gain all of this back when we would have to turn around and head back home…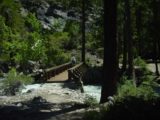 Sensing we were pushing the limits of what we could do in one day, Mom and I decided this was the place to stop and turn around. After spending a few minutes having a sandwich for lunch and some time to contemplate the beautiful high sierra scenery around us, we started to make our way back up to Waterwheel Falls.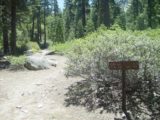 I thought it was kind of fitting that this creek was named "Return Creek" because that seemed to be the predominant thought. We needed to return to the trailhead and we had a long way to go…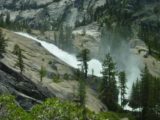 As we slowly made our way back up the steep granite steps, we were treated to profile views of Waterwheel Falls and its massive waterwheel. Indeed, the cascade looked very legitimate from this angle and that big waterwheel was certainly one that trumped any of the smaller ones on LeConte Falls.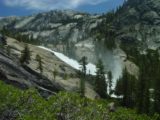 Because the progress going up the granite steps was slow, we took our time checking out the falls knowing that it might be a very long time before we ever come back here.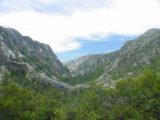 Looking back down the hill from where we climbed, we could see the Grand Canyon of the Tuolumne River look right before us. I was curious to see what it was like over there, but there was no way we'd make it all the way there and back to Tuolumne Meadows in a day. So I had to leave that to my imagination.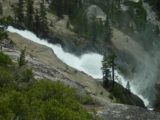 As we got higher up the hill, we paid closer attention to the waterwheel, which seemed to be about as tall as some of the trees standing near it. Perhaps it was more of an illusion of forced perspective, but I swore that this particular waterwheel might have been 30ft tall at its peak since I'd imagine these trees were probably about 30ft tall or more.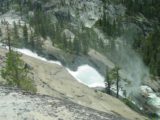 By 1pm, we made it to the top of Waterwheel Falls again. By now, we definitely had gotten our fill of this waterfall, and it was time to keep continuing to go up.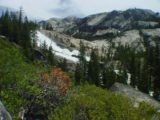 It wasn't much longer before we got to LeConte Falls again. We took another brief break at this waterfall before continuing to make the arduous climb up the granite steps.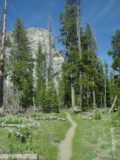 When we returned to the flooded area, we put on our hiking sandals and went straight through the sometimes knee-deep water. There were noticeably more mosquitoes surrounding the standing water here than last week. It was a good thing we could keep moving and attempt to outrun the annoying ingratious blood suckers.
By the time it was 3pm, mom and I had made it back to the White Cascade. There was an afternoon rainbow here but it didn't quite have the same dramatic effect as we had seen earlier in the other falls so I didn't go out of my way to take more photos. The cool mist and shade was enough to keep the mosquitoes away, which further added to the motivation to stay put.
We were also running low on water so I took this opportunity to fill up my collapsible bucket and start pumping water with the Waterworks II
filter.
Unfortunately, the pump was producing very slowly like last week. It seemed to be chronically clogged, which was strange considering it didn't get that much usage and had gotten a thorough cleaning and drying in the prior weeks.
Complicating matters was my nose started to bleed again. Regardless of whether it was the high altitude or dehydration, I went through the usual routine of stuffing my nose with torn tissue paper and trying to tilt my head up so none of the blood drips into the water.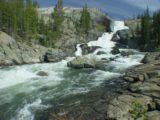 Anyhow with the reduced output, it took forever to refill our Nalgene
bottles. The water was quite cold and refreshing however.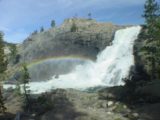 Finally, it was 4pm when we continued the climb out of the Glen Aulin area and back to the Tuolumne Meadows. We had once again passed before Tuolumne Falls with a rainbow along the way.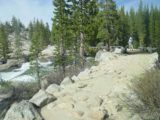 The remainder of the hike passed uneventfully. By the time it was 6:45pm, we finally saw the familiar sight of Lembert Dome before us. It signaled the end of the big day hike, and mom and I hi-fived each other as we basked in our accomplishment.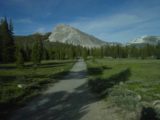 When all was said and done, we had hiked a total of 22 miles with 3000ft elevation change. Without doubt, this was the longest day hike either of us had even done. Even as I write this entry in the blog on August 8, 2006, no other hike came close in terms of length than this one. I'm not so sure I'd be crazy enough to try it again let alone drag someone along with me…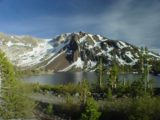 After driving through the Tioga Pass, passing by gorgeous lakes and peaks as the setting sun's last rays painted them a shade of orange, we made a few more stops in Lee Vining Canyon now that we started becoming more aware of some of the cascades that spilled into the steep canyon.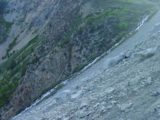 When we made it back to the bottom near Lee Vining, we spoiled ourselves at the Tioga Gas Mart. Once again the hearty diet of mangos and fish tacos really hit the spot. Our tired and sore bodies welcomed the inactivity.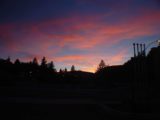 Later in the evening, we returned to our accommodation in Mammoth Lakes. It was just in time to see the clouds above the town turn a bright pink, which was something we didn't expect to see. So that was a pretty cool way to cap off this eventful day.
Exhausted from our accomplished mission, we slept easy.
I think it's safe to say that we got to the bottom of the real Waterwheel Falls mystery. If only detective work could be this fun and memorable…
Visitor Comments:
Got something you'd like to share or say to keep the conversation going? Feel free to leave a comment below...
No users have replied to the content on this page