With our daughter not quite 5 months old, we did this trip as another test of what we can and can't do with a baby.
We also brought Julie's Mom along since we figured that this would be a pretty easy trip as far as the amount of sightseeing and hiking that we were doing.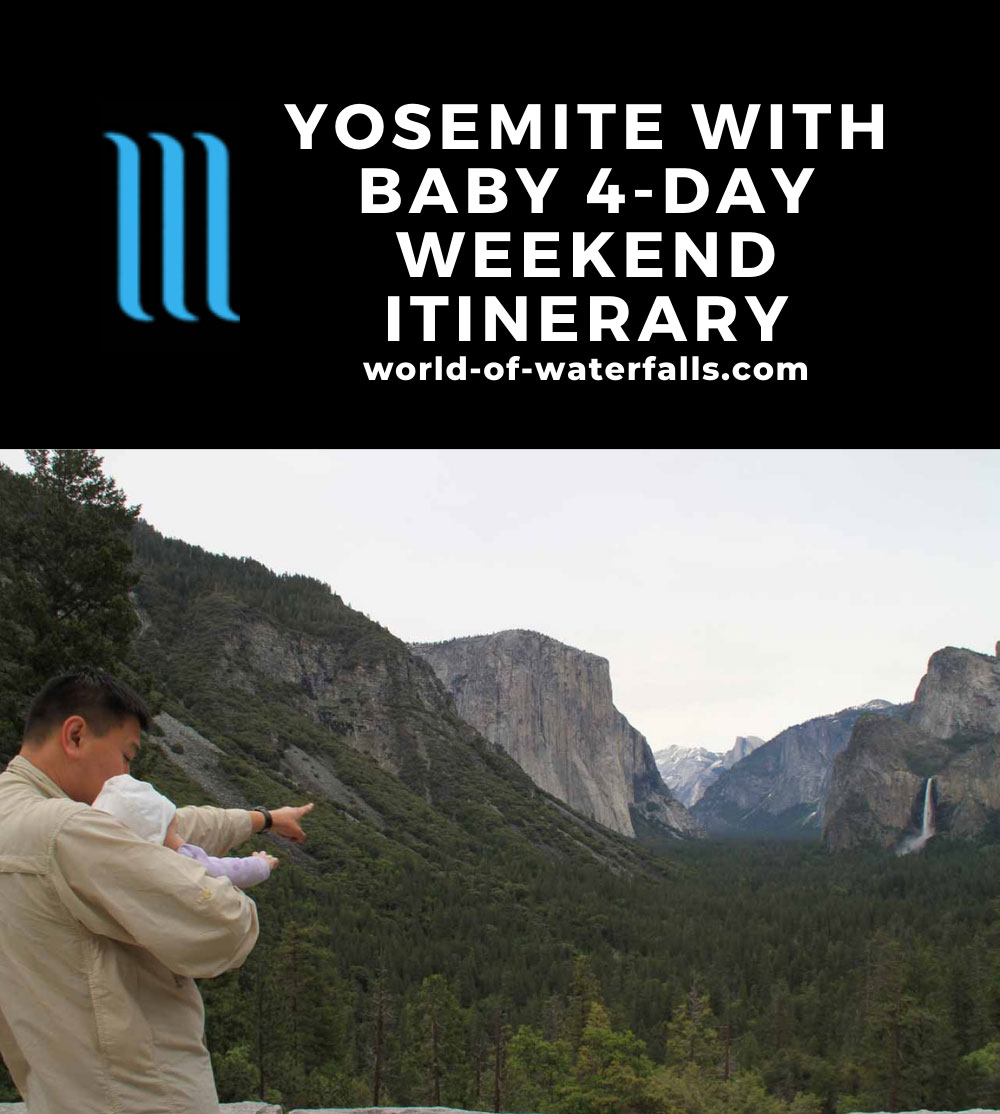 Having done long weekend trips to Yosemite many times in the past, I felt in my element. However, what was surprising was that this was our first trip here in almost 6 years! But with a baby in our lives, we had to get back to basics and relearn how to do trips like these again. Here are some highlights and how we managed to pull off this long weekend…
Trip Map
This map and its markings were produced by this app.
Trip Highlights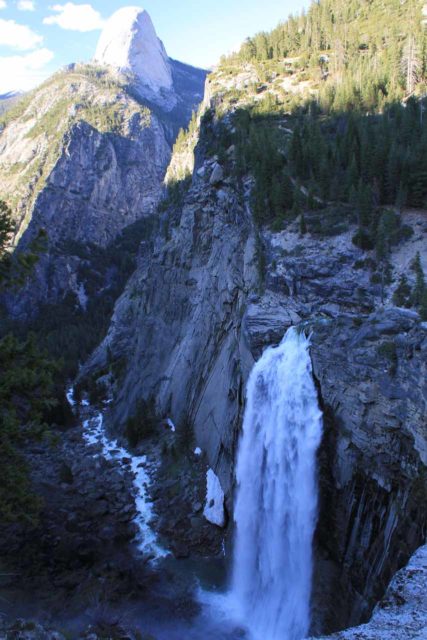 Illilouette Fall – In all the years that I've been to Yosemite and visited this waterfall, I never once bothered to compose a photograph showing both the impressive 370ft waterfall with Half Dome in the same frame!
That was until I finally put two-and-two together and did it on this trip. It proved once again that even when you think you know a place well, there's always something surprising that's learned.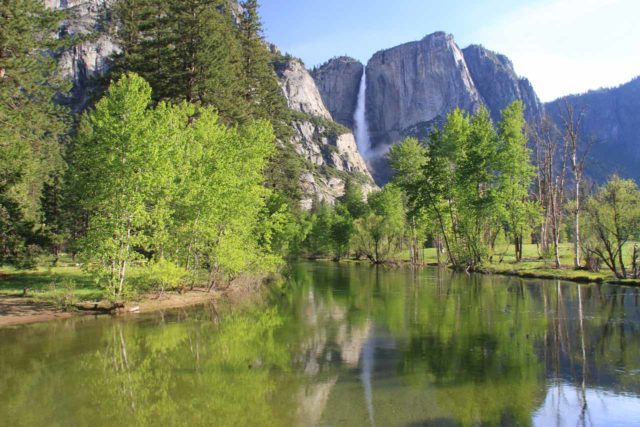 Swinging Bridge – This was the site of one of our best early family photos as we had a tripod set up and all members of the family smiled with the near perfect backdrop of Yosemite Falls reflected in the Merced River. This moment further solidified that this remained one of my favorite spots to photograph Yosemite Falls.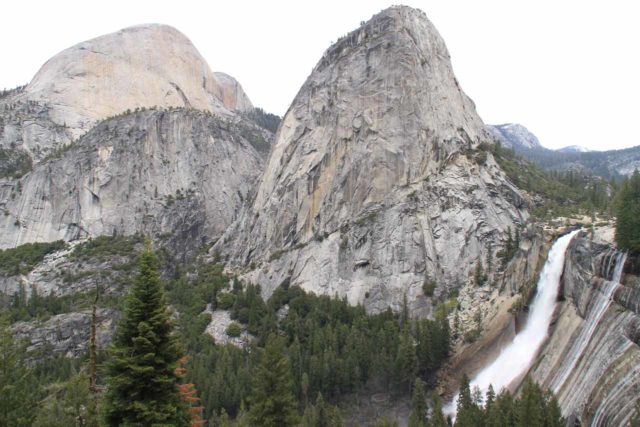 Nevada Fall and Vernal Fall – This wasn't the easiest hike so I did it solo as part of a divide-and-conquer day. I did it as a 6-mile loop taking in all the usual sights of the Mist Trail as well as some spots I hadn't been to in nearly ten years (like the lookout by the brink of Nevada Fall)! It was good exercise as well as a good cleansing of mind and spirit.
Trip Advice
Generally, I don't like visiting Yosemite in the Summer, and especially on a Summer weekend. However, when you are dealing with kids, you don't really have much choice in this matter. So given the circumstances, what do you do?
Here's a quick summary of the lessons we learned from this ill-timed trip. I'd imagine it gets worse the deeper into Summer you go…
Consider Condos: Over the years, we've found that scoring campsites have become much harder to get. I still remember the times when we'd make somewhat last-minute campground reservations in March, April, and even May roughly 2-3 weeks prior to our trip back around the 2003-2005 time frame. The only exception was scoring an Upper Pines Campground Reservation 24 weeks in advance because that trip was for the first week of June. Now, it seems that any choice campsite in Yosemite Valley are unattainable or 24-week advanced planning.
However, on this trip, we always had the Yosemite West condos as the fallback. Even though it was about a 20- to 30-minute drive to and from Yosemite Valley, the amenities of cooking our own food, having enough space for three children, two grandparents, as well as Julie and I, and enough parking made the trip much more enjoyable and less stressful as far as our accommodation was concerned
Things Always Take Longer with a Child: We definitely noticed that after all the years we've been to Yosemite National Park, things simply take much longer these days, especially when we had a daughter in tow. So I'd recommend to not underestimate how much time activities take when planning a trip. For if you turn out to be wrong and allocated too much time, then you can fall back and use the extra margin in time for other excursions that were lower priority. However, if you cram too much stuff into the trip, then it might not be enjoyable due to too much focus on getting through the itinerary and not enough living in the moment.
Travel Itinerary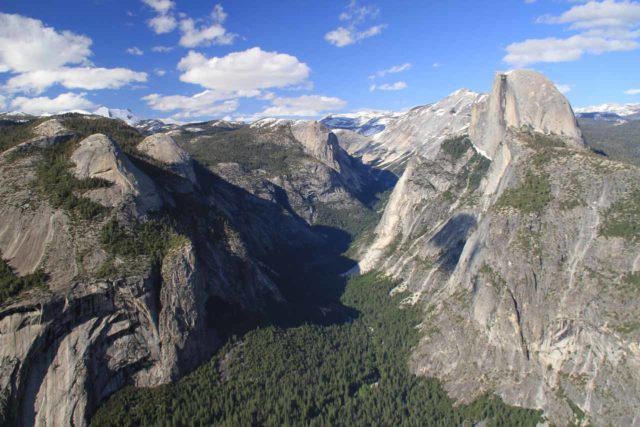 Day 1: Drive from Los Angeles to Yosemite West
Overnight: Yosemite West Condos (Yosemite West, California, USA)
We did the long drive, which took longer than what we're used to because of rest breaks due to Julie's need to pump and use the restroom while Tahia would need a diaper change. Once we got near Yosemite West, we then drove out to Glacier Point for the vistas. I did a solo hike to get down to Illilouette Fall. After all was said and done, then we returned to Yosemite West to get settled.
Day 2: Yosemite Valley
Overnight: Yosemite West Condos (Yosemite West, California, USA)
We began this morning by doing the usual Yosemite Valley stops including Swinging Bridge, Four-Mile Trailhead, Yosemite Falls, Stoneman Meadow, and Curry Village. While the rest of the family was chilling out at Curry Village, I solo'ed the loop hike going up the Mist Trail and down the John Muir Trail – seeing both Vernal Fall and Nevada Fall. Later in the afternoon, we continued the drive through Yosemite's Northside Drive stopping for Bridalveil Fall, Ribbon Falls, and Yosemite Falls from Cook Meadow. I also went looking for an unusual view of Sentinel Falls from Leidig Meadow, and we completed the drive by stopping for Valley View, Tunnel View, and the Turtleback Dome view of Cascade Falls.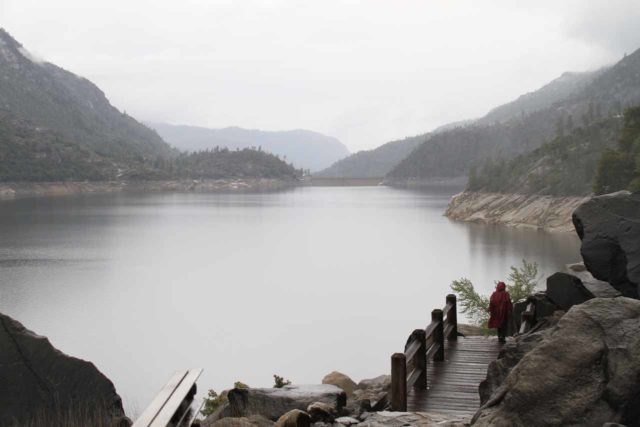 Day 3: Hetch Hetchy Day Trip
Overnight: Yosemite West Condos (Yosemite West, California, USA)
This was a divide-and-conquer day where Julie's Mom stayed with Tahia while Julie and I drove out to Hetch Hetchy. After a brief stop for the base of Bridalveil Fall, we then resumed the drive all the way to Hetch Hetchy. Once there, we did the familiar out-and-back hike to Wapama Falls and Tueeulala Fall.
Day 4: Drive Home
This was an uneventful day as we packed up, had breakfast, and checked out of our condo. Then we drove home.
Related Trip Reports
Waterfalls included in this itinerary
Visitor Comments:
Got something you'd like to share or say to keep the conversation going? Feel free to leave a comment below...
No users have replied to the content on this page